This page contains affiliate links. Learn more.
Paper is the traditional gift for the first anniversary. This anniversary chronicles the first of many for your marriage and, like paper, a young marriage can be delicate and fragile. But it also represents new beginnings and a blank page on which to write your love story.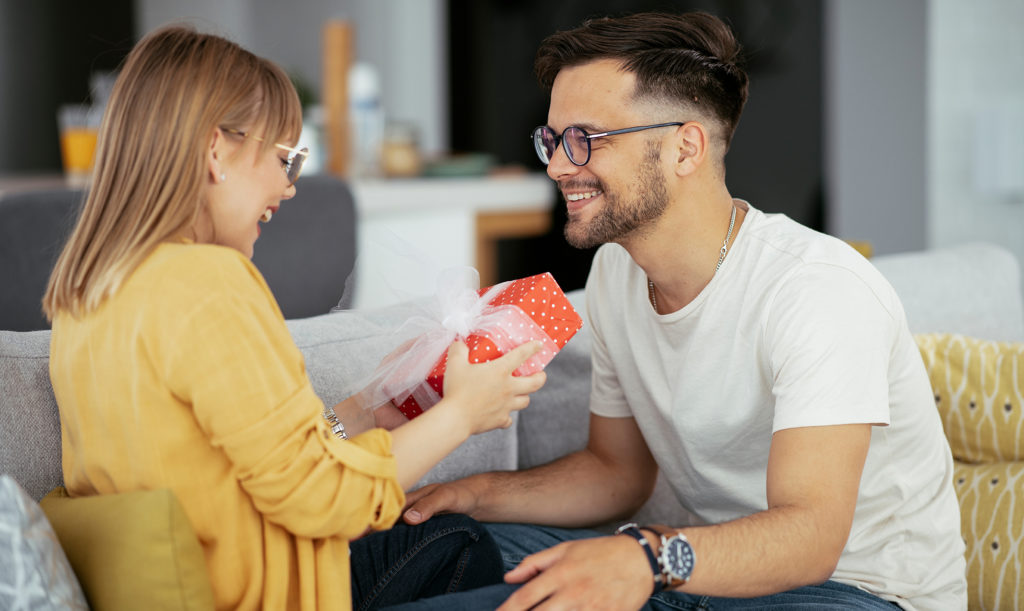 A popular way to celebrate your first year of marriage with paper is with wall art or home décor. While a personalized gift will remind your wife of your love every time she uses it.
Of course, no one knows your wife like you do and the most important thing to remember about choosing the right gift is to give something from the heart.
---
Handmade 1st Anniversary Gifts for Her
The originality, quality and craftsmanship of handmade gifts is unmatched by mass produced items. Now that the handmade movement is accessible to online shoppers, finding the perfect handmade gift for your first anniversary is easier than ever. Choosing a handmade item for your wife also supports artists who are passionate about the things they make and craft them with love.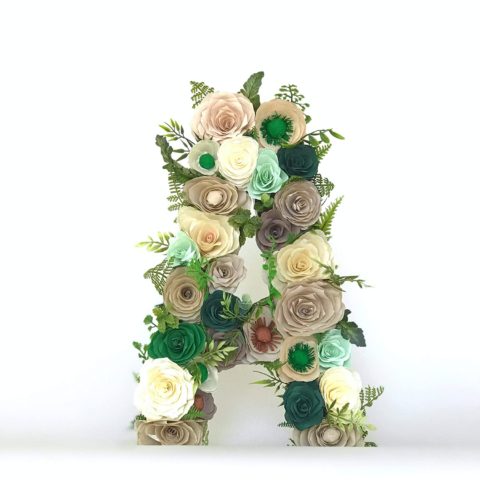 Floral Letter Home Décor
Flowers handcrafted from shades of green, tan & brown paper
Accented with sprigs of greenery
Choose from paper mache letters or numbers
Size: appx. 10″ x 16″ x 3″
$99.95 USD
Add a touch of nature and enchantment to your home with a first anniversary gift of floral wall décor featuring expertly handcrafted flowers accented with sprigs of greenery. Choose a significant letter or number to create a truly sophisticated piece of wall art.
---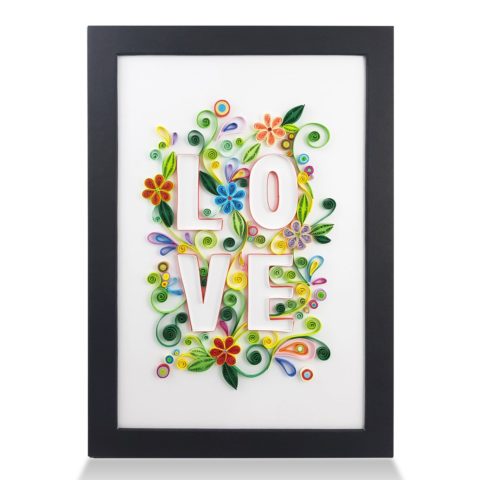 'Love' Paper Quilled Art
Quilling skillfully brings colorful paper and hours of heartfelt work together to create art that brings joy to your loved ones.
100% handcrafted
Size: 10.6" x 8.3"
Gift box and a blank greeting card included
Dating back centuries, quilling is the art of using strips of paper that are rolled, shaped, and glued together to create decorative & artful designs. This unique first anniversary gift is a striking reminder of your love that can be beautifully displayed in any home or office.
---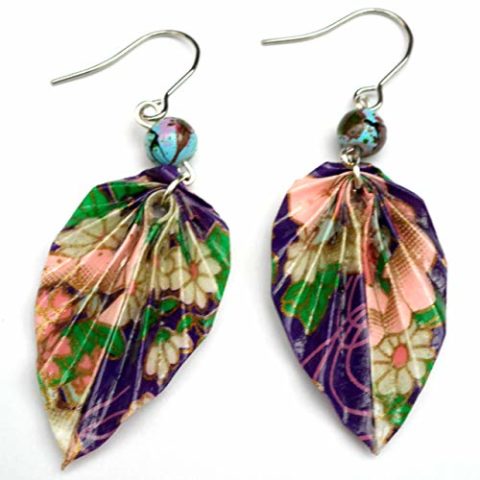 Origami Leaf Earrings
Features purple, green & pink print chiyogami Japanese paper
Paired with a glass bead & stainless steel shepherd's hook ear-wire
Size: 2.25″ x 0.75″
$27.95 USD
These handmade earrings featuring origami paper folded leaves are a beautiful and unique first anniversary gift for her. While they are lightweight and delicate, they are also sealed with a protective coating for durability.
---
Personalized 1st Anniversary Gifts for Her
Make your first anniversary celebration memorable by giving your wife a gift created just for her. Customize your gift with names, special dates or a heartfelt message to ensure it will be cherished for many years.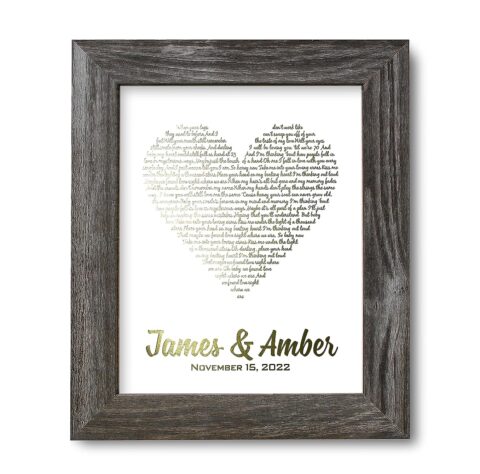 Personalized First Dance Art Print
Personalize with lyrics from your first dance song
Features gold copper or silver foil
Printed on heavyweight paper
Available in multiple sizes
Option for framed or unframed
$29.00 USD
Commemorate your first year of marriage with a custom art print featuring the lyrics from the song that kicked it off. This stunning wall décor is a beautiful declaration of your love.
---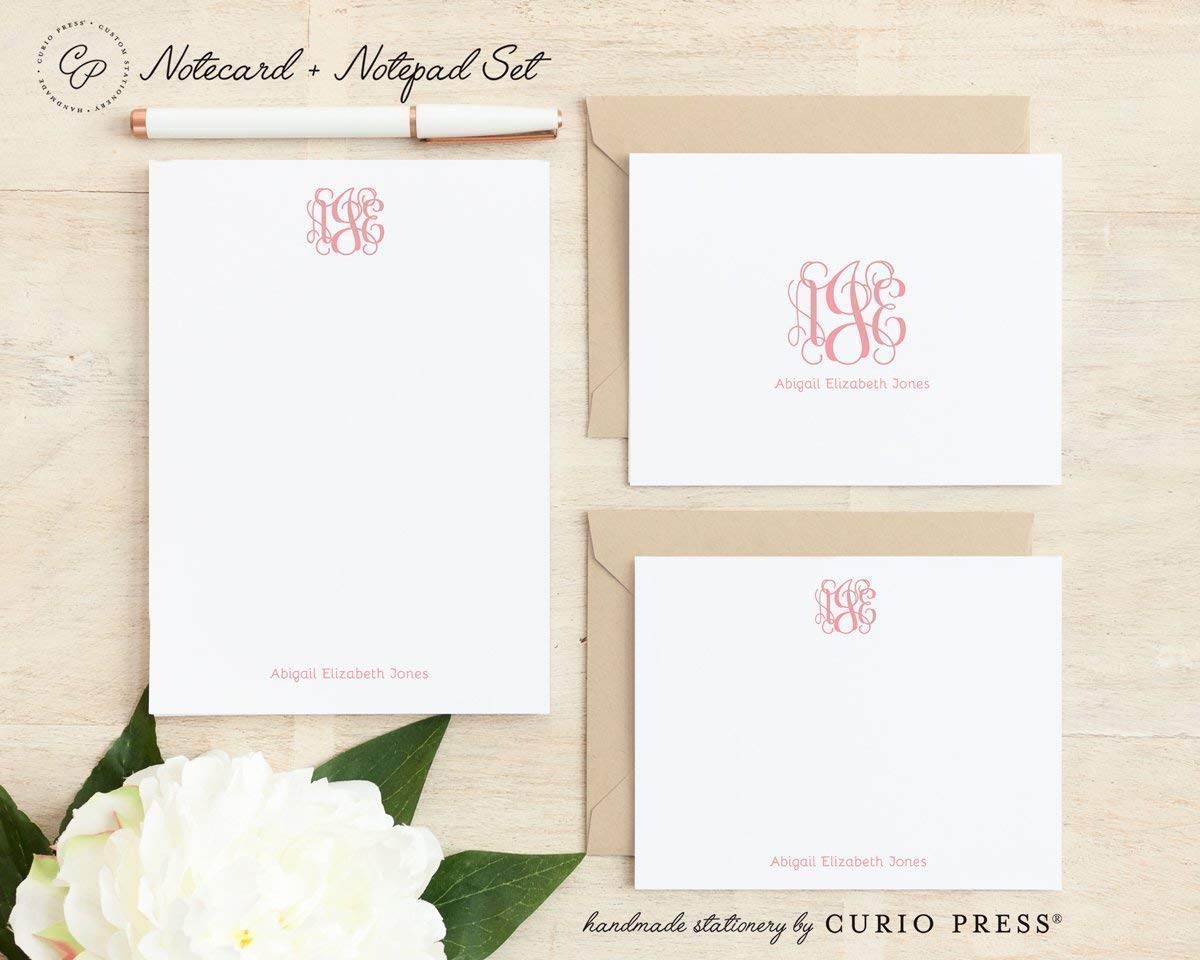 Monogrammed Stationery Set
Features a personalized monogram
Includes (1) each: set of folded cards + envelopes, set of flat cards + envelopes, 50-sheet notepad
Choice of ink and envelope colors
$49.00 USD
This personalized stationery set is printed on high quality heavyweight paper with archival inks making it an exceptionally unique first anniversary gift for her. Choose your wife's favorite color for the personalized monogram and matching envelopes and she is guaranteed to be reminded of your love with every letter she writes.
---
Custom Star Constellation Map
Custom star map personalized with saying, names and date
Printed on premium paper with archival inks
Choose fonts and background color (black or white)
Available in four sizes with framing options
$22.00 USD
This is how the stars aligned when your life changed forever. Created using professional astronomy software that charts the actual view of the night sky based on the date and location of your wedding, this first anniversary gift is the perfect way to remember that special moment in your life.
---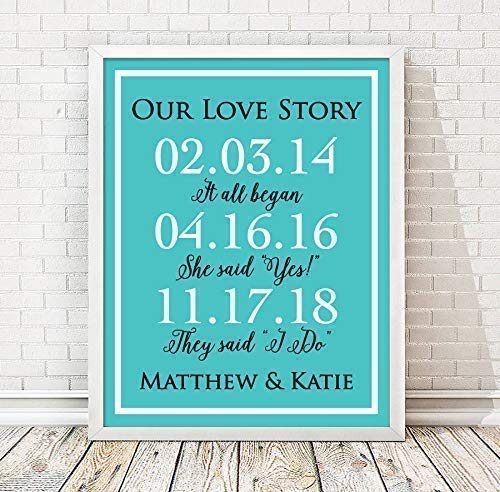 Personalized Love Story Art Print
Customize with your names and milestone dates
Available in multiple sizes and color schemes
Choose from multiple framing options
Gift wrapping available
$20.00 USD
Paper gives you the perfect opportunity to commemorate your love story. This custom artwork is guaranteed to make a special first anniversary gift that brings joy to your wife every time she sees it.
---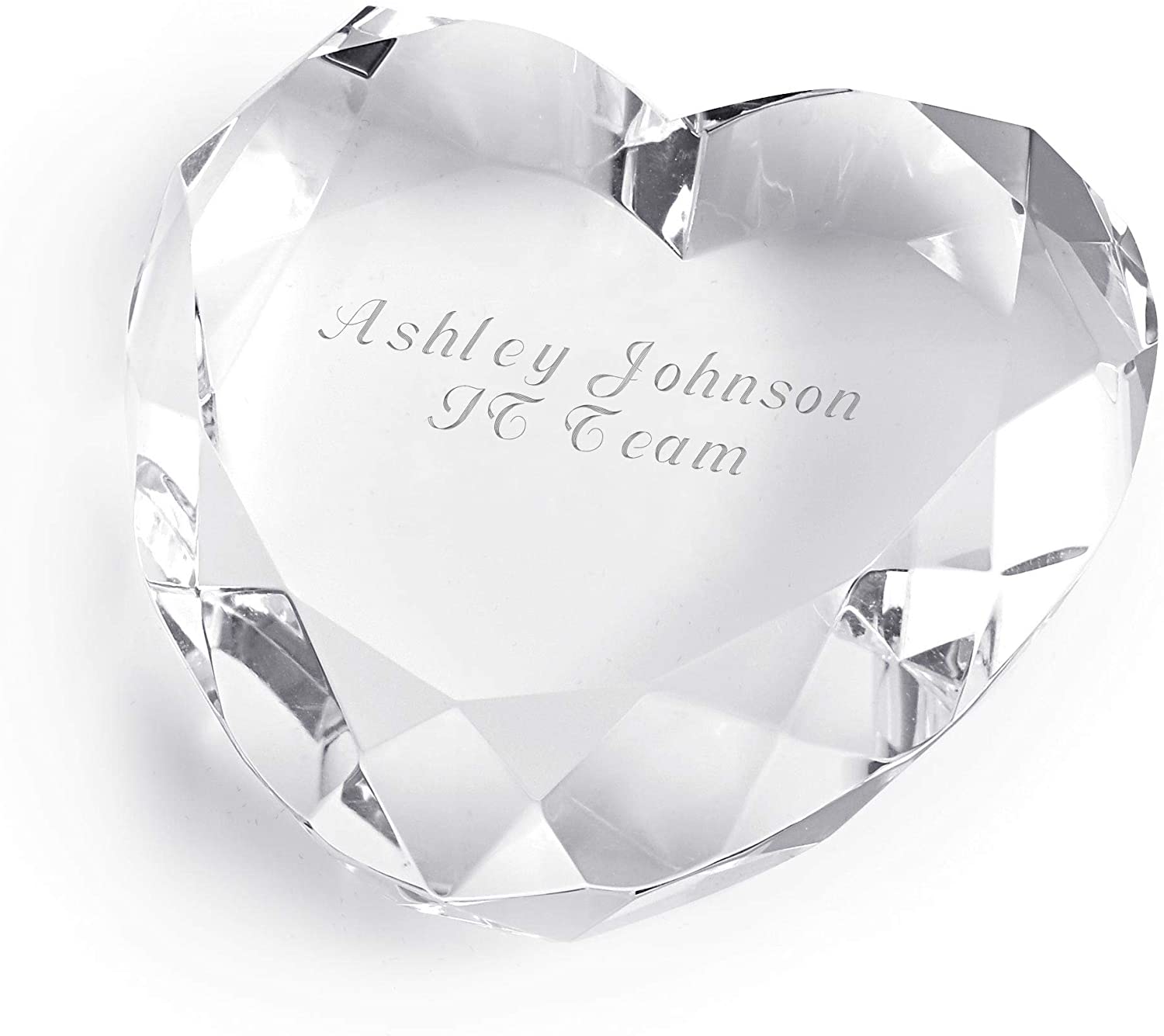 Engraved Crystal Heart Paperweight
Personalize with names, initials, date or a heartfelt message

Features precision machine engraving

Size: 3″ x 3″ x 1.25″

Material: 24% Leaded Crystal
While it's not technically paper, this paperweight gift is the perfect addition to any desktop to help keep papers organized. A beautiful heart made from sparkling crystal customized with your own heartfelt message is the perfect way to tell her you love her every day.
---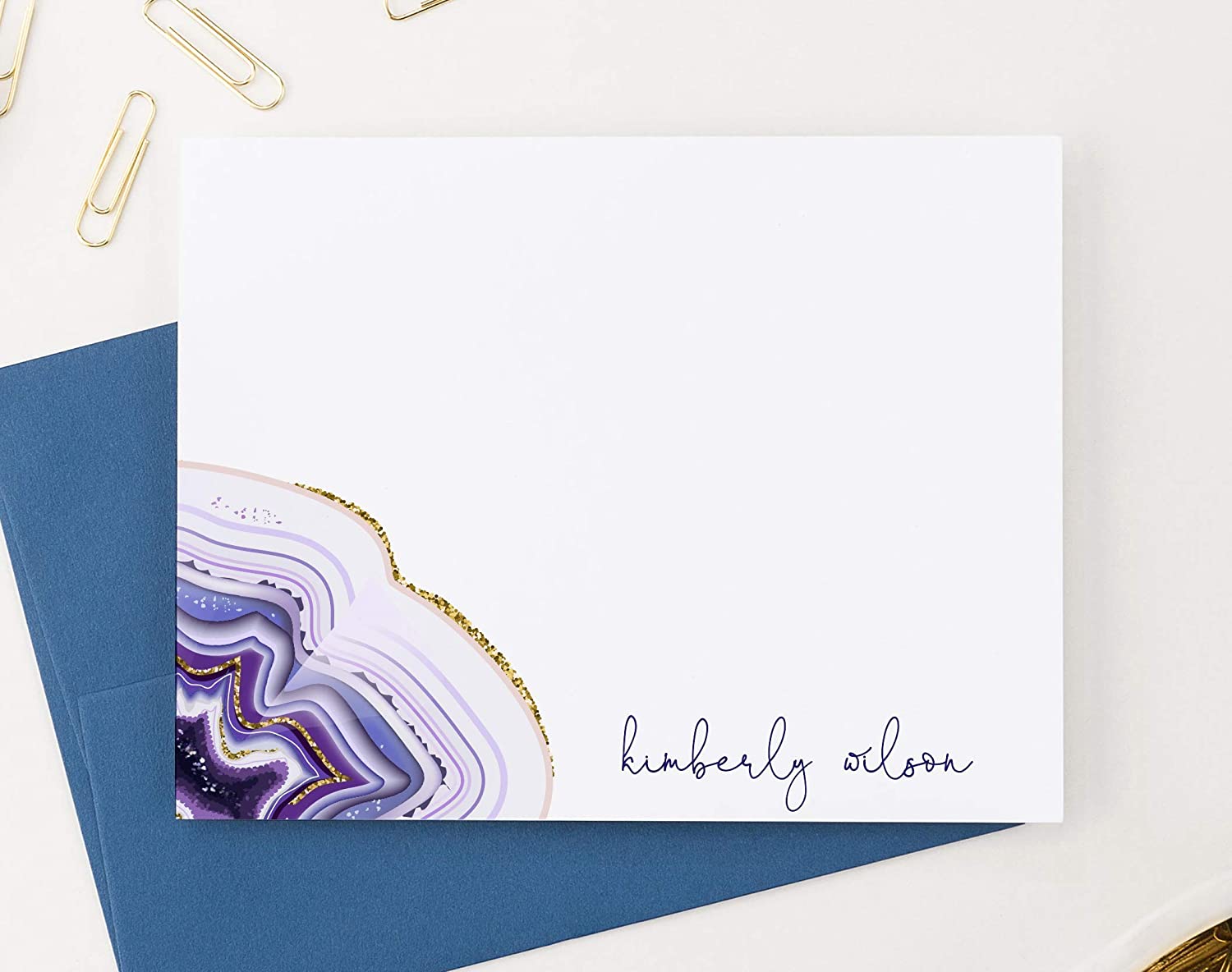 Personalized Purple Agate Note Cards
Stationery set includes 4.25″ x 5.5″ flat note cards + envelopes
Personalized with a modern script font
Choice of ink and envelope colors
Gift wrapping available
$22.95 USD
This personalized note card set features a custom name in a modern font paired with a beautiful agate design with your choice of ink and envelope colors. This thoughtful first anniversary gift will remind your wife of your love every time she writes a heartfelt note.
---
Keepsake 1st Anniversary Gifts for Her
Keepsakes have great sentimental value in and of themselves or as collections of memories. By choosing a keepsake gift you can be sure you're giving her a memorable and meaningful first anniversary gift meant to last a lifetime.
Keepsake Jar with Love Messages
Keepsake jar holds 31 love notes tucked into decorative envelopes
Each note features a different thoughtful message
Choose from multiple romantic design themes
Gift box included
This first anniversary gift is filled with sweet loving notes tucked into decorative envelopes artfully arranged in a keepsake glass jar. Embellished with a satin ribbon and charm, your partner will feel closer to you more than ever each time they open a note—one a day, all at once, or as often as they wish to feel your love.
---
Pixar's Up Adventure Scrapbook
Use as a scrapbook or photo album
Contains 40 sheets / 80 pages of thick, blank, light brown craft paper
Includes photo corner stickers and a set of (8) Pixar Up movie postcards
$14.99 USD
"To be with you is the greatest adventure……" is the closing sentiment on the back cover of this scrapbook. Fill it with photos, ticket stubs, or other meaningful memories from your first year of marriage and this anniversary gift that could rival the opening sequence of Pixar's Up.
---
Love Letters
Keepsake collection of aerograms that capture a moment in time
Includes 12 fold-and-mail letters
Each letter is printed with a unique prompt, plus two blank letters to write your own
Treasure this paper time capsule – and each other – for years to come
$14.95 USD
Write now. Read later. Treasure forever. Nothing is more romantic than a handwritten love letter. Letters to My Love includes 12 prompted letters that will inspire love notes to remind your sweetheart how much your relationship means to you. Postdate each envelope, seal with a kiss (and a sticker), and gift this book of love to your sweetheart for future opening.
---
Home Cooking Family Memory Book
Includes (1) ring-bound kitchen recipe memory book, (60) recipe journal pages, (8) pocket dividers, (8) splash guard sheets, and (8) magnetic photo pages
Features a padded cover with home style sketches
Size: 9. 5" x 9. 5"
$100.00 USD
Keep your cherished family memories and recipes organized and beautifully displayed with this C. R. Gibson "home cooking" family recipe book. it's he perfect first anniversary gift for chefs and foodies!
---
'Reasons I Love You' Journal
Linen-wrapped hardback cover
Contains 50 sheets/100 pages
Pages are lined single-sided
Size: 5″ x 7″
$16.99 USD
For best results, take the time to fill the pages of this journal with thoughtful messages, letters, photos, and other meaningful memories. Then surprise her with this first anniversary gift from your heart and know the joy of telling your wife all of the reasons why you love her.
---
Featured Gift Guides