This page contains affiliate links. Learn more.
If your wife is witchy at heart, then finding an anniversary gift may seem like a challenging task. It is important to select a thoughtful present that demonstrates your support of her passions and interests while enhancing the connection to her craft.
From altar accoutrements to jewelry with a witchy aesthetic, we will demystify your options and help you choose a gift that will leave your wife spellbound. Whether she has just started her magical journey or she's already a seasoned practitioner, read on to discover unique anniversary gift ideas for: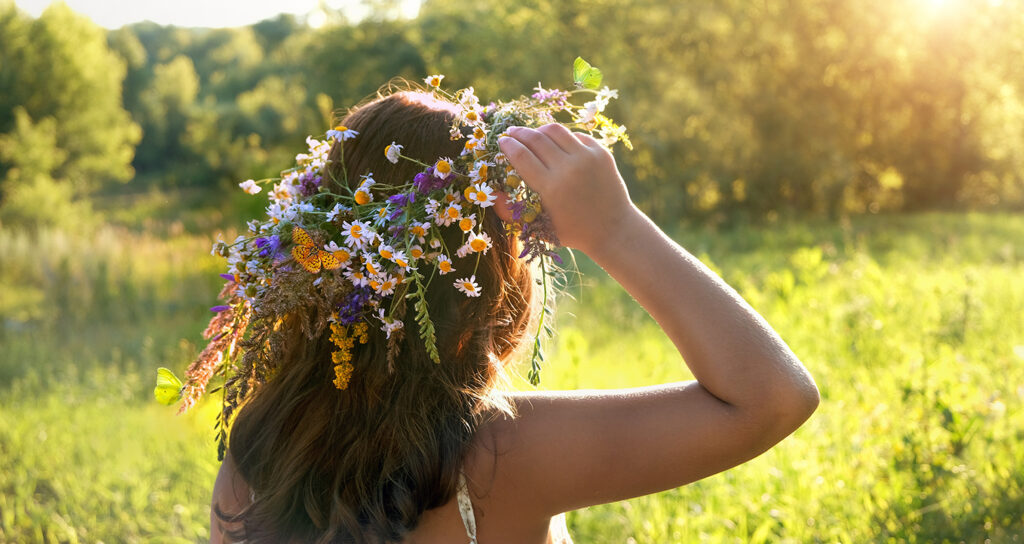 While these gifts are great for any year, you may be wondering about the specific gift theme for your anniversary. If that's the case, please look to our traditional and modern gift guides to learn more about the designated gifts for each year of marriage.
Anniversary Gifts for Spellwork and Rituals
If you're not sure what traditions and rituals your wife practices, you should start your journey to finding the perfect anniversary gift by learning about her beliefs and goals. Does she exhibit a deep connection to nature by observing moon phases and employing herbal remedies? Is she interested in divination or connecting with her ancestors for guidance? Every approach to witchcraft is unique and highly personal, don't be afraid to ask some questions to gain a greater understanding of your wife's focus and intentions.
Gift Ideas for Appointing an Altar
Before embarking on any ritual work, most practitioners establish a quiet and intentional space for practice. Altars can help deepen spiritual connections and focus intentions and are often adorned with objects and symbols that hold personal meaning.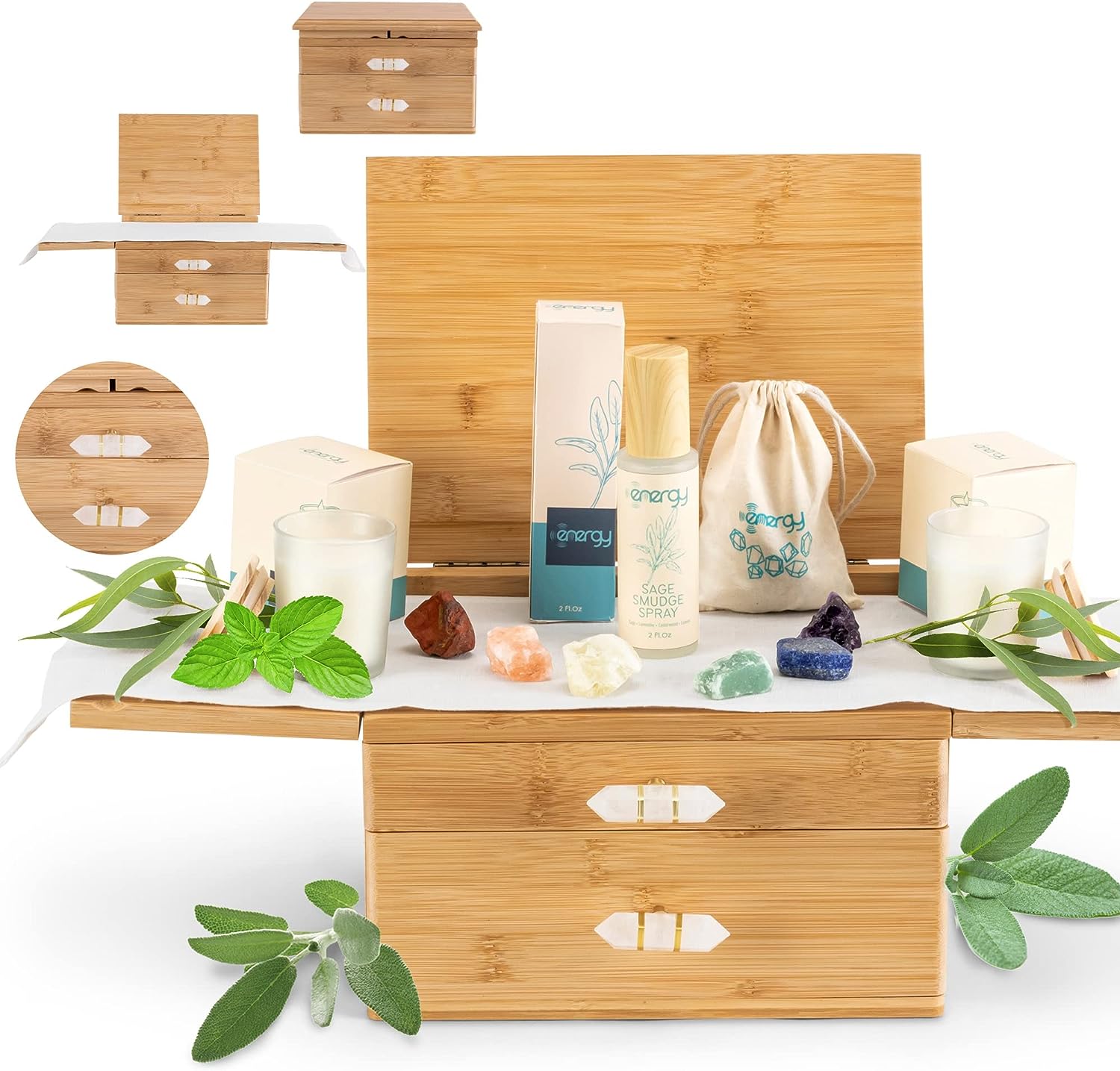 Portable Altar Starter Kit
Collapsible, portable table with storage drawers
Kit includes hemp altar cloth, sage spray, two (2) soy wax candles, and a chakra crystal set
Made from 100% bamboo
$142.99 USD
This collapsible table is both stylish and functional as it can be used anywhere for most spiritual practices. Then it easily folds up for travel, storage, or privacy. If your wife is just beginning her spiritual journey, then this kit includes everything she needs to get started. It is also a great gift for anyone with limited space.
Other gift ideas include items that will help organize, decorate or enhance your wife's altar space. Engaging the senses can also help her transition into a spiritual mindset.
---
Gift Ideas for Ritual Tools
Spellwork and rituals are enhanced by the use of various tools to perform spiritual tasks. Take a look at your wife's altar and see if she needs a resupply of things like jars for spells, or more crystals and candles. If she's interested in expanding her magical repertoire you can help her get started with new equipment or a guidebook.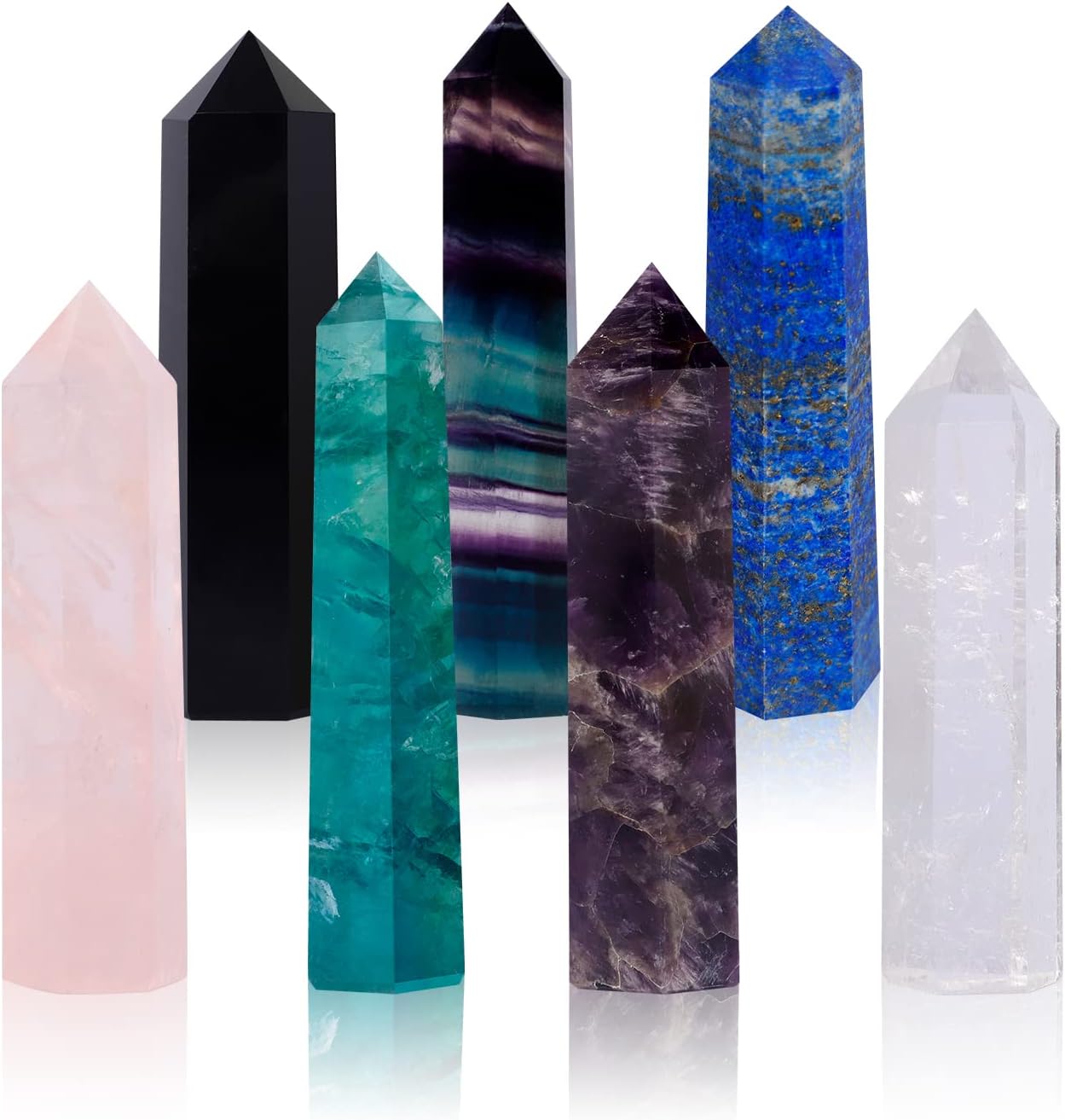 7-Piece Crystal Wand Set
Set includes: amethyst, clear quartz, pink quartz, black obsidian, green fluorite, lapis lazuli, rainbow fluorite
Wand height: appx. 3″ (widths may vary)
$39.71 USD
This set of hand selected and skillfully crafted wands will help your wife build a collection of crystals to resonate with her intentions and energy. Each wand has a different healing quality such as mental clarity and protection from negativity.
Other gift ideas include tools for divination, spellcasting, and meditation to hone intuition.
---
Gift Ideas to Heighten Herbal Magic
From medicinal remedies to cleansing rituals, herbalism and herbcraft are popular components of many witchy practices. If your wife cultivates her own garden or is interested in activities like foraging you can choose an anniversary gift to aid in her pursuits.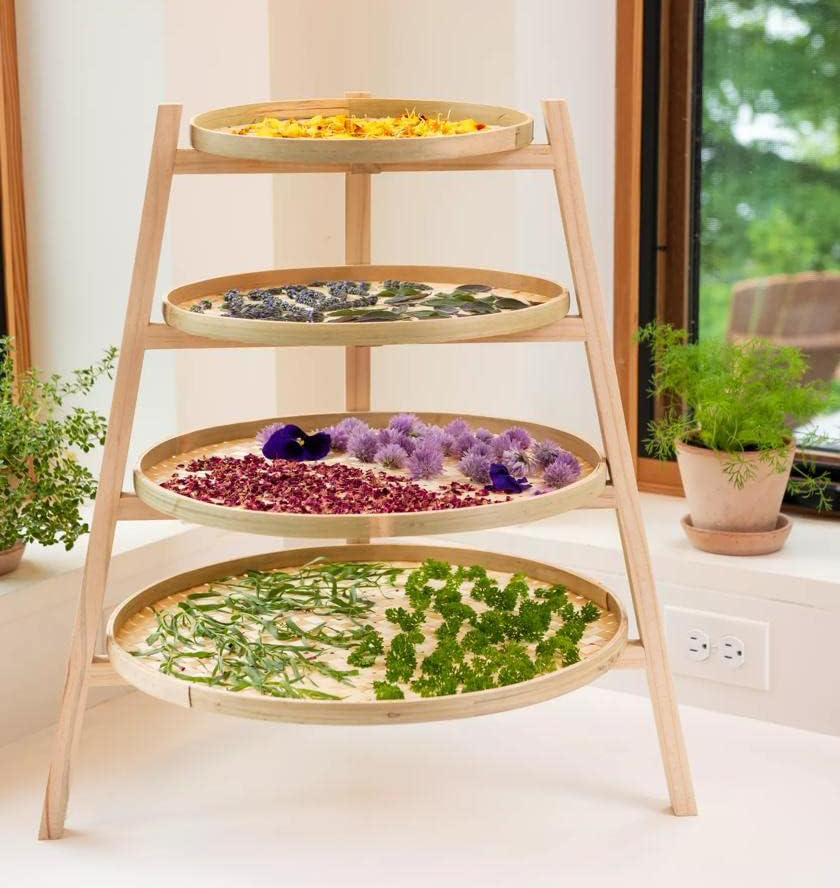 Bamboo Herb Drying Rack
Four-tier herb drying rack provides ample room and air circulation to naturally dry herbs, leaves, and flowers
Made from sustainable woven bamboo with a pine frame
Measures: 20.5″ x 25″
$69.95 USD
This four-tier herb drying rack provides plenty of room for your wife to preserve the flavors and smells of her garden to use all year round in tinctures, teas and spells. Plus, the drying baskets are removable, making this rack exceptionally easy to use.
Other popular gift ideas for herbcraft include supplies for growing and harvesting herbs and flowers, or guidebooks to help your wife expand her magical knowledge.
---
Witchy Art and Home Decor Anniversary Gifts
Enchant your wife with a gift of art or home decor that reflects her mystical interests. Items with celestial significance are a popular gift choice for anyone with a deep spiritual connection to the cycles of nature.
Custom Star Constellation Map
Custom star map personalized with saying, names and date
Printed on premium paper with archival inks
Choose fonts and background color (black or white)
Available in four sizes with framing options
$22.00 USD
This is how the stars aligned when your life changed forever. Created using professional astronomy software that charts the actual view of the night sky based on the date and location of your wedding, this personalized anniversary gift is the perfect way to remember that special moment in your life.
Other popular witchy decor gift ideas include cozy blankets, atmospheric lighting, useful shelving, and wall art. Be sure to consider your wife's interests and aesthetic when selecting art or home decor gifts.
---
Alluring Apparel Anniversary Gifts
It is important to consider your wife's tastes when selecting a gift of accessories or clothing. Does she prefer items with a handmade quality like hammered metal or crochet? Is she drawn to designs with natural motifs? Does she like to wear dresses and full skirts? Does she wear a lot of earth tones or natural fabrics? Take a look at some of the things she already owns and select an item that fits her aesthetic.
Gift Ideas for Esoteric Accessories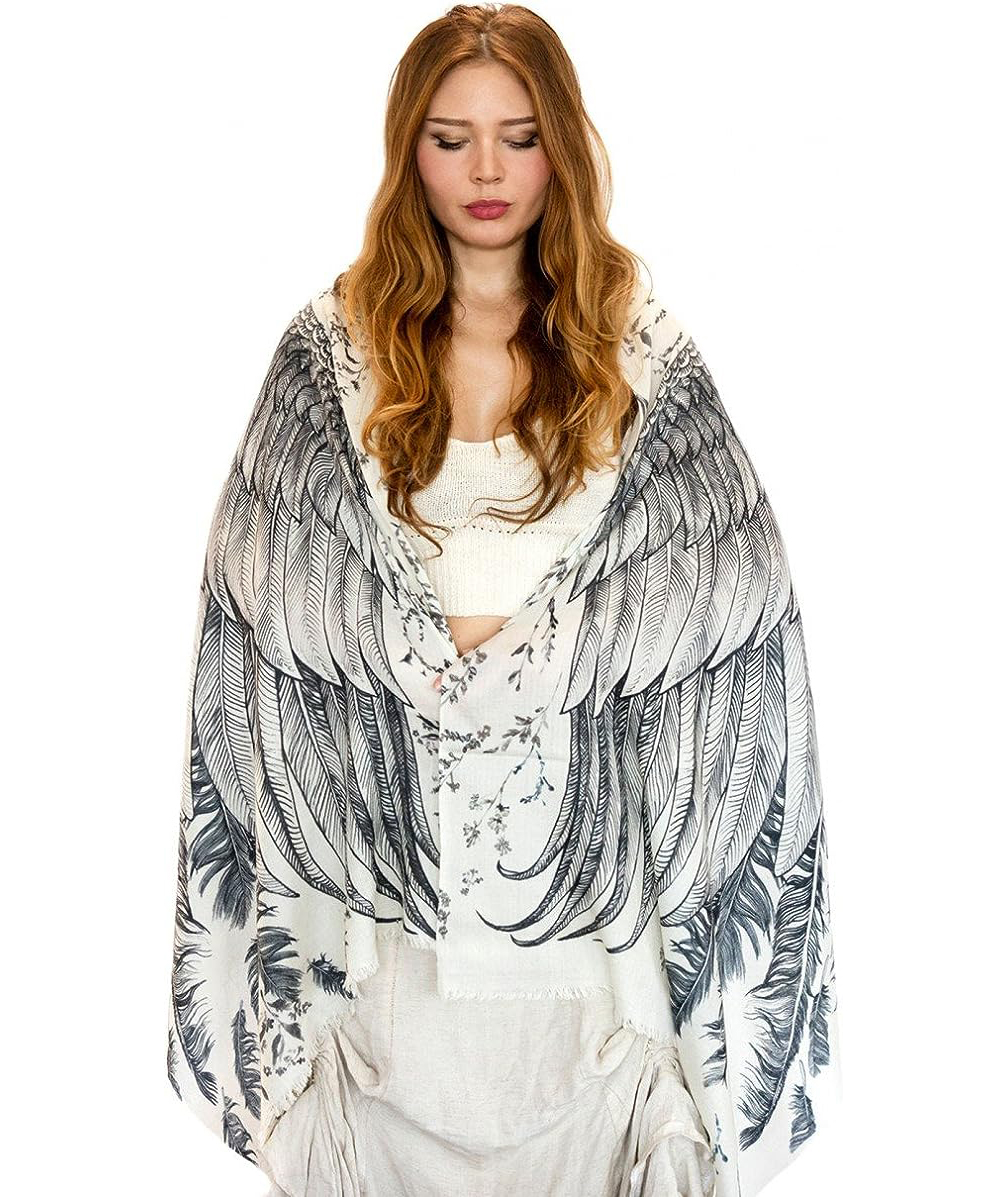 Black & White Feather Shawl
Drape yourself in beautiful feathered wings
Delicately hand-painted and digitally printed
Made of cashmere & silk
$74.00 USD
Your wife's wardrobe will take flight with the addition of this exquisite black and white feather shawl that can be paired with almost any outfit. Plus, she'll love the story behind this garment that began as hand painted artwork then finished with the highest quality textile printing processes and natural materials, with loving attention to detail.
Purses, shoes, belts and hair accessories round out popular gift options if you're looking for reliable way to add to your wife's witchy wardrobe.
---
Gift Ideas for Mystical Jewelry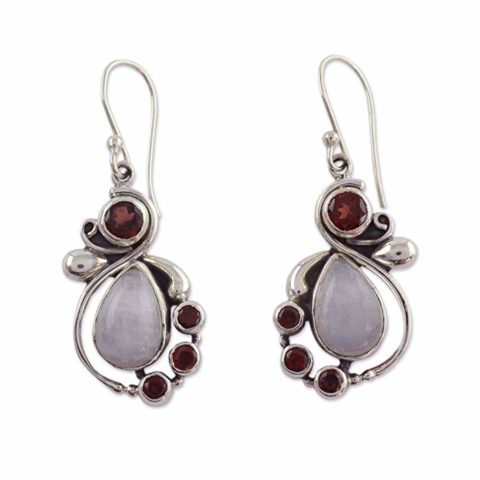 Moonstone & Garnet Earrings
Earrings feature garnets and rainbow moonstones

Set in 925 sterling silver with a h

igh polish finish

Fishhook backings

Measures: 0.4″ x 1.7″
$69.99 USD
These handmade earrings feature garnet, a symbol of creativity and love, paired with moonstones which are known for their deep connection to lunar energy.
Gemstone jewelry is a perfect gift for anyone who is drawn to nature and the healing qualities of crystals. Did you know that in addition to traditional and modern gift themes, each anniversary year also has an associated gemstone? Discover your anniversary gemstone here.
---
Gift Ideas for Charming Clothing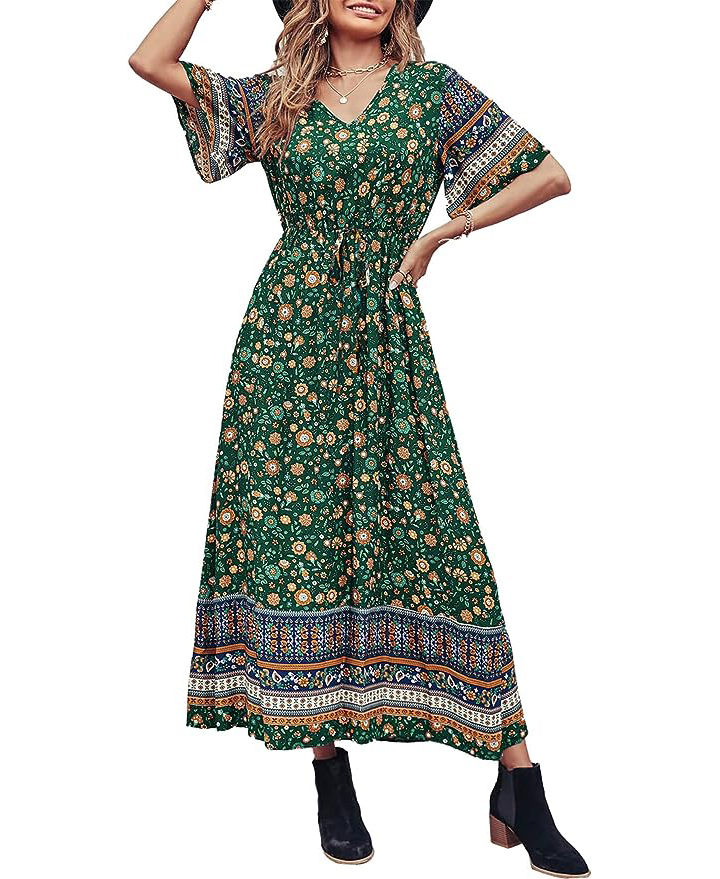 Floral Print Maxi Dress
Soft, lightweight, and flowy
With deep v neckline, empire waist and flare sleeves
Available in multiple sizes and colors
$46.99 USD
Comfort meets style in this bohemian dress with butter soft fabric featuring a vibrant floral print. With multiple size and color options, you will be sure to find one that is a perfect fit for your wife's tastes.
When envisioning a witchy wardrobe it is common to think of all black clothing with bell sleeves, pentagrams and wide-brimmed hats. While this may be true for some women, it's more likely that your wife is drawn to earthy materials with handmade elements and a connection to nature. When in doubt, take at look at her current wardrobe and select a gift that fits her style.
---
Featured Gift Guides