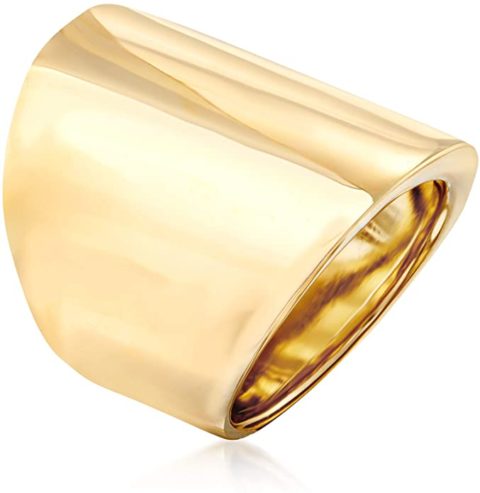 Polished 14kt yellow gold ring for women. 7/8" wide. Size 7. Crafted in Italy. Includes jewelry presentation box and 30-day, 100% money-back guarantee.
ITALIAN 14KT YELLOW GOLD WIDE RING: With mirror-like shine, this polished gold ring is simple but makes a statement with its wide design. Transitions easily from day to night, instantly jazzing up any outfit.
ROSS-SIMONS QUALITY: Treat yourself to the luxury and beauty of Ross-Simons fine jewelry. Whether in 14kt gold, 18kt gold, or gorgeous sterling silver, our finely crafted jewelry is an unforgettable, unique gift for women.
ROSS-SIMONS IS a trusted name in fine jewelry for 65 years and counting. From elegant 14kt gold bangles to tennis bracelets and byzantine necklaces to classic gold hoop earrings and diamond stud earrings, we offer fine jewelry for women for every occasion.
GIVE THE GIFT OF JEWELRY: A timeless and traditional holiday or anniversary gift for a woman or girl of any age, Ross-Simons jewelry in luminous 14kt gold, 18kt gold, or .925 sterling silver, is the perfect gift to let her know just how much you care.
This page contains affiliate links. Learn More.