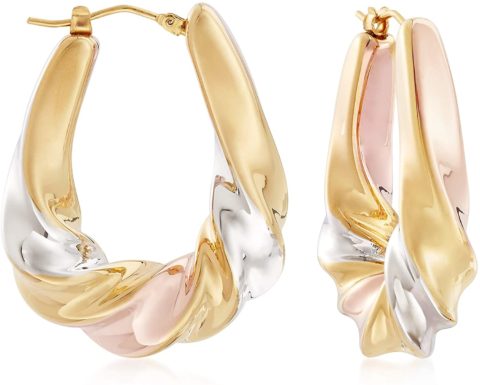 ITALIAN ANDIAMO 14KT GOLD OVER RESIN — Italian Andiamo 14kt tri-colored gold scalloped hoop earrings. Polished finish. 1 3/8 in. hanging length, 3/8 in. wide. Snap-bar backings.
MADE IN ITALY — Italian fine jewelry stands out for its unparalleled style and craftsmanship. Wear these luxurious earrings, knowing they have been crafted to the highest quality standards in the world. Pair them with your casual or formal attire.
STRONG AND BEAUTIFUL – Now you can wear your favorite jewelry fearlessly. Our exclusive collection of Andiamo jewelry features luxurious 14kt gold designs with resin cores that provide extra strength and added durability. Crafted for comfort, you'll love how these bold and chunky styles won't weigh you down.
THE PERFECT GIFT FOR HER – These earrings are the ideal gift for your sister, daughter, mom, wife, niece, aunt, best friend, girlfriend (or yourself!). Whether she prefers modern or traditional jewelry, Ross-Simons has a wide selection of bracelets, earrings, necklaces and rings to choose from.
GIFT BOX INCLUDED – Ross-Simons jewelry arrives beautifully packaged in a gift box, ready to delight for any occasion, including birthdays, Christmas, Mother's Day, anniversaries, Valentine's Day, weddings, graduations and much more!
This page contains affiliate links. Learn More.