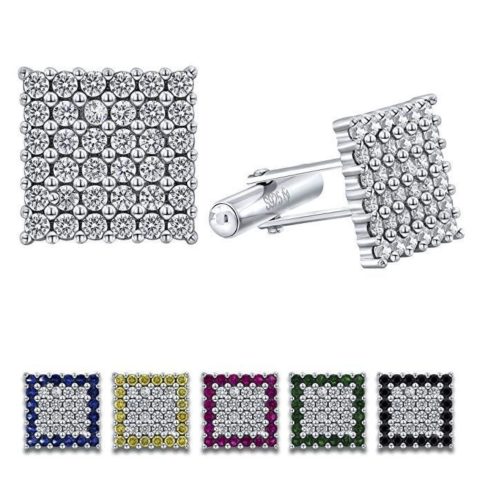 WHOLESALE TO THE PUBLIC, UNBEATABLE PRICE - High Quality Solid .925 Sterling Silver - Super Shiny, Identical to Platinum/White Gold - Best Quality AAAAA+ Cubic Zirconia (CZ) Stones - Free Elegant Metallic Silver Jewelry Gift Pouch - SAFE FOR YOUR SKIN: Free of copper nickel or lead which can irritate or turn your skin green. - Check out our entire extensive collection!
ABOUT CUBIC ZIRCONIA (CZ): Cubic Zirconia is an affordable diamond alternative that reveals brilliant shine and a meticulous cut. Clear Cubic Zirconia (CZ) stones have a color and refractive index almost identical to diamond, so they sparkle and shine just like the real thing.
ABOUT STERLING SILVER: Sterling Silver is the brightest of all the precious metals. It reflects a mirror shine that produces a sparkling effect.
ABOUT PLATINUM PLATED: Platinum plated is a fine layer of Rhodium to give it a Platinum/White Gold finished look that also provides strength, durability, endless sparkle and luminous shine. Rhodium plating protects the Silver and does not tarnish easily.
ABOUT STERLING MANUFACTURERS: Sterling Manufacturers is committed to customer satisfaction. Whatever item we sell, we want our customers to be happy with the quality of the item along with the excellent price.
This page contains affiliate links. Learn more.