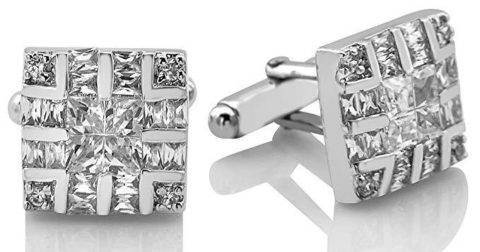 ✔ Authentic .925 Sterling Silver Cubic Zirconia Cufflinks. Measures 16mm by 15mm. Original design by Sterling Manufacturers.
✔ 42 Secure Channel-Set AAA Grade Cubic Zirconia Stones. Durable Hinges
✔ Electroplated with Highest Quality Real Rhodium eCoating to extend lifetime and give it a Platinum/White Gold finished look that also provides strength, durability, endless sparkle and luminous shine.
✔ Free Elegant Metallic Silver Jewelry Gift Pouch. A perfect gift for a Graduation, Bachelor Party, Wedding, Corporate Event, Anniversary, Father's Day, Christmas.
✔ Buy With Confidence, The Highest & Best Quality, Don't Settle for Look-Alikes or Knock Offs!
This page contains affiliate links. Learn more.