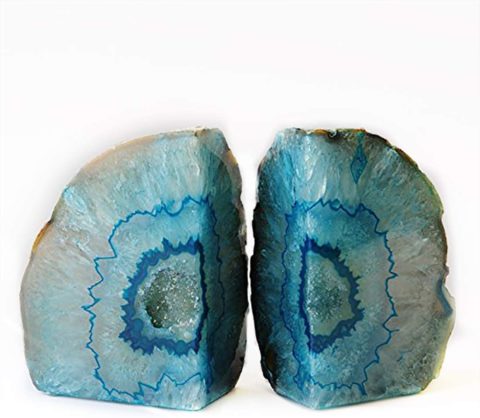 PACKAGE: 1 Pair . size : 4 to 6 Lbs. Include Free rubber bumper put on the bottom of the bookens to help protect your furniture .The bookdyed Dyed teal color .Wipe the surface before use, and be careful to dip in water.
NATURAL :Made from Natural agate stone .Dyed Teal color .The face of each bookend has been polished smooth .and back retains the natural rough crust of agate, concave and convex. Unique design: simple appearance, unique texture, beautiful and durable.
ENERGY:Agate is a conservation stone .Agate promotes courage and self-confidence while dissipating fear.Working with Agate is said to enhance one's perceptiveness, analytical capacities, and intellect, making it an excellent stone for students.As guardian of the existence of knowledge, Make the BOOKS more charm.
DECORATION:Pure agate stone gives you a natural beauty; Natural texture and simple fashion design,reflecting the simple and generous. Ideal for home or office décor, collection and as a gift.
NOTE& CONTACT JIC Gem:The characteristics of each piece of agate stone are not the same, so the picture is a reference, you will receive similar.when you receive it ,If there are any missing items, wrong items or damaged items, please send mail to us first and we will help you solve the problem in the first time.
$41.99 USD
This page contains affiliate links. Learn more.