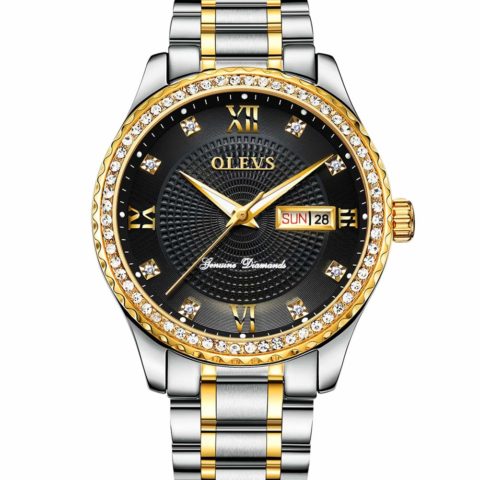 Luxury Diamond Watch : It's a shiny diamond watch for men. Features diamond which is not real, the material is cubic zircon stone (artificial diamond with good luster). The 40mm big face surrounded by 64 diamonds. Luxury is visible in every detail
Stainless Steel Band : This watch band is made of stainless steel, which is anti-rust and anti scratch and keep the luster for a long time (very convenient to clean). The watchband length is 22mm, suitable for majority people and it could be adjusted to shortest 178mm (cut off 6 knots )
Multifunction : Waterproof 30m, 98ft, suit for daily use but not swimming and diving. Luminous design, very cool and convenient, also can be used in dark. Date-Day Windows (adjust way: 1. adjust the time to 6:30. 2. adjust the calendar, up: week, down: date)
Classic Color Watch : You can choose the black/ white/ blue/ gold tone on the color-name. This 4 colors easily matches with clothes and gives classical charming look
Gift Idea : This watch suits men / businessmen. Suitable for business, casual, work, travel, festival. An ideal gift on birthday/ Christmas/ father's day/ New year/ best man's gifts
This page contains affiliate links. Learn more.