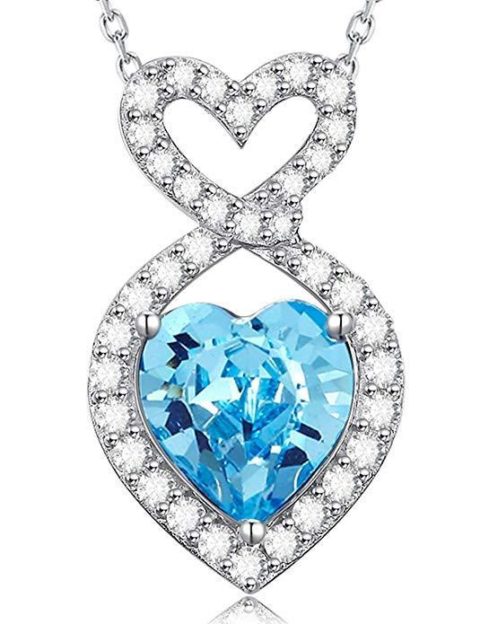 ❤️ MARCH BIRTHSTONE NECKLACE ❤️ Elegant Love Heart and Infinity design Pendant with Aquamarine Element and sparkle simulated diamond side stones. Dedicated "LOVE" Engraved on Side view of this Charm. Solid sterling silver charm and 20" Chain adjustable from 18" to 20"
❤️ BIRTHDAY GIFTS FOR GIRLS ❤️ Comes in pretty gift box. Perfect gift ideals for mom, wife, daughter, sisters, love family, best friends or any lady you loved for their Birthday, Anniversary, Valentine's Day, Valentines Day, Mothers-Day, Wedding, Engagement any celebration.
❤️ ANNIVERSARY GIFTS FOR HER ❤️ Both Heart and Infinity are Love Symbol express your love to Ladies. Infinity Means Endless Love. March Birthstone setting in center of unique designed heart pendant means " You are the Only one in my heart".
❤️ LOVE HEART NECKLACE ❤️ The exquisite white gold plated sterling silver and the unique design of this Infinity design make it an elegant addition to the jewelry collection of any woman, who wants to stand out with her own, unique, luxurious style!
❤️ MONEY BACK GUARANTEE ❤️ 100% Satisfaction and Money Back Guarantee. Feel Free to Contact Us, If You Have Any Questions to Our Items and Services.
This page contains affiliate links. Learn more.