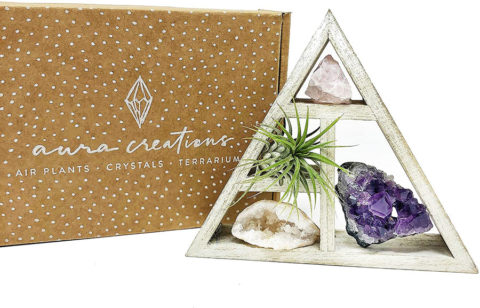 ✔ SMALL, SIMPLE, SIGNIFICANT– The mini display shelf is the perfect way to add a touch of beauty to any small space. The small size allows to be displayed on a shelf, nightstand, desk, or any other area that needs a touch of love without interference. Aside from being aesthetically beautiful this unique kit aids in mindfulness and manifestation. As a result, you will feel more relaxed and recharged in Body, Mind, & Spirit.
✔ PERFECT GIFT IDEA! – If you want to mesmerize your loved one for encouragement, celebration or inspiration. Assure this is the perfect gift! Each kit is gift ready and carefully packaged. The kit is made specifically for those interested in meditation, natural healing, yoga, reiki, spiritual practices, or simply harmonizing one's home or office.
✔ PEOPLE CRYSTALS x AURA CREATIONS COLLAB – The mini wood shelf with air plant and crystals is the perfect display of the natural beauty. The single plant pairs synergistically with the crystals to serve as a powerful crystal healing tool. This exclusive kit will come packaged in an aura creation branded gift box.
✔ 120 DAY 100% MONEY BACK GUARANTEE - We are confident that you or your loved one will love this crystal healing set, if you aren't happy with your purchase for any reason you have 120 days to return for a full refund! The collection that you receive will vary from the photo since every collection is unique and natural imperfect but perfect in nature, but they are an accurate representation of the quality of the crystals you will receive.
$35.00 USD
This page contains affiliate links. Learn more.