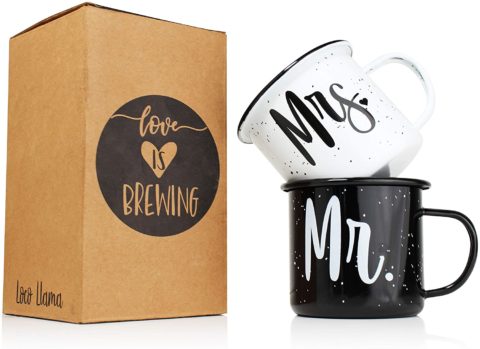 MR AND MRS MUGS - Our 16 oz Enamel Mr and Mrs Camping Mugs are ideal for the adventurous couple that enjoys camping, travel, backpacking, the outdoors, coffee and tea. They also work great for the evening whiskey, vodka, wine, or gin drink too.
TRUE CAMPING MUGS - Unlike other enamel "camping mugs", our mugs are made from Stainless Steel, which makes them lightweight. Never worry about breaking. They are coated with Enamel, which provides the classic texture and taste that you would get from a standard coffee mug.
HIS AND HERS GIFT - Our Mr and Mrs Coffee Mug Set with Gift Box makes the perfect gift for engagements, bridal showers, anniversaries, housewarming, wedding, honeymoon, and Valentines. Couples Coffee Mugs are also great for the Bride and Groom!
WHAT IS ENAMEL - Enamel is a material that is the result of melted and fused glass powder. It is fired with additive pigments at high temperatures of around 850°C, and the result is a smooth, shiny, protective coating to whatever you dip in it.
WHAT ARE THEY DESIGNED FOR - Aside from looking great and feeling lovely to hold, they're mostly they're designed to be mega durable and tough. Enamel camping mugs are made from steel and then dipped in enamel to coat the steel and protect it from rusting and wear.
$24.99 USD
This page contains affiliate links. Learn more.