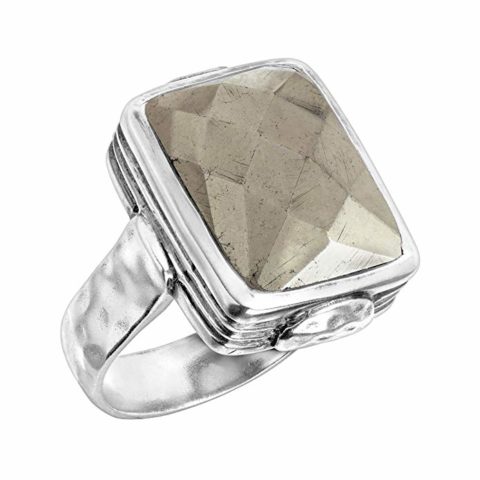 A faceted 17 1/2 ct pyrite stone bezel-set in a sterling silver band makes this statement ring stand out from the rest
MODERN GEO: Your high school geometry class couldn't have prepared you for the geo trend taking over the runways! These sterling silver styles are designed from shapes like triangles, crescents, circles and chevrons that take on a more organic, hand-crafted look with the help of brushed, textured or hammered detailing. These modern designs can be paired with your favorite geometric patterned top for a head-turning look or simply accessorize your go-to casual ensemble with a dash of mod glam.
PYRITE: This natural mineral gleams with a beautiful metallic luster
STERLING SILVER: Silpada's signature metal is known amongst jewelry wearers for its strength, brightness, shine, and decreased risks of allergic reactions and tarnish residue on skin
MEASUREMENTS: Ring face measures 7/8 inches in width
This page contains affiliate links. Learn more.