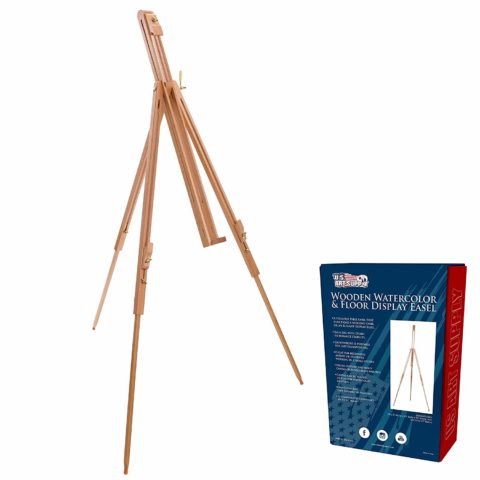 Harbor Model Easel, a French-style multi-functional adjustable height tripod artists watercolor, field and display easel that converts from vertical to horizontal positions, or any angle in between. Easel is made of aged Beechwood that's grown in Germany and has a natural wood colored oil finish.
This sturdy tripod easel adjusts up to 72" high and extends to accommodate panels and canvases from up to 42" in height as a vertical floor easel or from 7" to 28" in height as a horizontal watercolor easel. The adjustable tripod legs allow you to use the easel outdoors on uneven ground as a field easel or indoors as a floor or tabletop studio easel.
A portable lightweight 3.2-pound easel that's designed for both floor and tabletop use and it collapses down to a compact 33.5"and held together with a tie strap for quick storage and easy transportation. The non-skid rubber feet add stability and also protect tabletop surfaces.
Easel Dimensions: As a floor easel 34" max-width x 34" max depth x 72" max height and 42" max canvas height; As a table easel 22" max-width x 22" max depth x 53" max height and 28" max canvas height. It's a durable user-friendly easel that's great for use by kids, beginners, students, as well as for advanced artists and professionals.
Risk-Free Purchase with our 100% Lifetime Satisfaction Guarantee. U.S. Art Supply is an industry leader in Art Supplies, so purchase our products with the confidence that we'll offer you a 100% lifetime satisfaction guarantee that if you're not happy with them at any time, we'll provide a full replacement or refund.
$39.99 USD
This page contains affiliate links. Learn more.