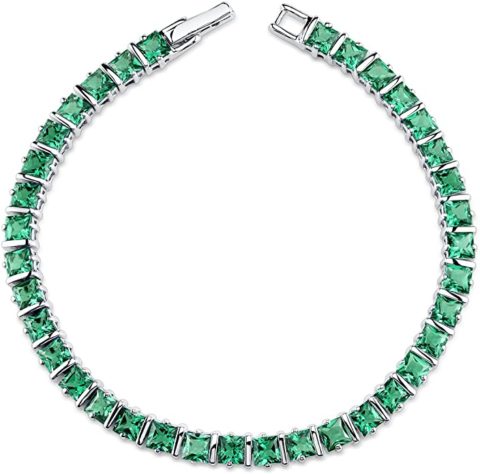 RADIANT TENNIS BRACELET - An extraordinary piece to say the least! Tennis bracelet for women features stunning row of 36 pieces of Peora Simulated Emerald stones, Princess Cut, 4mm each, 13 Carats total with rich Forest Green hue and a brilliant sparkle. The Peora Simulated Emerald Tennis Bracelet in Sterling Silver elegantly wraps around your wrist. Bracelet measures 7.75 inches in length.
SUPERIOR QUALITY - Every Peora Simulated Emerald is hand selected by our skilled Craftsmen from the finest materials, each polished meticulously enhancing the color and beauty of the stone that results to an extraordinary display of luster and brilliance. Experience fine jewelry by Peora - not only a heritage of authenticity, but a promise of superior quality. Sterling Silver Jewelry is hallmarked and stamped with 925.
PEACE OF MIND - Peora is a U.S. based fine jewelry manufacturer committed to the highest standards of excellence since 1998. A reputable brand on Amazon with over 50,000 positive reviews, you can wear your jewelry with confidence, knowing that each Peora piece comes with a Certificate of Authenticity for quality assurance and a satisfaction guarantee.
LASTING WEAR - Every Peora jewelry is created with materials of the highest quality, and this Simulated Emerald green bracelet is no different. Set on a polished and durable precious metal of Sterling Silver, lighting your wrist up with an elegant green glow. The fold over claps secures the bracelet for a carefree confident wear. Rhodium coated for luxurious finish, nickel-free and hypoallergenic.
SPECIAL GIFT - For a standout addition to any collection, gift her or yourself with Peora Simulated Emerald Tennis Bracelet in Sterling Silver. An elegant custom-designed tennis bracelet, it is ideal for birthdays, anniversaries, Christmas, Mother's Day, graduation, push present for moms to be or just to say, I'm Thinking of You. Shipped in a gift-ready box this bracelet promises to bring a smile to her face.
$216.99 USD
This page contains affiliate links. Learn more.