This page contains affiliate links. Learn more.
Finding the perfect anniversary gift can be hard, especially if your loved one is a passionate home cook and particular about their culinary pursuits. To help make your search easier, we've prepped some great gift ideas for every type of home cook.
Whether you're looking for a personalized gift for the head chef of your household, an awesome appliance for the aficionado, something to fire up your grill master, a winning gift for your blue ribbon baker, or something to surprise and delight your resident mixologist, we've got you covered. We'll help you discover unique anniversary gift ideas for: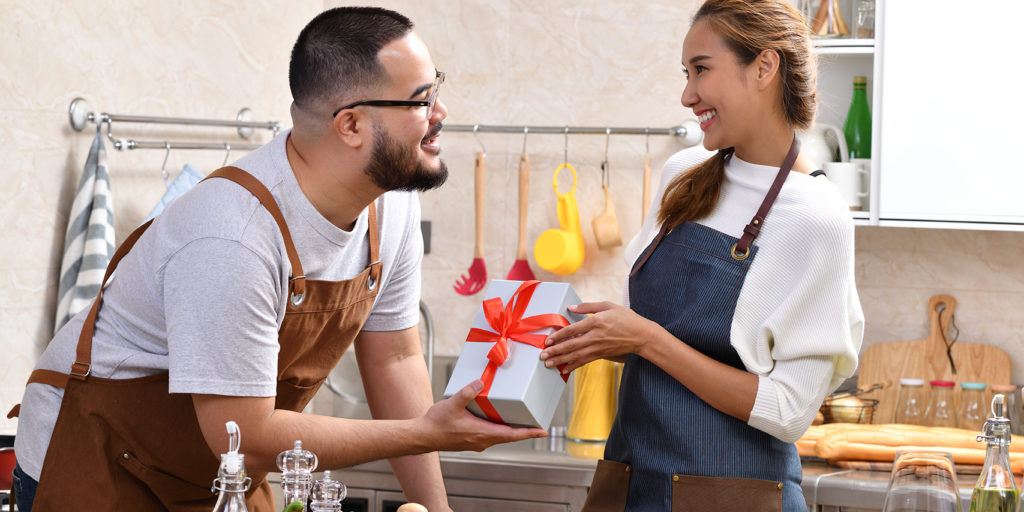 While these gifts are great for any year, you may be wondering about the specific gift theme for your anniversary. If that's the case, please look to our traditional and modern gift guides to learn more about the gifts for each year of marriage.
Personalized Anniversary Gifts for Your Head Chef
If your spouse is an inspiration in the kitchen, then they probably love experimenting with food and are always trying new recipes. That can make it hard to know what gifts they'll actually want to use. Personalized gifts are a great option because they tend be things that will get a lot of general use but have special sentiment because they are created specifically for your head chef.
Personalized Engraved Cutting Board
Decorative & functional
Choose from 9 distinctive designs
Laser engraved bamboo
Multiple shape & size options
$11.95 USD
With nine beautiful design options, this personalized cutting board will look amazing whether it is used for food prep, serving guests at your next party, or displayed as custom kitchen décor.
---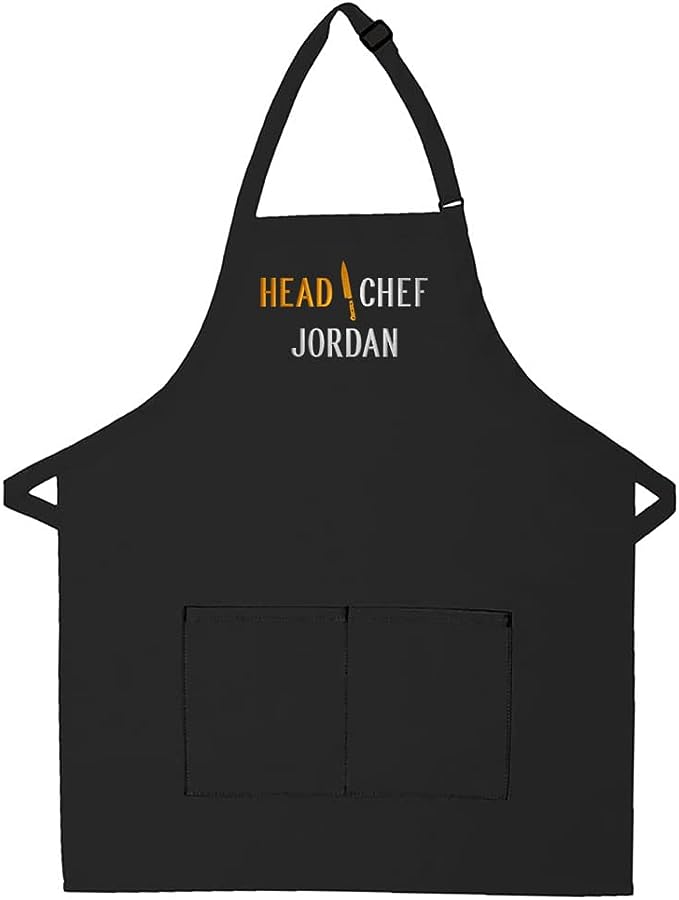 Personalized Head Chef Apron
Professional quality embroidery
Using a 40 wt polyester thread
Durable, long lasting, polyester/cotton blend
Features two large pockets
$32.95 USD
Bring professional quality home to your kitchen. With multiple size and color options and an adjustable neck strap, this apron is the perfect fit for a personalized anniversary gift.
---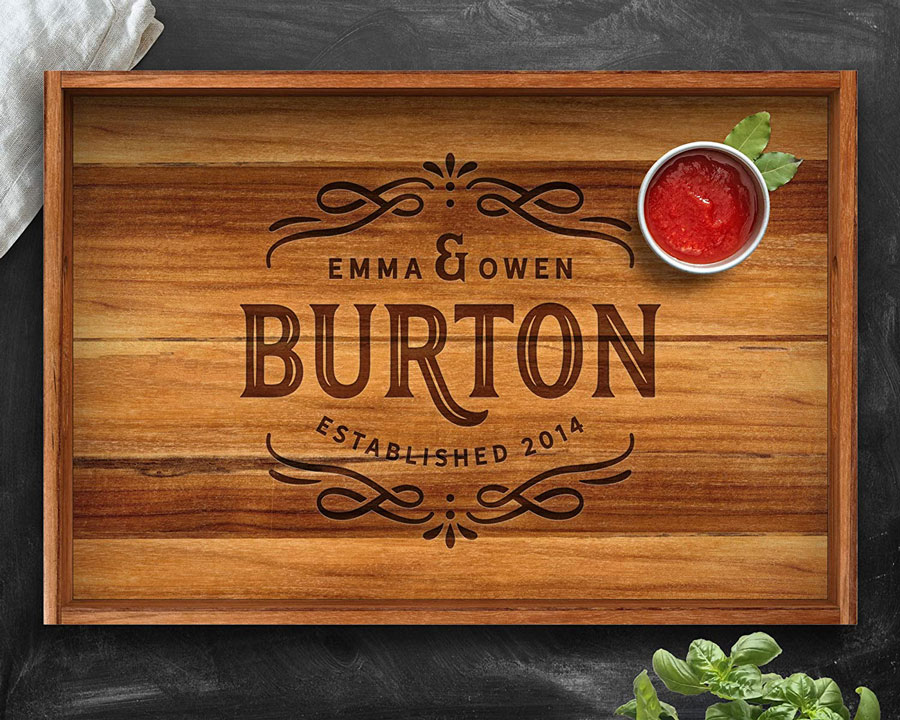 Personalized Wooden Serving Tray
Features a laser engraved design
Personalized with names and established date
Made from sustainably sourced teak
Size: 20.5″ x 13.75 x 2.5″
$109.99 USD
This beautiful tray can be used to serve everything from breakfast in bed, to afternoon tea, to appetizers at a cocktail party. Perfect for entertaining and an excellent personalized anniversary gift for the host with the most.
---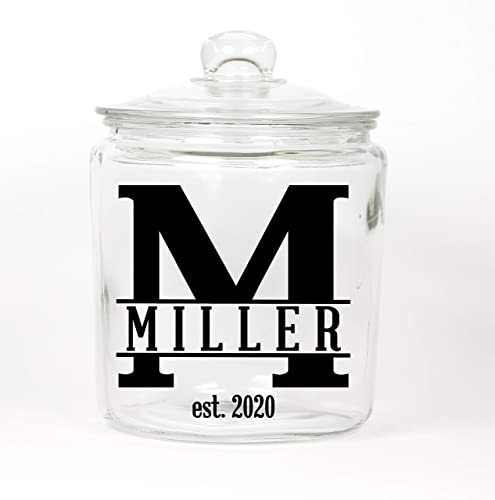 Monogrammed Cookie Jar
Personalized with monogram letter and last name
Includes established year
Available in 1 gallon or 1/2 gallon capacities
Choose from multiple ink colors
$39.95 USD
Display homemade goodies or add a personalized touch to your favorite store bought treats. With two sizes and 20 ink colors to choose from, this anniversary gift is sure to look great on any counter!
---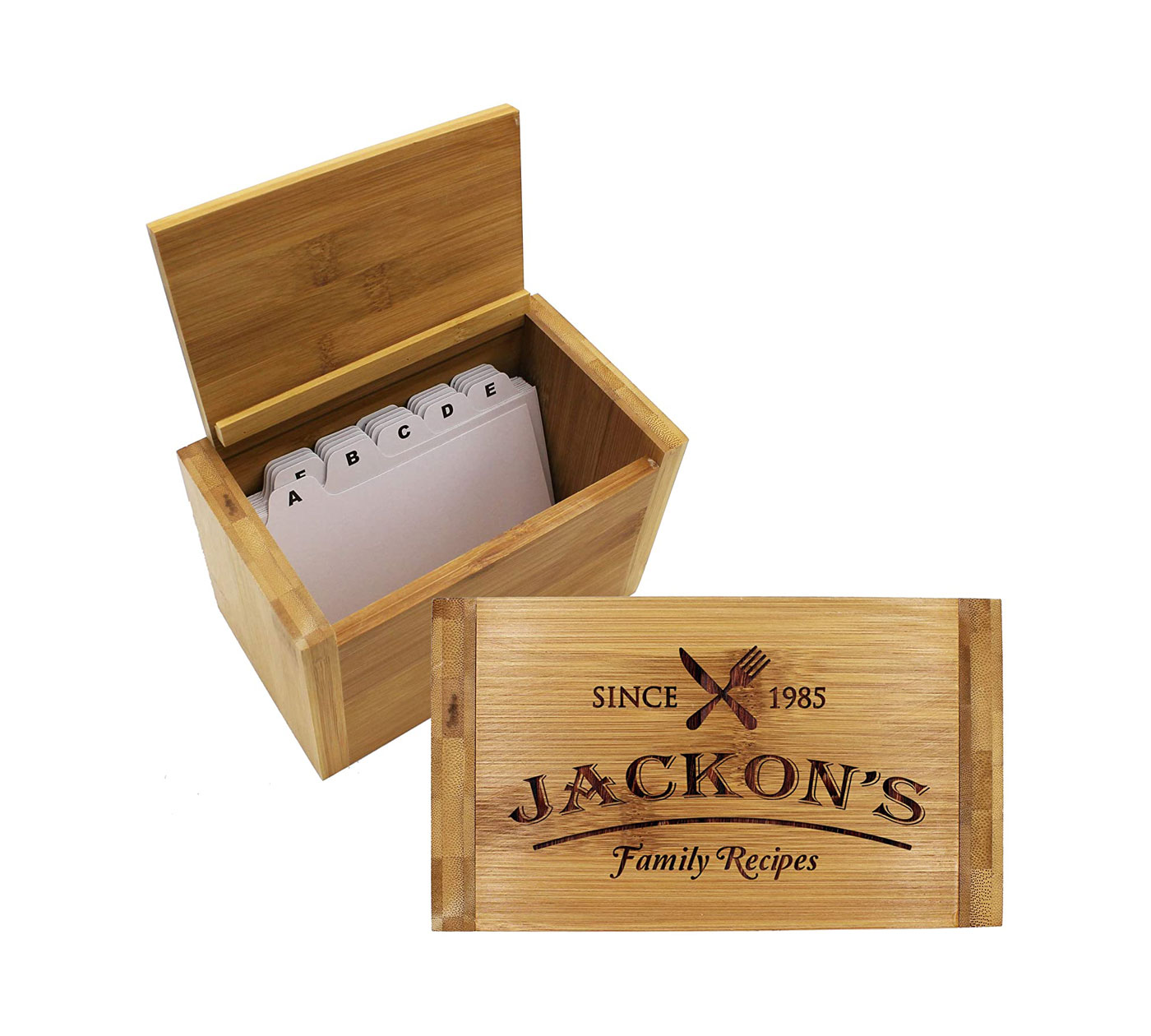 Persoanlized Wooden Recipe Box
Choose from 3 engraving designs

Holds standard 4″ x 6″ recipe cards

Includes alphabetical

recipe dividers

Size: 7.5″ x 4.5″ x 5″
$39.99 USD
Whether handed down through generations or recently developed, this personalized anniversary gift is the perfect place to store those secret family recipes.
---
Anniversary Gifts for the Appliance Aficionado
Some people might consider an appliance too practical a gift, but your anniversary is a great opportunity to upgrade a favorite gadget or give a specialty item that you might not otherwise buy. And for kitchen connoisseurs especially, a practical gift that will aid their cooking will definitely delight.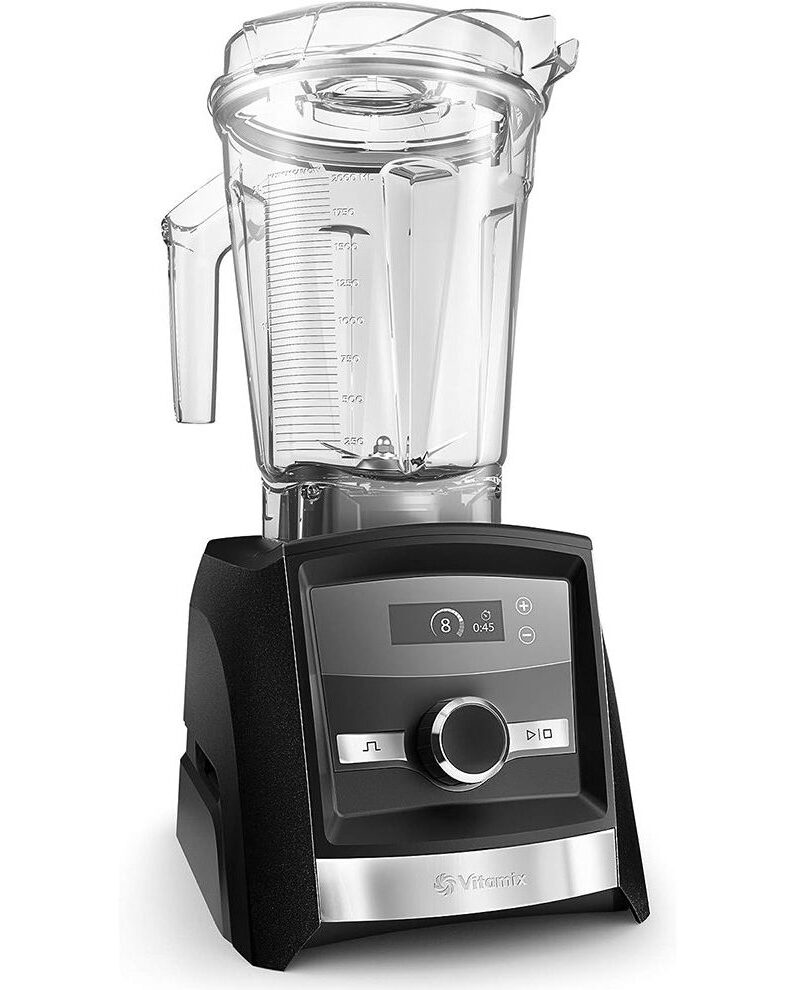 Vitamix Ascent Series Smart Blender
Variable speed control and pulse feature
Built-in wireless connectivity
Programmable timer
Touchscreen interface
Low-profile 64-ounce container
$519.48 USD
While Vitamix is the go-to blender for professional chefs, the Ascent Series blender is the perfect fit for a home kitchen. Investing in a Vitamix blender will show your spouse how much you support their passion for cooking.
---
Kitchenaid Pasta Roller
Compatible with any KitchenAid Stand Mixer
Stainless-steel set includes pasta roller, fettuccine cutter, and linguine fine cutter
Measures appx. 9″ x 3″ each
$149.99 USD
If your spouse loves kitchen appliances then it's a good bet they already have a KitchenAid Stand Mixer so an attachment set will make a great addition to their culinary arsenal. Your chef will enjoy mastering the art of pasta making while you enjoy delicious homemade spaghetti.
To put this anniversary gift over the top, you can include a collapsible pasta drying rack. Then all they'll need to get started is a few ingredients and their imagination.
---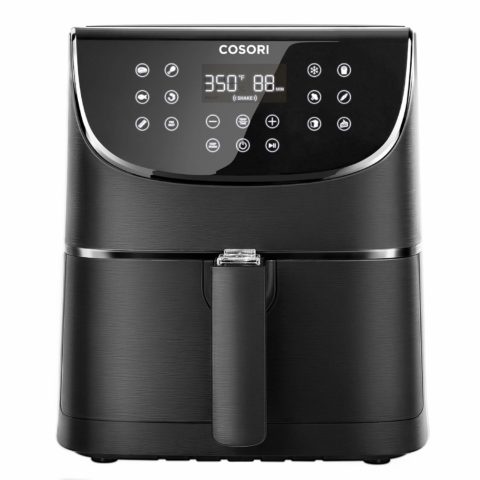 COSORI Air Fryer
Features ergonomic angled display with digital one-touch screen menu
3.7 quart non-stick basket
Slim footprint measures 10.75″ x 10.9″ x 12.25″
$99.99 USD
Easy to use, easy to clean, fast, versatile and convenient. What more could you ask from a kitchen appliance? With eleven presets, plus manual settings, and an extensive 112-page recipe book, you can expect more than fries from this anniversary gift.
---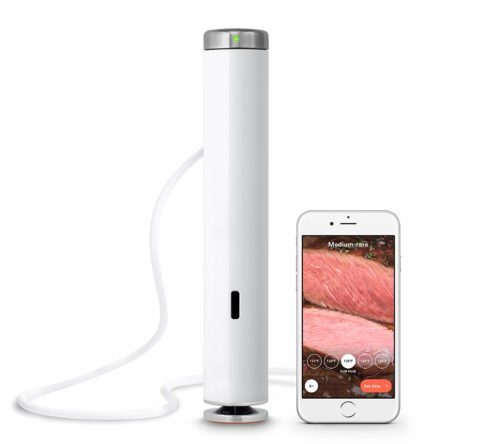 Breville Sous Vide
Smallest, sleekest sous vide tool
Streamlined white body and solid stainless steel cap & base
Features 1100 watts of power for hyper-fast water heating
Joule app displays exactly how food cooks
$354.99 USD
All you need to get cooking with this sous vide tool is your smartphone, a favorite pot, a ziploc bag, and water. Compact, portable, and controlled by a groundbreaking app that empowers sous vide veterans and novices alike, this anniversary gift will allow your spouse to cook perfect meals anytime, anywhere.
---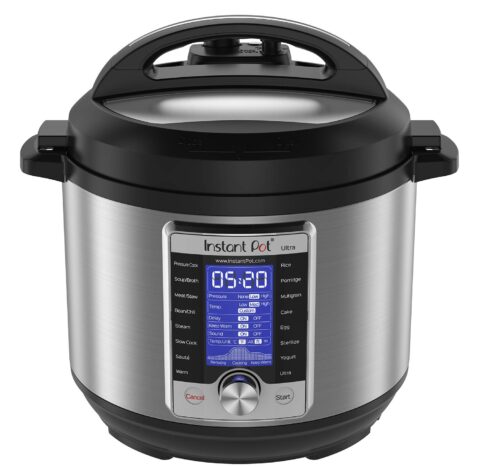 Instant Pot Ultra Pressure Cooker
6 quart 10-in-1 electric pressure cooker
Embedded microprocessor monitors the pressure and temperature, keeps time, and adjusts heating intensity and duration
Ul certified with 11 safety features
$139.99 USD
The Instant Pot Ultra pressure cooker is the gift of ten appliances in one! Designed to cater to varying tastes and cooking conditions, the Ultra has adjustable settings and is perfect anniversary gift for the home chef that loves precision cooking.
---
Anniversary Gifts for the Grill Master
Whether you plan to upgrade their grill equipment or add the perfect accessory, anniversaries give you a great opportunity to feed your spouse's love for cooking over an open flame. Help them become a well-seasoned griller by giving them the tools they need for success.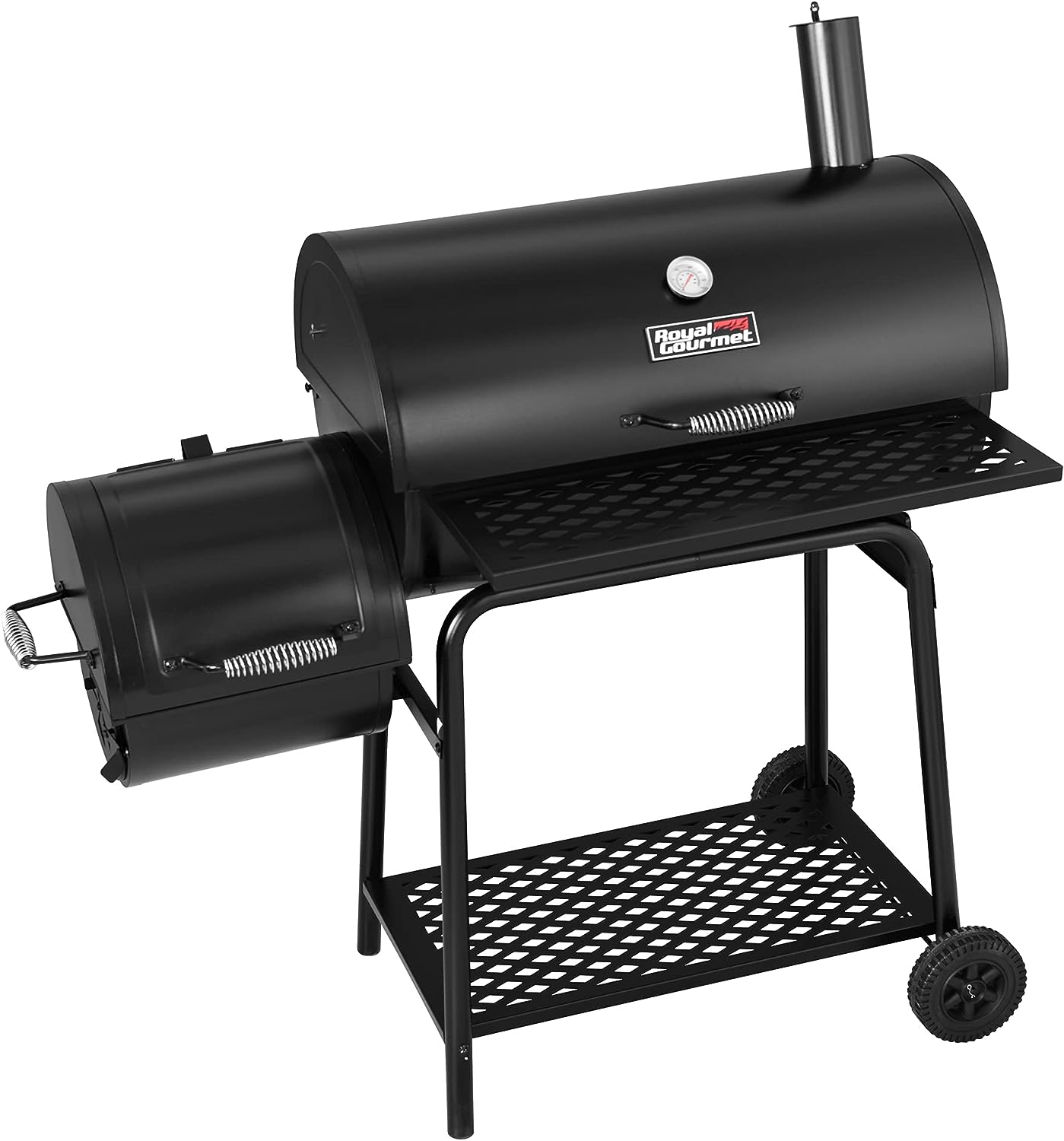 Charcoal Grill with Smoker
Grill and smoke meat at the same time with no hassle
Heavy duty lid, with professional thermometer
Large capacity, adjustable charcoal pan for better heating
$126.09 USD
Elevate the casual backyard BBQ into a fantastic grilling experience with this easy to set up, easy to use and easy to clean grill with offset smoker. Makes the perfect anniversary gift for the grilling enthusiast that wants to take the next step to becoming a BBQ master.
---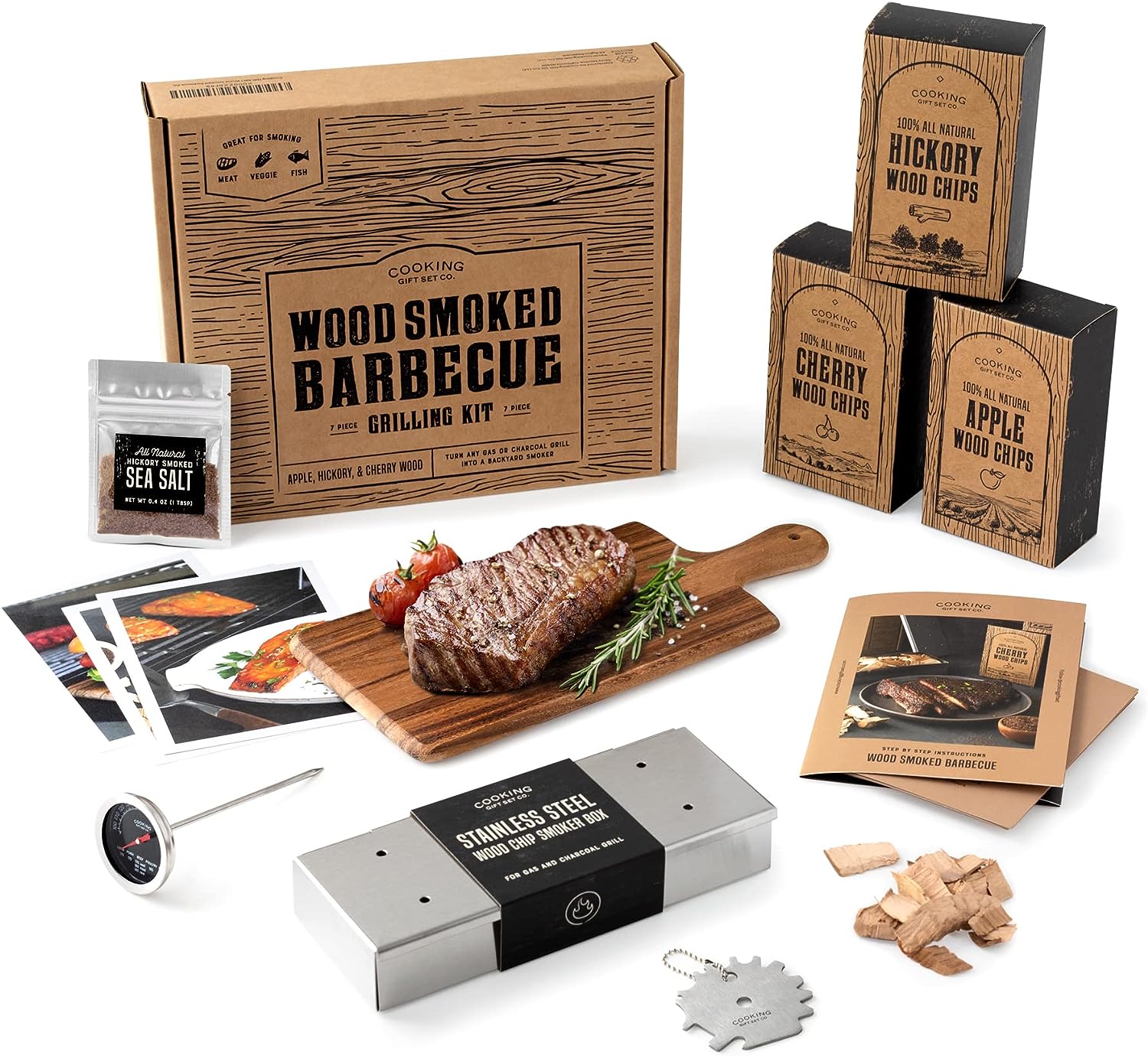 Wood Smoked BBQ Grill Kit
Transform your grill into a smoker
8-piece smoked BBQ grill set
Includes stainless steel smoker box, universal grill scraper, and grilling thermometer
Choose from 3 all-natural wood chips: cherry, apple, and hickory
$54.99 USD
This easy-to-follow grill kit includes everything you need to learn how to expertly infuse your favorite grilled foods with mouth watering smoky flavor. Combine the three different wood smoker chips in this anniversary gift to find a signature smoke profile.
---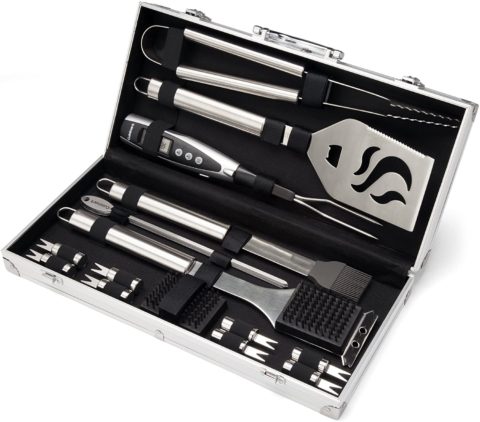 20-Piece Grill Set
20-piece set includes all of the essential grill tools
Constructed from durable stainless steel
Carrying case keeps tools organized and ready for use
$40.99 USD
Make grilling fun and easy with this set of twenty essential tools including: chef's spatula, grill tongs, digital temperature fork, silicone basting brush, four pairs of corn holders, five skewers, and a cleaning brush with extra brush head. Makes a great anniversary gift for every level of griller, from amateur to professional chef.
---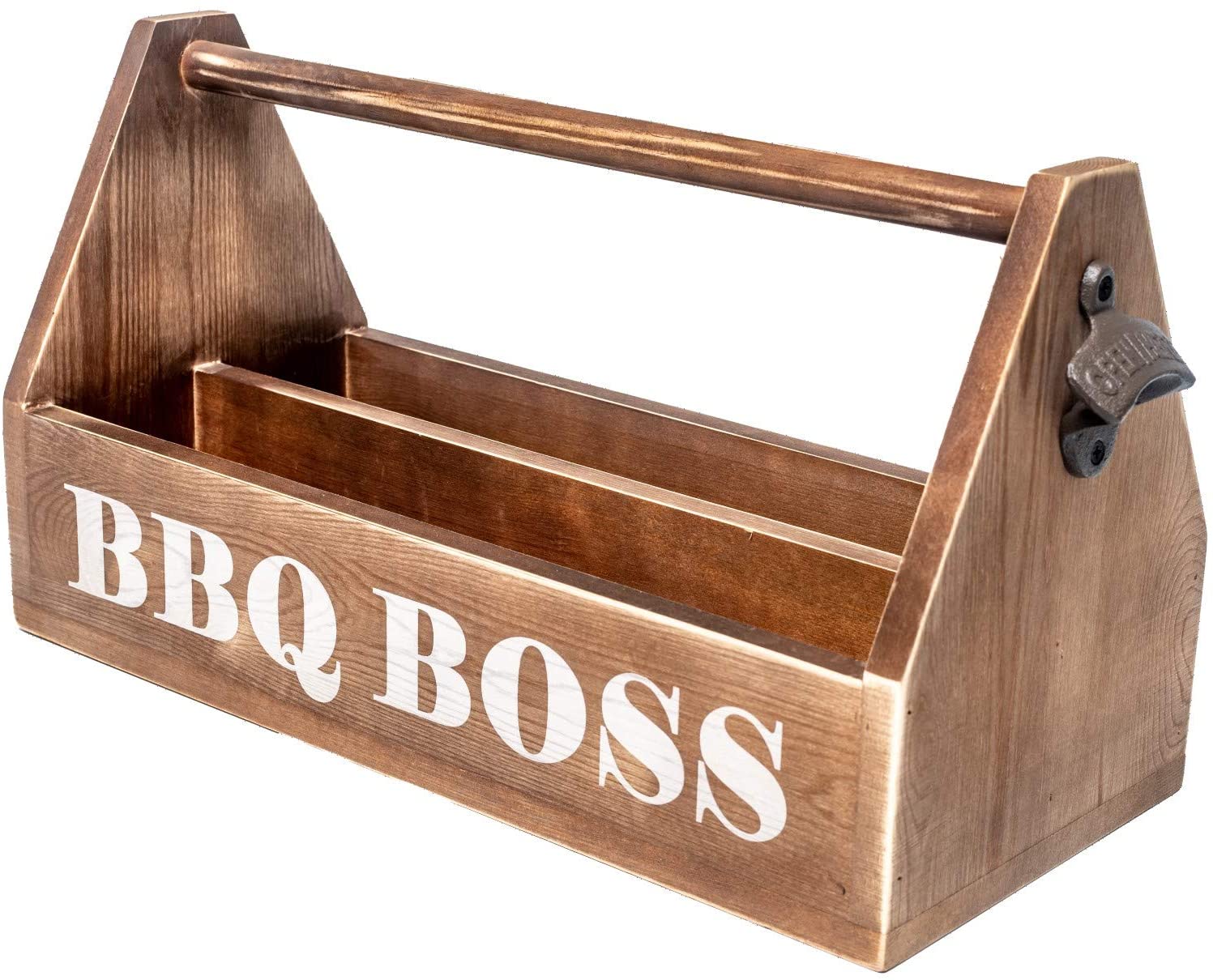 Handcrafted Grill Caddy
Divided caddy with handle
Handcrafted from premium pine
Side mounted bottle opener
Measures 18″ x 10″ x 8″
This divided BBQ caddy with easy-to-carry handle makes organizing and transporting grill accessories easy while ensuring condiments, spices and rubs are always at hand. Get ready to fire up the grill for some delicious BBQ with the help of this handcrafted anniversary gift.
---
Anniversary Gifts for the Blue Ribbon Baker
To achieve tasty results bakers need patience, precision and the perfect tools. An anniversary gift that nurtures your loved one's love for baking is sure to win best in show. And you will no doubt be rewarded with delicious treats. We call that a win-win!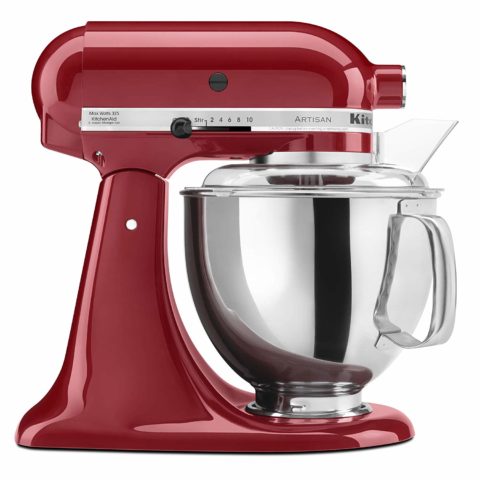 KitchenAid Stand Mixer
Features a 5-quart stainless steel mixing bowl
Includes flat beater, dough hook, 6-wire whip and pouring shield
With a tilt-head design and 10 speed settings
Available in over 20 colors
$397.35 USD
A KitchenAid stand mixer is a must-have for bakers everywhere, so if your spouse doesn't have one you can bet they want one. Make their buttercream dreams come true with this anniversary gift.
---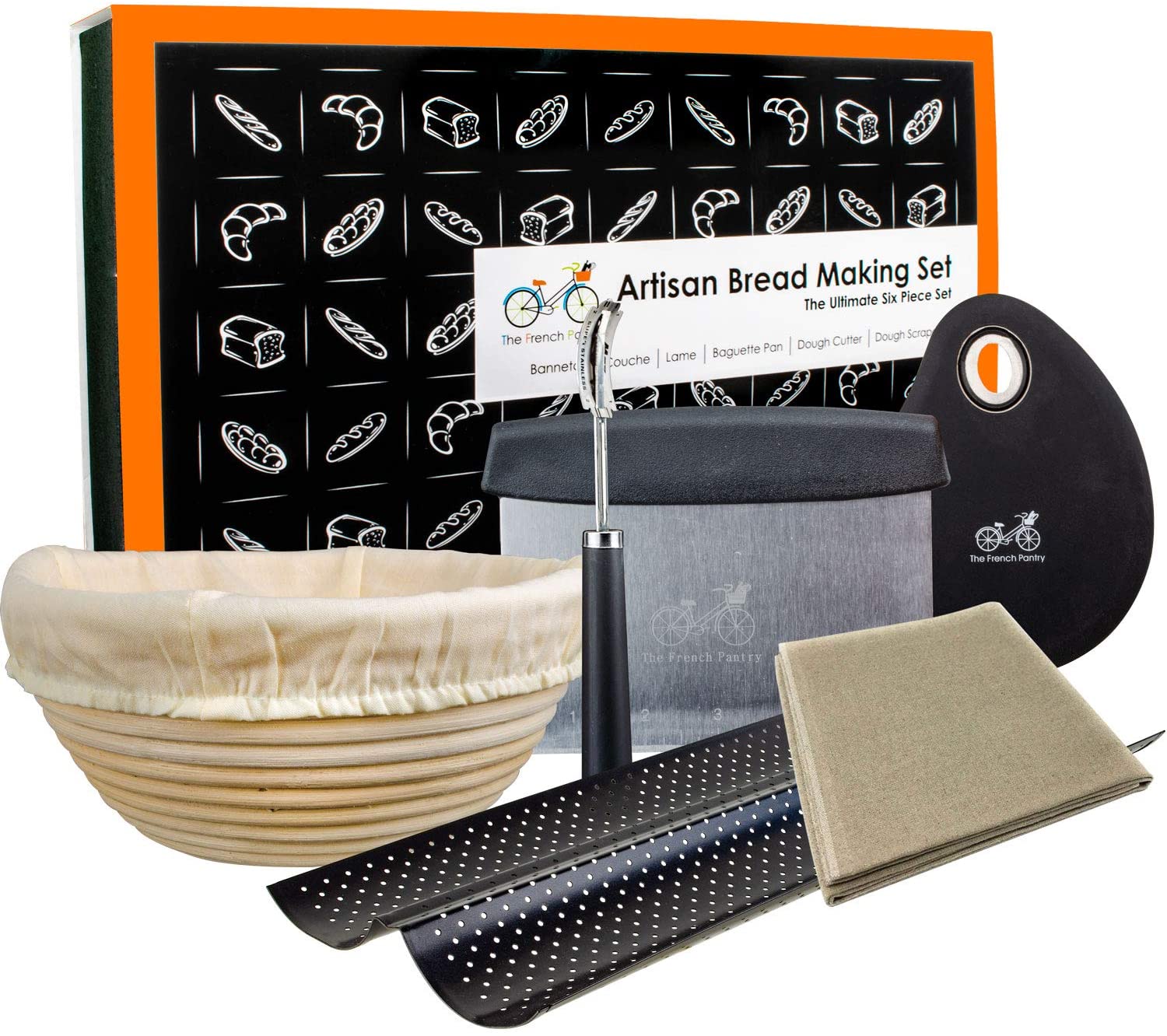 Bread Baking Gift Set
Ultimate 6-piece set includes:
Rattan banneton proofing basket
Linen baguette couche and non-stick baguette pan
Bread lame scoring tool
Dough cutter and scraper
$49.99 USD
When it comes to high quality culinary tools, The French Pantry knows what they're doing. So you can be sure that this anniversary gift set includes all of the tools needed to make delectable bread at home.
---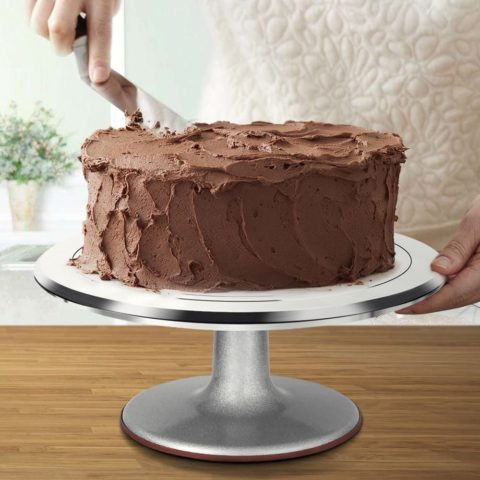 Revolving Cake Stand
12″ turntable rotates 360°
Perfect for decorating cakes & cupcakes
Constructed from heavy duty aluminium alloy
Features non-slip surface & rubber feet
$33.99 USD
Any level baker can achieve professional results with this sturdy turntable that rotates smoothly in either direction. This anniversary gift makes cake decorating fast and easy. And having the right tool for the task is icing on the cake.
---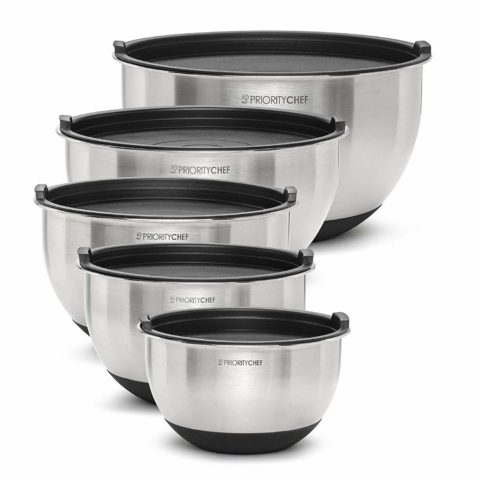 Mixing Bowl Set with Lids
Features etched measuring lines
Crafted from stainless steel
Durable & lightweight
Non-slip silicon bases and tight fitting lids
Sizes: 1.5, 2, 3, 4 and 5 quart
$40.44 USD
Mixing bowls are at the top of the list of necessary kitchen tools for bakers. With convenient features like etched measuring lines and non-slip bases, this stackable bowl set will save your baker time and space, two things that are invaluable in the kitchen.
---
French Tart Baking Kit
Master the decadent art of French tarts. Kit includes:
six (6) stainless steel tart rings
Specialty candy thermometer
Ceramic baking weights
Silicone piping bag and nozzles
Step-by-step instruction booklet
$49.99 USD
This gift set includes all of the tools necessary to help your home baker take the next step to becoming a bona fide pastry chef. Learning timeless patisserie techniques is easy with the step-by-step instructions for lemon meringue tarts, including an ingredient list and tool care directions.
---
Anniversary Gifts for the Masterful Mixologist
Whether your spouse enjoys finding the perfect wine to pair with a meal or is serious about mixing the quintessential cocktail, they are sure to appreciate new or upgraded barware. We've selected some anniversary gifts for your resident bartender that are guaranteed to serve up a good time.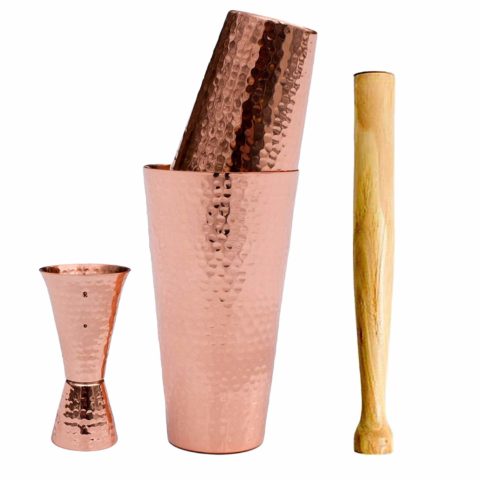 Copper Cocktail Shaker Set
Handcrafted from 100% pure heavy gauge copper
Treated to prevent tarnishing
Set includes a 2 cup shaker, a fluted jigger and a wooden muddler
Elevate your entertaining experience with this classic Boston-style cocktail shaker anniversary gift set. The double-sided jigger includes measurement marks to ensure you'll mix a perfect cocktail every time.
---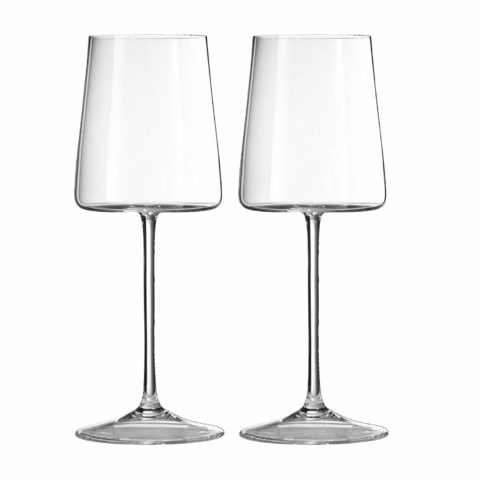 Wedgwood Crystal Wine Glasses
From the Wedgwood Vera Metropolitan Collection
Designed by Vera Wang
Features a subtly conical bowl and elegantly thin stem
Flutes, goblets, and tumblers also available
Simple, sleek, and free of cutting, Vera Metropolitan stemware adds a contemporary silhouette and luxury to any dinner party. For a memorable anniversary gift, pair these wine glasses with a favorite bottle of wine.
---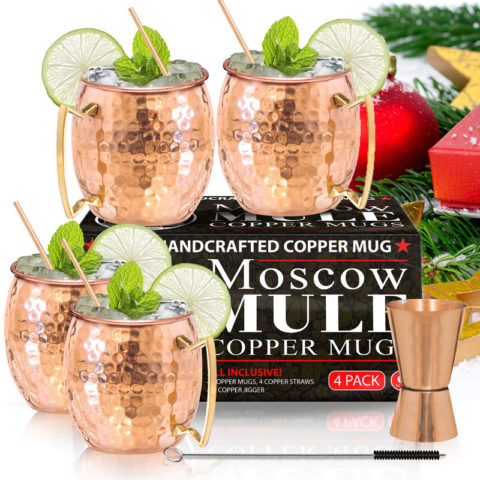 Moscow Mule Mug Set
Set includes (4) mugs, (4) straws &  (1) jigger
Handcrafted from food grade 100% pure copper
Features a hammered finish & comfortable welded handle
$34.97 USD
Proper handcrafted moscow mule mugs are as stunning as they are functional. Just like the original 1941 mugs, Benicci copper mugs are authentic and food safe, making them the perfect anniversary gift to enjoy a frosty beer or cocktail.
---
Set of 4 Crystal Rocks Glasses
Crafted from high quality crystal
Durable, thick sides and base keep drinks at the perfect temperature
Large 10 oz capacity
Packed in an elegant satin-lined padded presentation box
$33.97 USD
Blown from solid crystal, these elegant glasses sparkle beautifully in the light and are guaranteed to impress friends, family and party guests alike. Add a touch of elegance to every drink, especially when sharing a toast on your anniversary.
---
Diamond Whiskey Stones
Crafted from 304 stainless steel
Beautifully shaped like real round diamonds
Keeps drinks cold longer than traditional ice
Reusable & dishwasher safe
Gift packaging included
$19.99 USD
The unique design of these professional quality whiskey stones is sure to enhance the beauty of any drink. They're the perfect choice to chill beverages without compromising taste and make a luxurious anniversary gift for the whiskey lover in your life.
---
Featured Gift Guides