This page contains affiliate links. Learn more.
They say good things come in pairs and wedding anniversaries are no exception! As your second year as a married couple draws to an end you may be looking for a romantic gift to extend the honeymoon phase. Or maybe you are perfectly content having settled into your blissful routines and a practical gift is the best fit for your spouse. Either way, you're searching for a special gift to celebrate the occasion. We've rounded up several second anniversary gift ideas to help you find the perfect present.
If you're here it's probably because you want to know more about the gift themes for the second anniversary. What are they and what do they symbolize? The practice of giving specific anniversary gifts has a long history and is an excellent way to provide direction to the gifts you give throughout your marriage. Read on to discover the traditional, modern, gemstone and flower gift themes for the second anniversary.
---
What Is the Traditional 2nd Anniversary Gift?
The traditional gift for the second anniversary is cotton. Durability, flexibility and comfort are characteristics of cotton and excellent traits to have in a maturing marriage. Cotton also represents the weaving together of two lives into a solid union. Because it is a strong material used in many everyday items, a cotton gift can serve as a regular reminder of your love.
Cotton items can also play a supporting role in a larger gift or experience. For example, incorporate a plaid blanket into a romantic picnic date or pamper your spouse with a spa day featuring luxurious bathrobes or monogrammed towels.
Featured Cotton Anniversary Gifts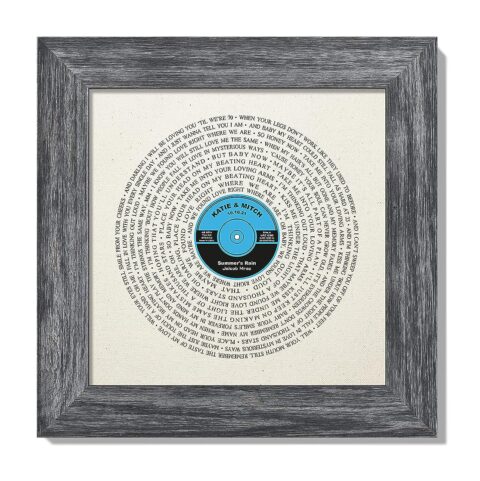 Personalized First Dance Art Print
Personalized with your names, dates and song lyrics
Printed on uncolored cotton fabric
Multiple sizes and framing options
$34.00 USD
This personalized gift is perfect for a musician or for those couples that have a sentimental song that they love. It could be a first dance song or something significant from the early days of dating. Commemorate your second anniversary with an art print that features your song's lyrics set in a vinyl record design printed on natural cotton fabric.
---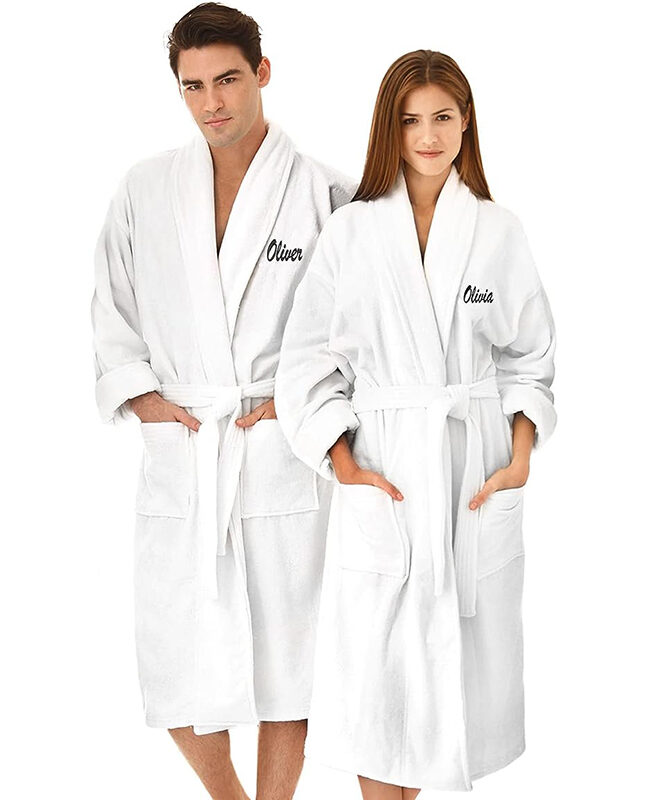 Set of 2 Personalized Cotton Robes
Personalized with embroidered names
Made from 100% cotton
With a velour finish for a touch of luxury
One size fits most
$99.99 USD
Indulge your spouse with a luxuriously soft bathrobe and they won't be able to tell if the warmth they feel is from the cotton or from your love. Either way, they will definitely relax and unwind in this cozy personalized second anniversary gift.
---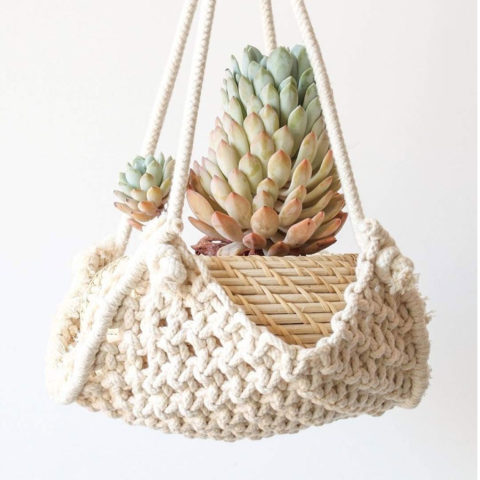 Macrame Plant Hanger
Handmade mini plant hammock
Crafted from 100% cotton rope
Size: 12″ x 12″ x 30″
Planter and plants not included
$16.80 USD
Does your spouse love plants? Show them some love with a unique second anniversary gift that supports their passion. Simple, yet meticulously handcrafted, this plant hanger adds a modern touch of boho chic to any home, balcony or patio. Bonus points if you pair it with a new houseplant that you know your spouse will enjoy.
---
A popular way to celebrate the second anniversary with cotton is to give personalized apparel or home decor. Whether you're looking for a gift for him, for her or for a couple of close friends or family, cotton is a flexible theme that gives you the opportunity to give a gift related to their specific needs or interests.
More Traditional 2nd Anniversary Gift Ideas
---
What Is the Modern 2nd Anniversary Gift?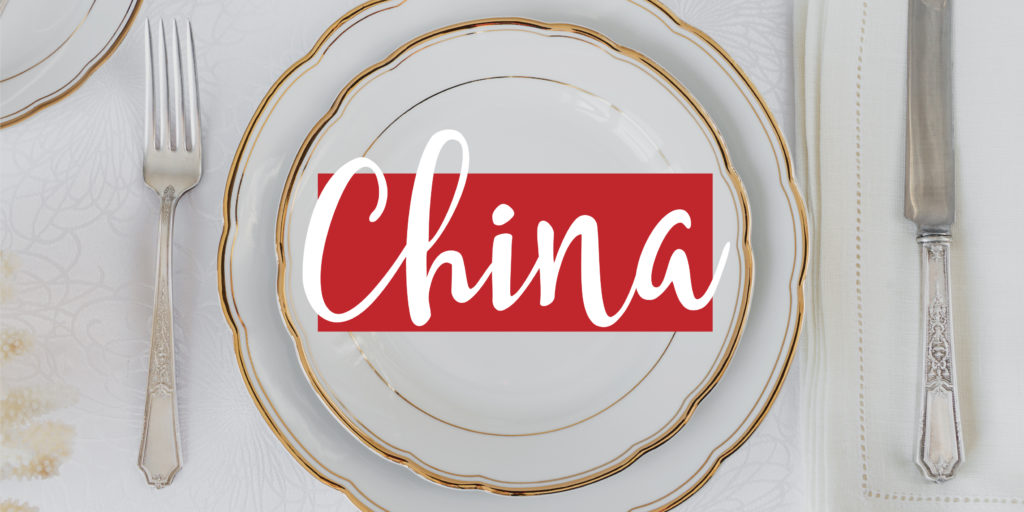 The modern second anniversary gift is china. Delicate and strong at the same time, china symbolizes the fragility and increasing stability of a new marriage. China is also much more durable than it looks and, like your relationship, if you treat it with care it can last a lifetime.
You might already have a set of fine china that you received as a wedding gift. In that case adding new serving pieces that match or compliment your current set is a good choice for a modern second anniversary gift.
If you're building a new set of fine china or mixing and matching new pieces you can choose a pattern that reminds you of your wedding themes or fits your home decor. Either way, china is a long-lasting gift that will be cherished for years to come.
Featured China Anniversary Gifts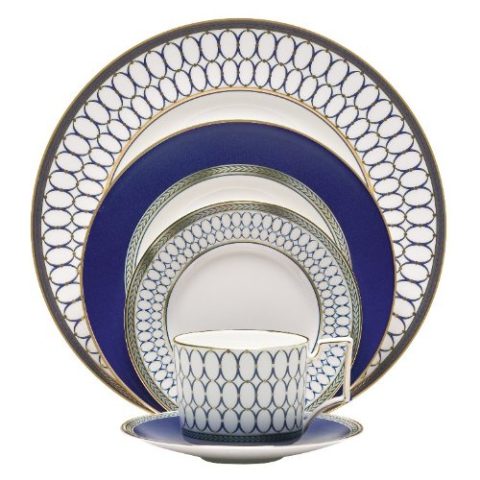 Wedgwood Renaissance Gold Place Setting
Includes one (1) each: dinner plate, salad plate, bread & butter plate, teacup and saucer
Made from fine bone china
Features gold banding and bold florentine accents
Presented in a gift box
$245.00 USD
The Renaissance Gold Collection by Wedgwood is a strikingly elegant pattern that adds modern class to any table. Inspired by elegant interior design motifs and the oval shape of iconic Wedgwood cameos, this indulgent second anniversary gift will definitely delight any fan of fine dining.
---
Mix & Match Tea Cups & Saucers
Set includes four (4) teacups and saucers
Assortment of rose chintz-inspired patterns with gold trim
Each teacup holds appx. 8 oz
Made of fine porcelain
$39.99 USD
This sweet set of teacups and saucers is the epitome of shabby chic! And the best part might just be that they come in a floral box ready for gift giving. If your spouse is a fan of coffee or tea with a side of whimsy then this gift is sure to serve some joy, with one sugar or two.
---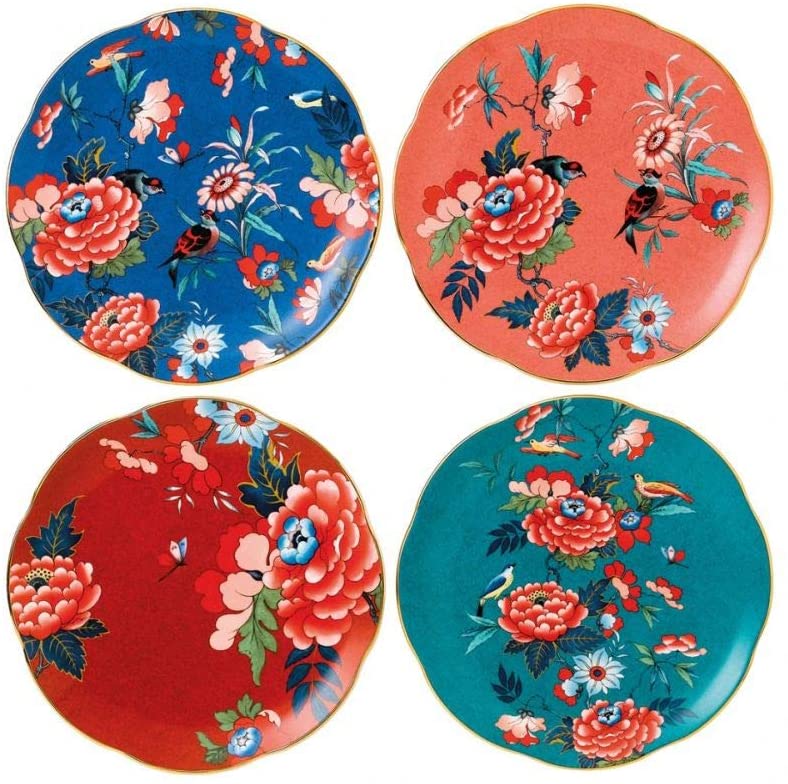 Set of 4 Wedgwood Paeonia Blush Plates
Bright, bold colors are detailed with beautiful peonies
Ideal for hosting an afternoon tea
Plates measure 8.5″
Presented in a signature Wedgwood gift box
$158.85 USD
The Paeonia Blush Collection by Wedgwood is an eclectic mix of teaware pieces that feature a beautiful peony pattern. Peonies are believed to represent romance and good fortune and are symbolic of a happy and prosperous marriage. This set of side plates is a perfect anniversary gift for anyone that enjoys serving sweet or savory treats.
---
When choosing a china gift, consider if you want to give dinnerware that will be used on a daily basis or if it will be reserved for entertaining or special occasions. Luckily, there is a wide range of china products available, so finding a gift that best fits your loved one's needs and style should be relatively easy.
And if you're worried about confusing china with more casual dinnerware, don't fret! Every item we've selected for this year is made from one of the three types of china: bone china, fine china or porcelain.
More Modern 2nd Anniversary Gift Ideas
---
What is the 2nd Anniversary Gemstone?
Garnet is the second anniversary gemstone. Most commonly dark red in color, garnets are symbols of the heart and deep feelings of love.
While jewelry is always an excellent anniversary gift, you can also surprise and delight your spouse with a gift of garnet jewelry given on any special occasion during your second year of marriage.
Garnet Jewelry Anniversary Gifts
---
What is the 2nd Anniversary Flower?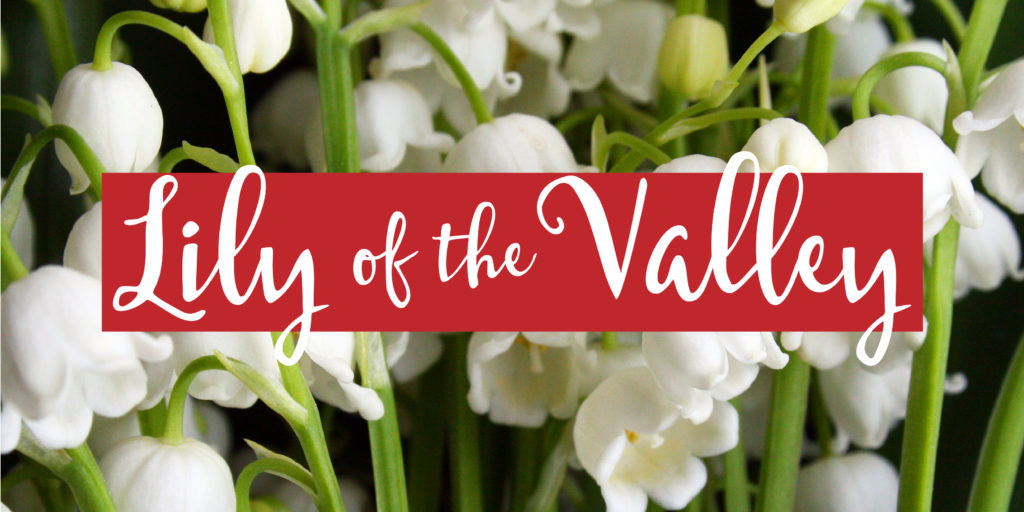 The second anniversary flower is lily of the valley. A bouquet that includes this bell-shaped flower represents the luck and happiness you feel in your marriage. If lily of the valley is unavailable or out of season, the classic anniversary bouquet of red roses will always be appreciated.
---
Featured Gift Guides