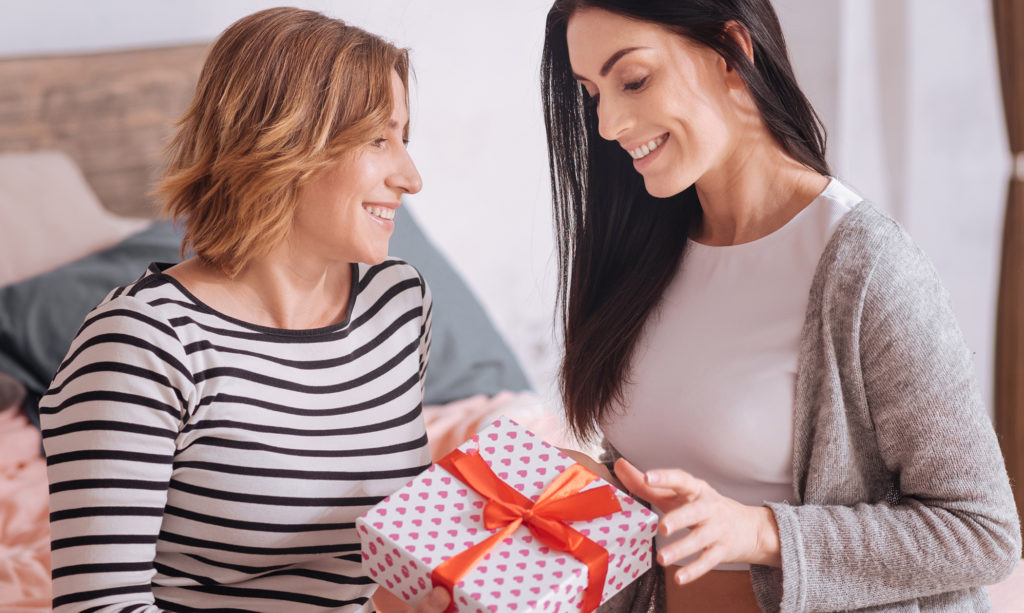 This page contains affiliate links. Learn more.
Cheers to three years! A lot can happen in three years and the time likely flew by in the blink of an eye. As your third anniversary approaches, you're probably reflecting on the time you've spent as a married couple and the life you've established together. You may be looking for a romantic gift to express your love. Or maybe a practical gift is the best fit for your spouse. Either way, you're searching for a special gift to celebrate the occasion. We've rounded up several third anniversary gift ideas to help you find the perfect present.
If you're here it's probably because you want to know more about the gift themes for three years of marriage. What are they and what do they symbolize? The practice of giving specific anniversary gifts has a long history and is an excellent way to provide direction to the gifts you give throughout your marriage. Read on to discover the traditional, modern, gemstone and flower gift themes for the third anniversary.
---
What Is the Traditional 3rd Anniversary Gift?
Leather gifts are traditional for the third anniversary and symbolize the strength, flexibility and durability of your marriage after three years together. With many options ranging from practical to pretty, leather gives you the opportunity to give a gift specific to your loved one's interests or needs.
A popular way to celebrate the third anniversary with leather is to give a gift that can be used on a daily basis. Leather is also one of the easiest materials to personalize which means you can give a gift that is as unique as the recipient.
Whether you're looking for a gift for him, for her or for a couple of close friends or family, leather is a flexible theme that gives you the opportunity to give a gift that fulfils a specific need or is useful for a hobby or interest.
Featured Leather Anniversary Gifts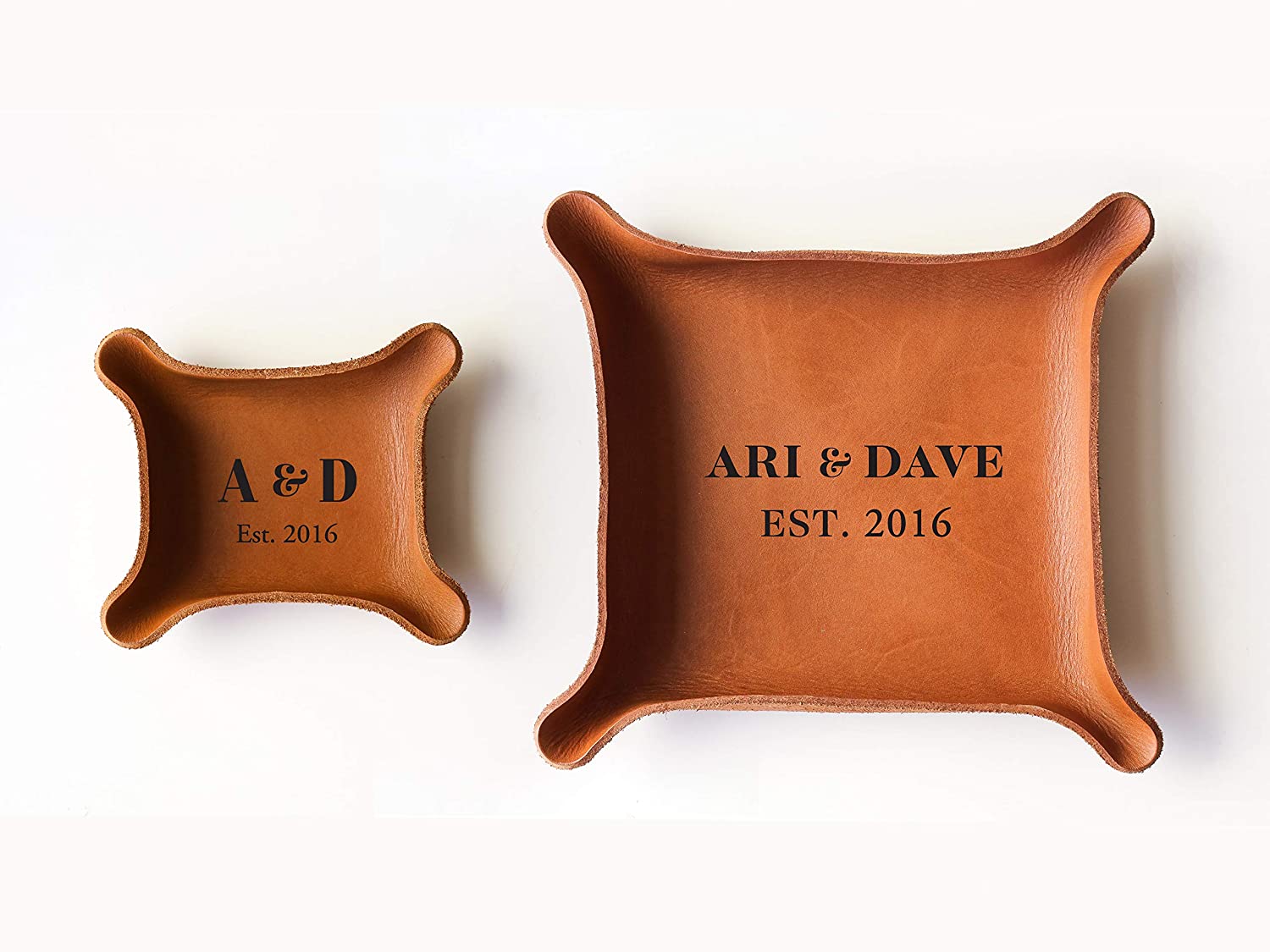 Personalized Leather Valet Tray Set
Handcrafted from genuine leather

Features an inscription of your initials, names & wedding date

Additional inscription option available
Trays also sold individually
$139.00 USD
These leather catchall trays are the perfect solution for keeping track of important items like keys, phones, and glasses. They also keep precious items like rings and watches safe. This unique, personalized third anniversary gift is durable enough for daily use and will serve as a regular reminder of your special day.
---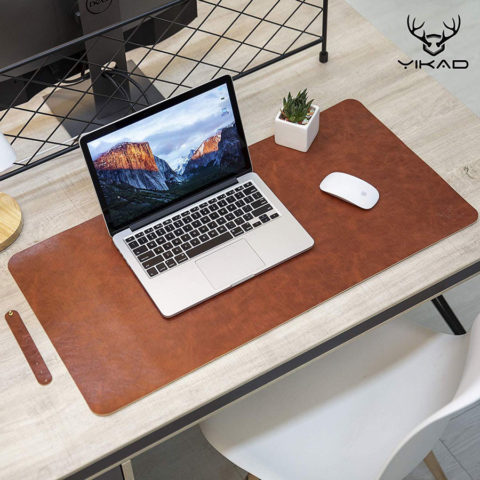 Large Mat Mouse Pad
Large design can accommodate both mouse and keyboard or laptop
Made from microfiber leather
Waterproof, durable, scratch and tear resistant
Measures 31.5″ x 15.7″
$13.99 USD
If you're looking for an affordable gift that is both functional and stylish then look no further! This PU leather desk mat and mouse pad is the perfect upgrade for any workspace. With over ten colors to choose from, you're sure to find one that's a perfect fit for your spouse's style.
---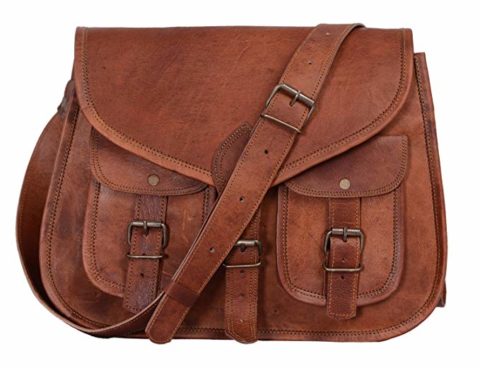 Leather Shoulder Satchel
Made from 100% full grain leather
Lined with durable olive green canvas
Features an adjustable shoulder strap and two small front pockets
Concealed lock under main buckle for easy access
Size: 14″ x 10.5″ x 4″
$44.99 USD
Handcrafted by artisans with decades of leatherworking experience, this women's multi-utility bag can be used as a purse, a diaper bag, a travel tote or a laptop shoulder bag. With a rustic, vintage-inspired design, this bag will only get better with age as it develops a rich natural patina so you can be sure she'll love it for years to come.
---
More Traditional 3rd Anniversary Gift Ideas
---
What Is the Modern 3rd Anniversary Gift?
The modern gift for the third anniversary is crystal or glass. While both crystal and glass objects can be fragile, they also embody elegance and beauty. Even after three years together a young marriage can still be delicate and every union must be treated with care in order to last a lifetime.
Crystal and glass represent brilliance and reflection. Your third anniversary provides you the opportunity to celebrate your radiant relationship and clearly demonstrate the love you share with your spouse.
The modern theme for the third year offers a wide range of gift options from luxurious crystal to more casual glass items. Crystal and glass can also be personalized with customized etching which will give your gift additional sentimental value.
Whether you're celebrating with your husband, your wife, your parents or a couple of dear friends, functional items such as glassware or serving dishes are popular gifts for the third anniversary and can be everyday reminders of the love at the heart of the marriage.
Featured Crystal and Glass Anniversary Gifts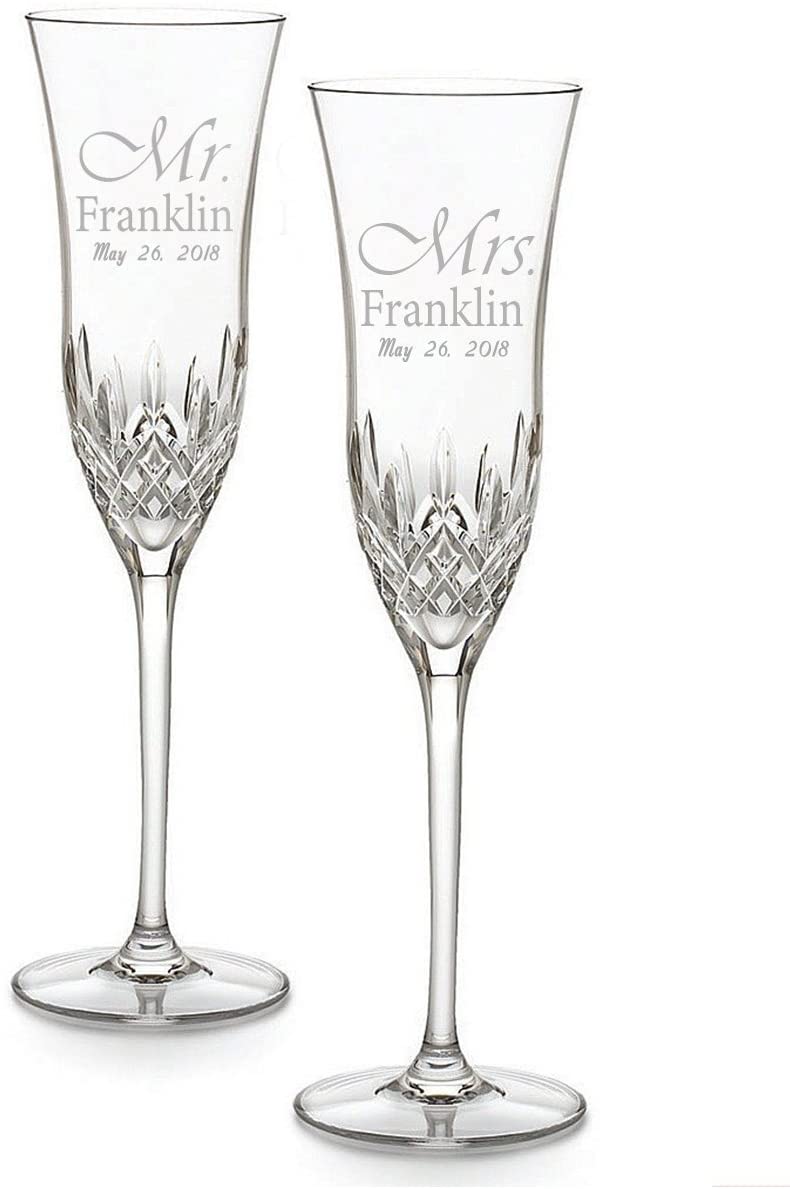 Personalized Waterford Toasting Flutes
From the Waterford Lismore Essence collection
Features a slender, modern profile with refined diamond cuts
Elegant custom engraving
Crafted of fine lead crystal
Each glass stands 11.6″ tall with a 3.5″ base
The sophisticated design of these toasting flutes is perfect for elegant brunches and romantic dinners for two. Pair them with a bottle of champagne for a personalized third anniversary gift that is sure to impress.
---
Raw Crystal Stud Earrings
Handmade from two gorgeous herkimer diamond crystal stones
Set onto gold fill posts with encircling gold fill bands
Appx size: 9 x 6 mm
Matching gold fill friction backs included
Featuring shimmering, light-catching crystals in their natural shape, these dainty earrings add a beautiful sparkle to any outfit and are perfect for daily wear.
---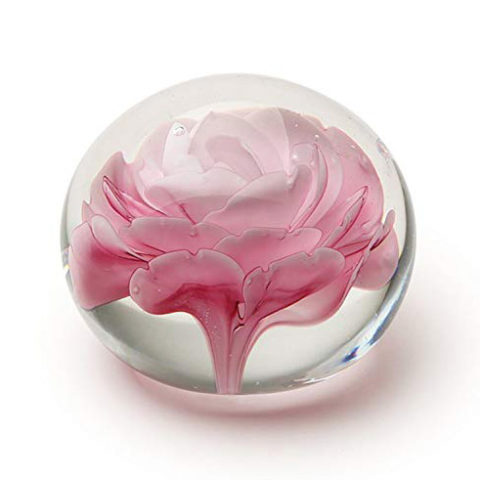 Rose Paperweight
Captures the beauty of nature in glass, forever frozen in time for all to appreciate.
Features a glass pink rose
Set in a handmade glass globe
Size: 2.25″ round
A beautiful piece of art is always a welcome addition to any workspace. Whether it's bringing order to unruly papers on a desk or adding a touch of visual interest to a bookshelf, this flower will never wilt. The handcrafted quality and layers of delicate petals at the heart of this paperweight ensure a truly unique third anniversary gift for her.
---
More Modern 3rd Anniversary Gift Ideas
---
What Is the 3rd Anniversary Gemstone?
Pearl is the third anniversary gemstone. The only gemstone that is not technically a stone, pearls are formed by layers of natural material formed around a grain of sand. The layers of concentric circles that form a pearl symbolize wisdom gained through experience and represent the perfect union you share with your spouse.
While jewelry is always an excellent anniversary gift, you can also surprise and delight your spouse with a gift of pearl jewelry given on any special occasion during your third year of marriage. Gifts inlaid with mother of pearl are also a great option for this anniversary.
Pearl Jewelry Anniversary Gifts
---
What Is the 3rd Anniversary Flower?
Sunflowers are the third anniversary flower. A bouquet with this happy flower represents adoration, loyalty and the long-lasting joy of your marriage. If sunflowers are unavailable or out of season, the classic anniversary bouquet of red roses will always be appreciated.
---
Featured Gift Guides