This page contains affiliate links. Learn more.
Giving a personalized gift can add an extra wow factor to your first anniversary celebration. Whether you choose a traditional or modern gift, customizing it with names, special dates or a heartfelt message will ensure your gift will be remembered and cherished for many years to come.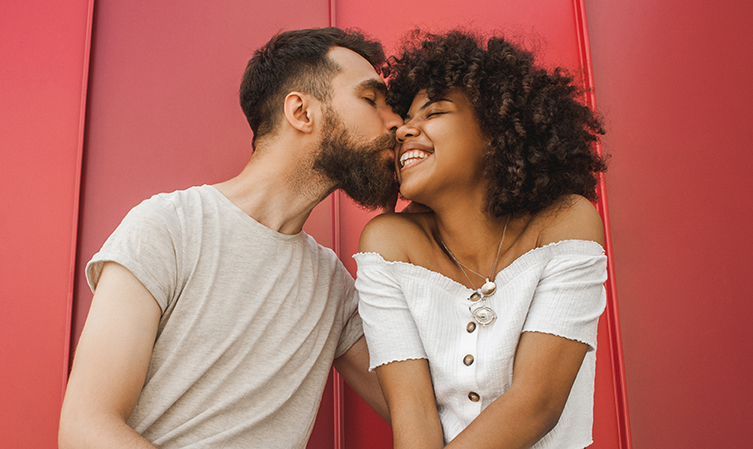 ---
Traditional 1st Anniversary Gifts
The traditional first wedding anniversary gift is paper. A popular way to commemorate your anniversary date or first year of marriage with paper is with personalized wall art or everyday items that will remind your spouse of your love every time they use it.
Custom Star Constellation Map
Custom star map personalized with saying, names and date
Printed on premium paper with archival inks
Choose fonts and background color (black or white)
Available in four sizes with framing options
$22.00 USD
This is how the stars aligned when your life changed forever. Created using professional astronomy software that charts the actual view of the night sky based on the date and location of your wedding, this first anniversary gift is the perfect way to remember that special moment in your life.
---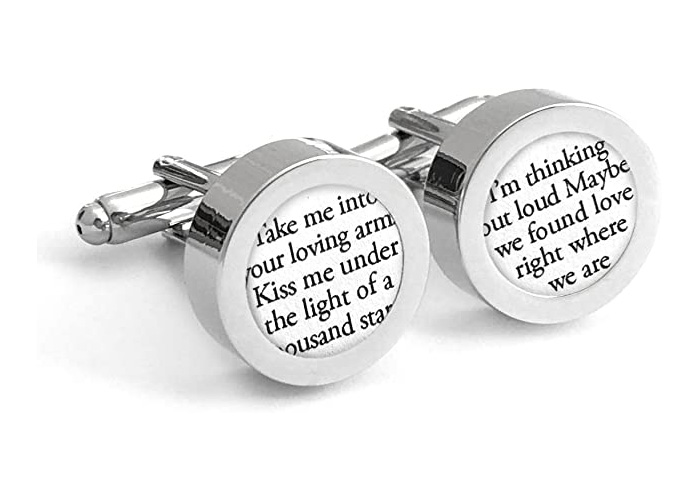 Personalized Wedding Vow Cufflinks
Personalize with your wedding vows or first dance song
Hand set to best display your vows or song lyrics
Gift box included
Incorporating your wedding vows or the lyrics to your first dance into your first anniversary gift is a thoughtful and romantic way to commemorate your first year of marriage. Your words will be professionally inscribed on heavyweight, tarnish-proof paper that is protected for durability, ensuring these custom cufflinks will be cherished for years to come.

---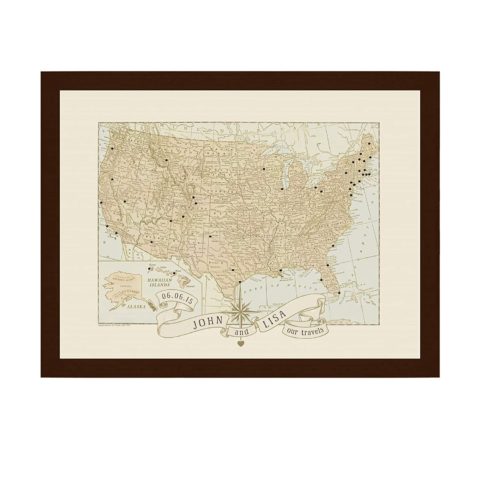 Personalized Push Pin Travel Map
Personalized with names and date
Includes 100 push pins
Available framed or unframed in three sizes
$89.00 USD
Map your adventures with a push pin travel map of the United States. A personalized push pin world map is also available here. This fine art print is printed on high quality paper and includes the option of a recycled wood frame. It's the perfect first anniversary gift for couples that love to travel almost as much as they love each other.
---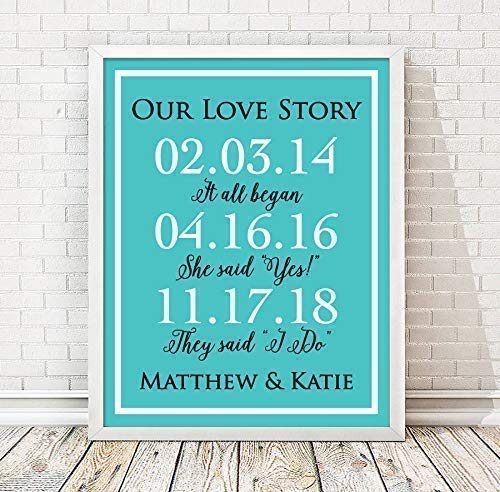 Personalized Love Story Art Print
Customize with your names and milestone dates
Available in multiple sizes and color schemes
Choose from multiple framing options
Gift wrapping available
$20.00 USD
Paper gives you the perfect opportunity to commemorate your love story. This custom artwork is guaranteed to make a special first anniversary gift that brings joy to your spouse every time they see it.
---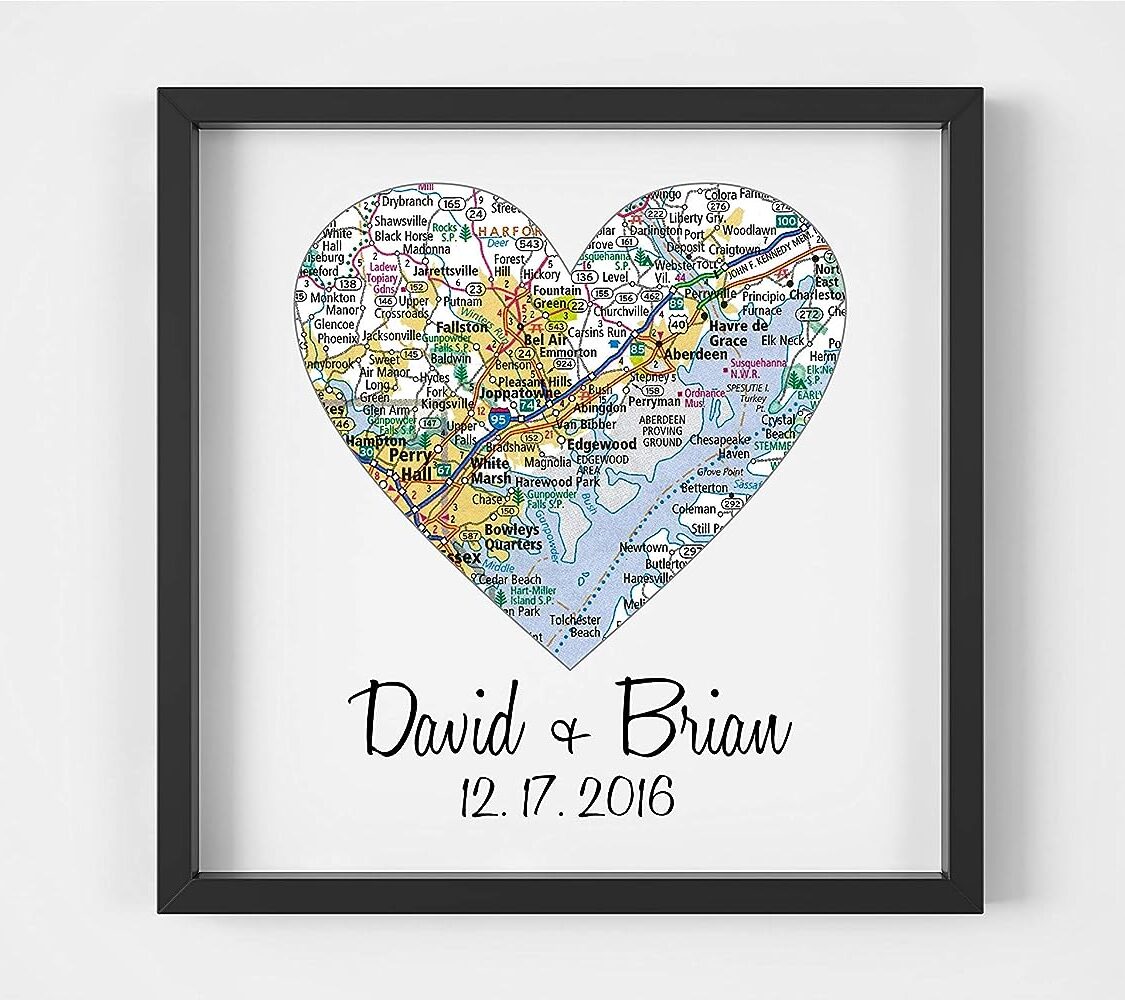 Personalized Framed Heart Map
Choose any location worldwide
Personalize with names and wedding date
Choice of black or white shadow box frame
Size: 12" x 12" (print only), 13" x 13″ x 1.5″ (with frame)
$55.00 USD
Show your love on your first anniversary by commemorating your wedding day with a custom heart map based on a meaningful location. Customized with your names and wedding date this wall décor will serve as an everyday reminder of your special day.
---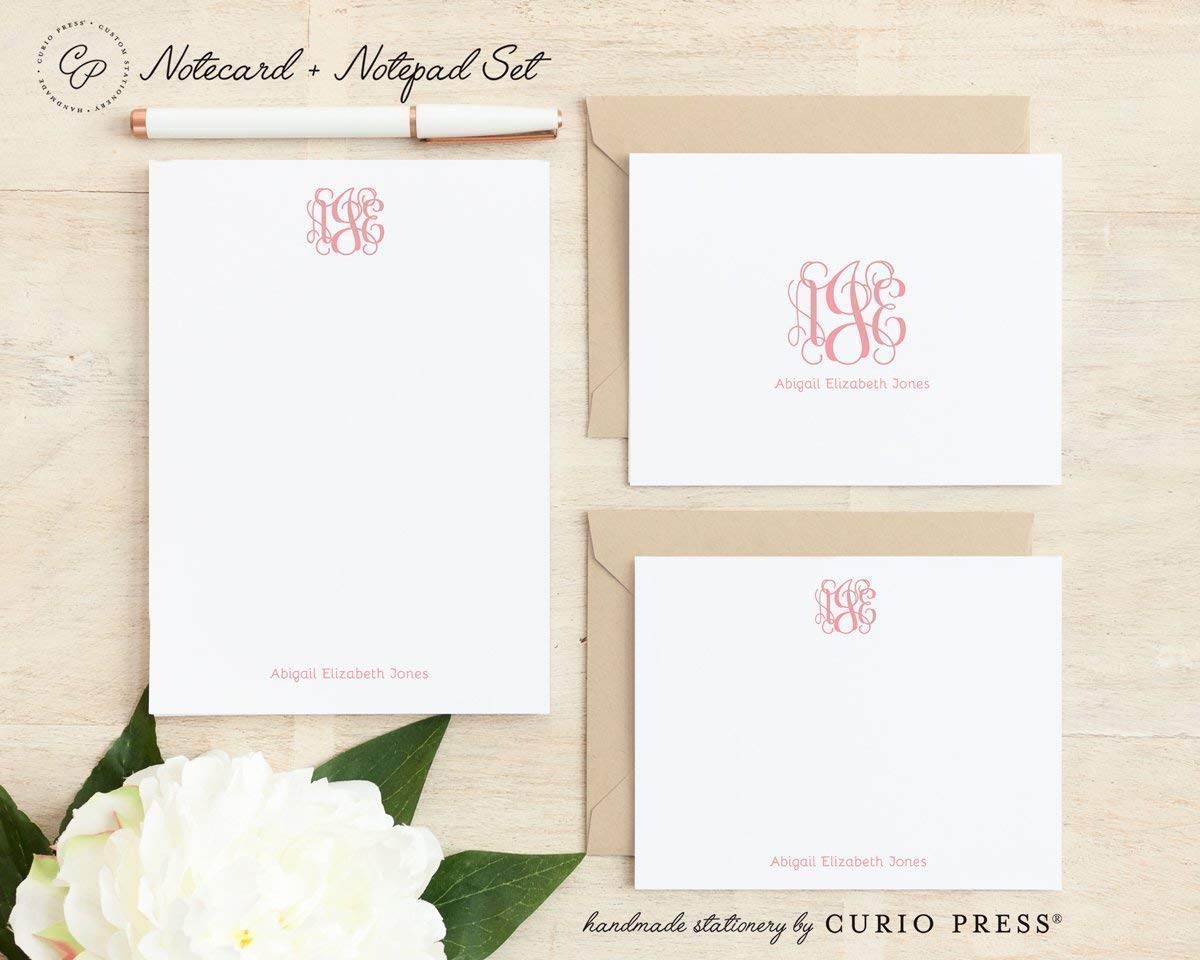 Monogrammed Stationery Set
Features a personalized monogram
Includes (1) each: set of folded cards + envelopes, set of flat cards + envelopes, 50-sheet notepad
Choice of ink and envelope colors
$49.00 USD
This personalized stationary set is printed on high quality heavyweight paper with archival inks, making it an exceptionally unique first anniversary gift. Choose your spouse's favorite color for the personalized monogram and matching envelopes and they are guaranteed to be reminded of your love with every letter they write.
---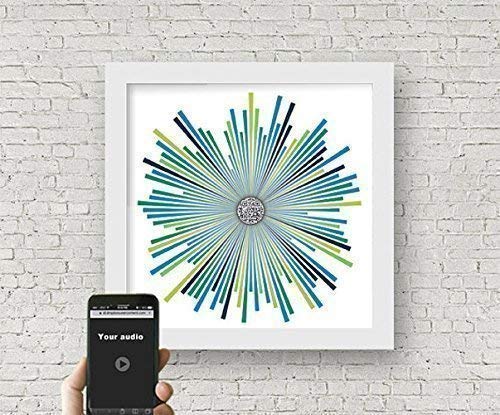 Custom Sound Wave Art Print
Visually depict a song or your voice
Paired with a QR code that plays your audio file
Choose from four color schemes
Print measures 12″ x 12″
$35.00 USD
A custom sound wave art print is a deeply personal way to visually depict an audio file with significant meaning such as your first dance song, a recording of your wedding vows, or another heartfelt message. This first anniversary gift can literally say "I love you."
---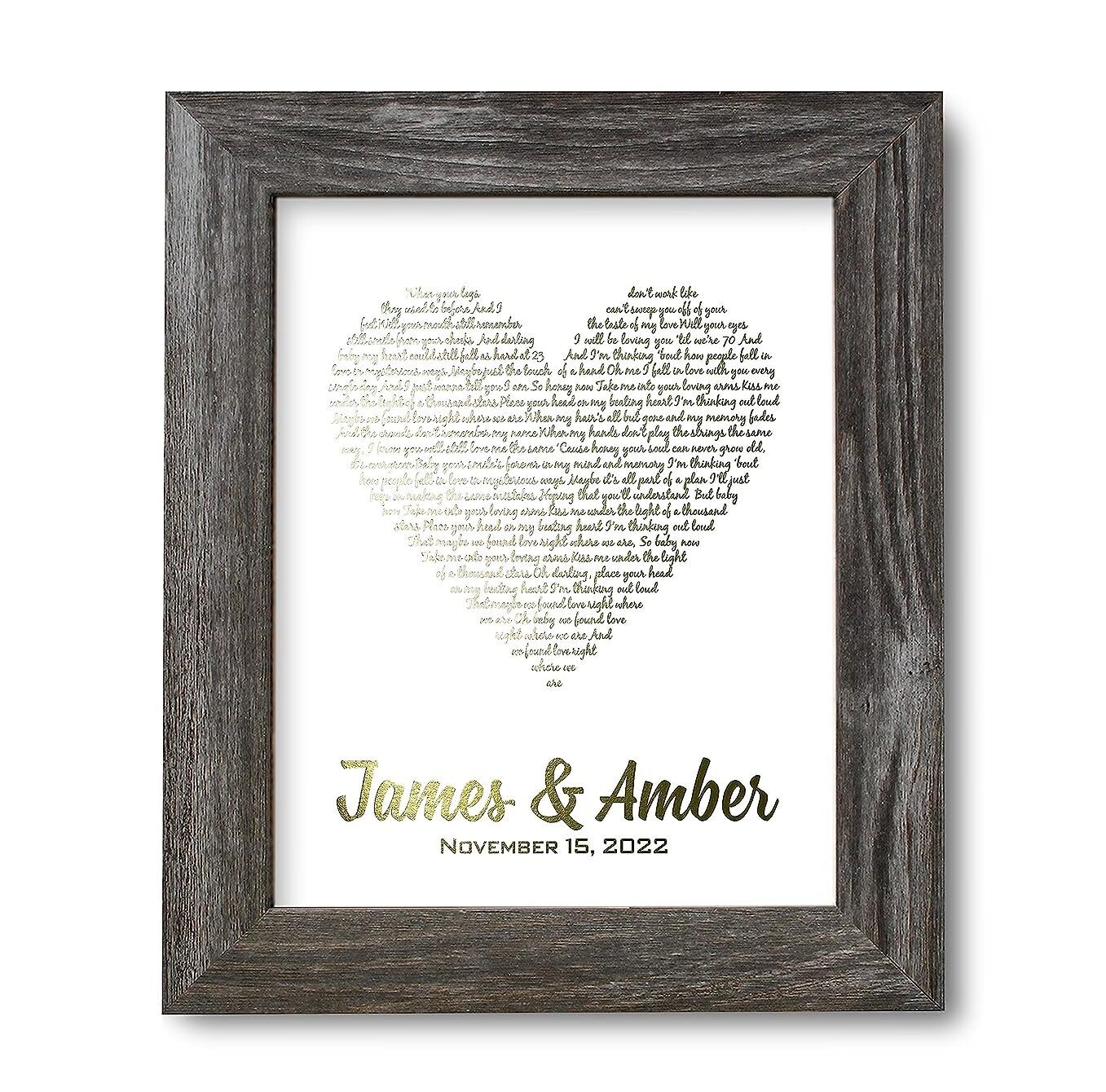 Personalized First Dance Art Print
Personalize with lyrics from your first dance song
Features gold copper or silver foil
Printed on heavyweight paper
Available in multiple sizes
Option for framed or unframed
$29.00 USD
Commemorate your first year of marriage with a custom art print featuring the lyrics from the song that kicked it off. This stunning wall décor is a beautiful declaration of your love.
---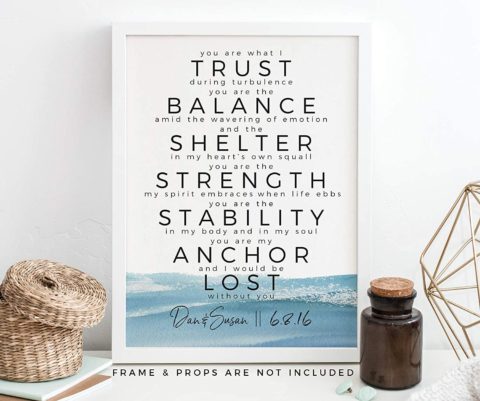 You Are My Anchor Personalized Art Print
Original typography poem by Pine + Poem
Personalize with your name or initials and anniversary date
Printed on fine art paper with archival inks
Unframed print measures 8″ x 10″
The beautiful sentiment of this unique typography poem is artfully paired with original watercolor imagery to create a meaningful first anniversary gift that is a true testament to your love.
---
Modern 1st Anniversary Gifts
Clocks are the modern first wedding anniversary gift. Choose a clock that matches your loved one's style and decor. Then personalize it with your names and wedding date or a special message for a meaningful gift that will stand the test of time.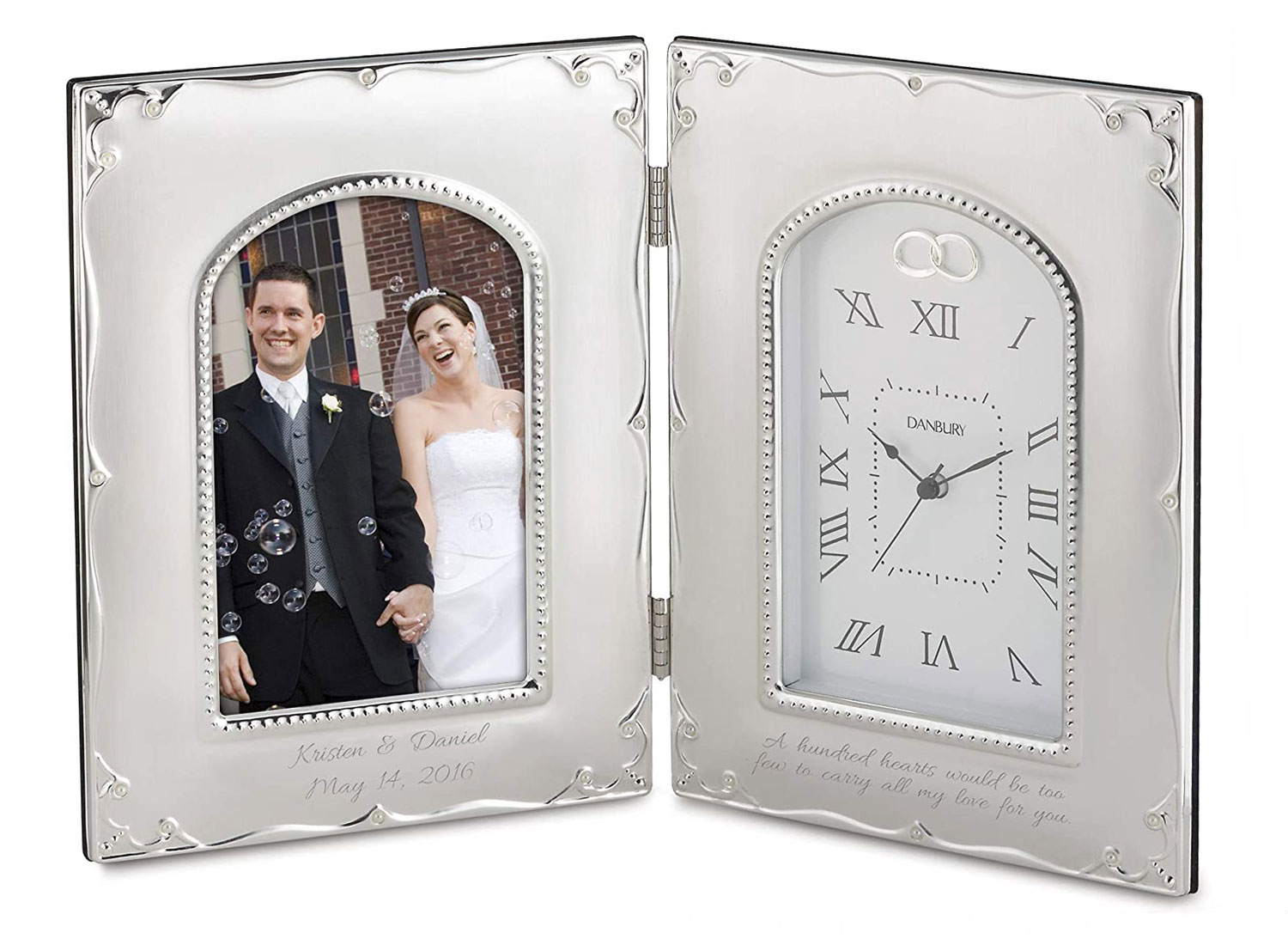 Engraved Photo Frame & Clock
Features precision machine engraving
Personalize with names, initials, date or special message
Hinged frame holds a 4″ x 6″ photo
Size: 12.8'' x 9.1'' x 0.9''
This photo frame and clock gift features two graceful arched openings—one for a special photo and one for a Roman numeral clock accented with entwined rings. Engrave at no additional cost for a personalized first anniversary gift that will be a meaningful keepsake for years to come.
---
1st Anniversary Sundial
Personalize with names, dates or a special message
Handmade in England
Cast from solid brass or aluminum
Size: 6.5″ x 6.5″ x 2.95″
This unique and distinctly special gift not only stands out but is also a heartfelt personalized gift for your first wedding anniversary. It is both an aesthetically and a functionally pleasing gift that will forever remind your spouse of this special time in their life.
---
Handmade Automaton Wall Clock
Handmade from baltic birch
Features handcrafted galvanized brass screws
Personalization available
Size: 12.4″ diameter
$149.00 USD
The Automaton Wall Clock series is inspired by old mechanical wrist watches and the mechanical toys which were historically popular in France. All the gears move smoothly and silently together with the clock mechanism. This beautiful effect of motion is doubled by the mirror back layer. This custom-made first anniversary gift is perfect for any fan of steampunk design or vintage mechanical decor.
---
Personalized Pendulum Clock
Personalize with name, date, initials or special message
Precision machine engraving included
Features

 a heart-shaped pendulum

Size: 5.5'' x 7.5'' x 2''
$115.00 USD
A unique and memorable first anniversary gift, this clock features a delicate floral silkscreen on its arched glass holder, that's also echoed on the white clock face. Graceful scalloped posts support the clock, and a heart shaped pendulum counts the minutes as love grows.
---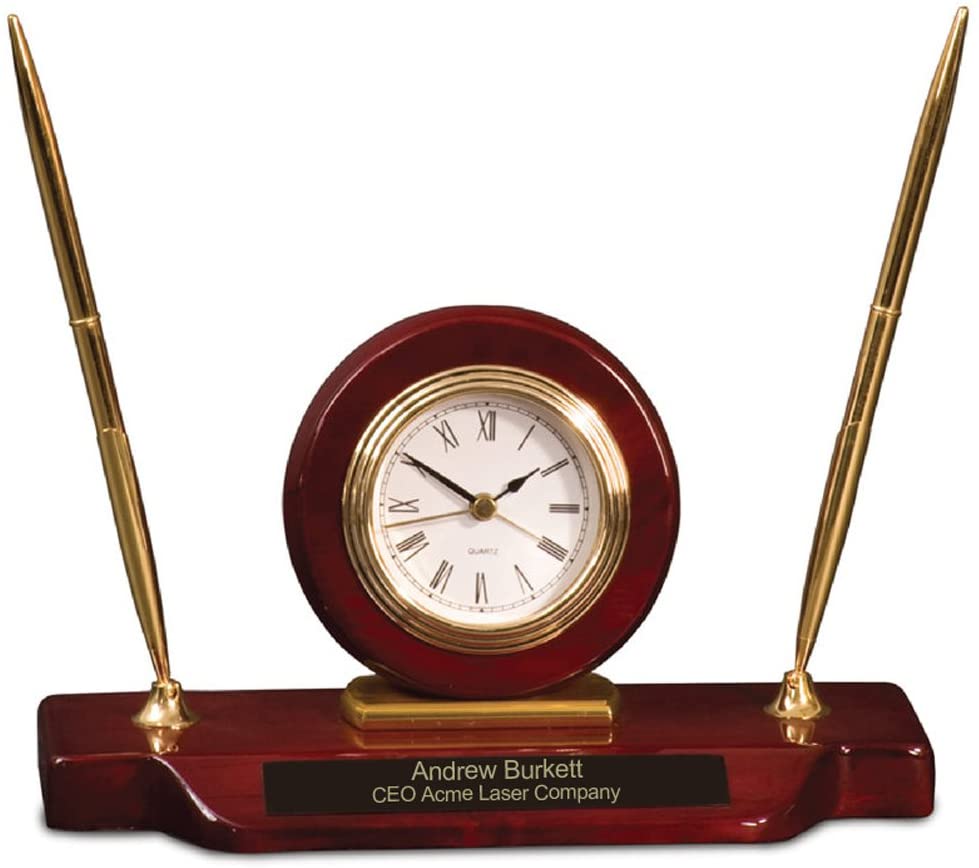 Personalized Desk Clock & Pen Set
Set includes two gold pens and an analog clock
Engraving features gold letters on a black name plate
Carved wood with nut brown varnish
Size: 9″ x 4.75″
This beautiful gift clock and pen set offers optional engraving on the pens, along with the standard engraving on the black front plate. This personalized first anniversary gift is a wonderful addition to any office desk. An executive class gift, this clock with double pen set is made from high quality real wood finished with a piano gloss.
---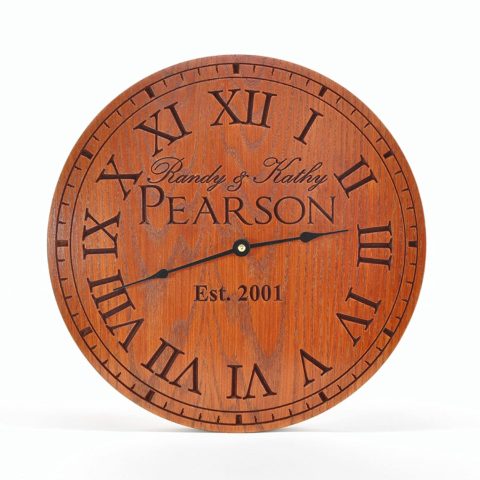 Personalized Carved Oak Clock
Personalized with names and year established
Hand crafted from carved oak with a traditional cherry stain
Available in 3 sizes
$62.99 USD
This elegant carved clock is a perfect first anniversary gift for a nature-loving spouse. The Roman numerals and customized names are carved into the surface of the wood then stained for an absolutely breathtaking result.
---
Related Gift Guides