This page contains affiliate links. Learn more.
Make your first anniversary magical for the Disney lover in your life. If you can't celebrate your first year of marriage at the happiest place on Earth, you can bring that joy home with a traditional or modern gift that Mickey Mouse himself would approve.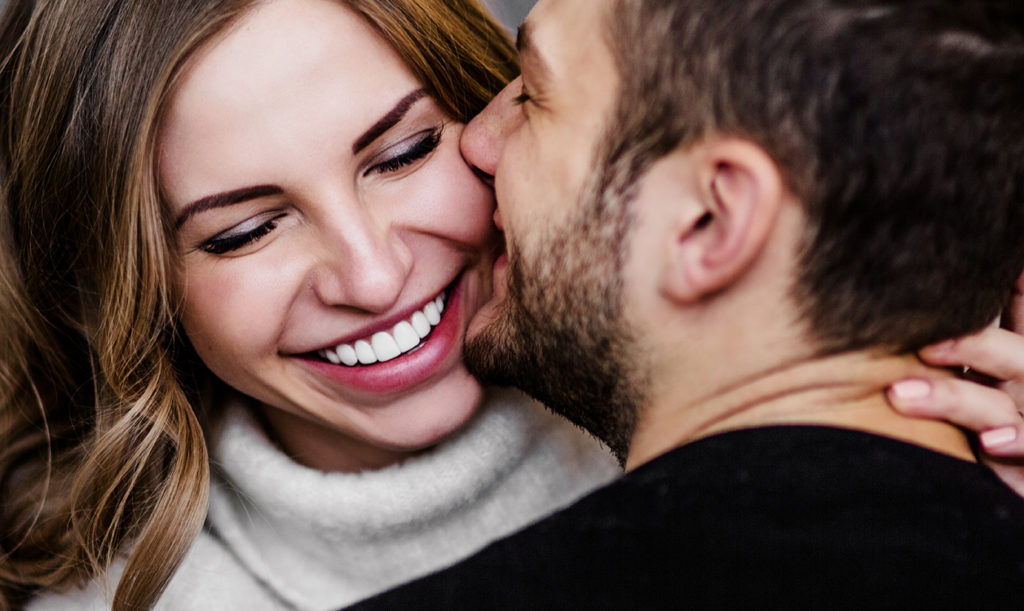 If you're not looking for a gift that falls under the specific first anniversary themes, you can browse all Disney gifts to find a present that will fit your loved one like a glass slipper.
---
Traditional 1st Anniversary Disney Gifts
The first anniversary chronicles the first of many for your marriage. Paper is the traditional gift for the first anniversary. Like paper, a young marriage is delicate and fragile. But it also represents new beginnings and a blank page to write your love story. And a Disney gift is an excellent way to commemorate the first chapter of your story.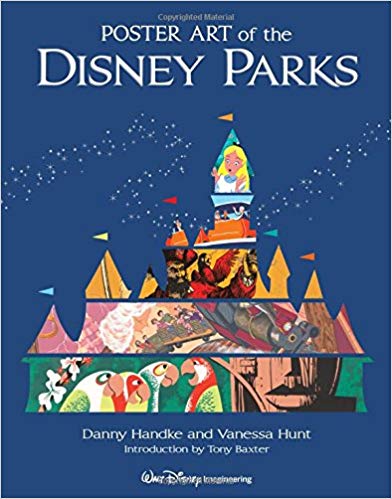 Poster Art of the Disney Parks
A lush compendium of posters from Disney theme parks around the globe, along with concept art and lively narrative about the development of the stunning posters!
A Disney Parks Souvenir Book
Hardcover, 144 pages
$20.49 USD
---
Mickey & Minnie Mouse Dictionary Art Prints
Set of (2) upcycled dictionary art prints
Features Walt Disney Mickey and Minnie Mouse vintage designs
Each design is printed on a random authentic antique dictionary page
Unframed prints measure 8″ x 10″
---
Personalized Nightmare Before Christmas Origami Shadowbox
Features beautiful handmade origami
Mounted onto acid-free cardstock
Personalized with names and wedding date or custom text
Choose a black or white shadowbox frame
Size: 25 x 25 x 4.5 cm
$79.00 USD
---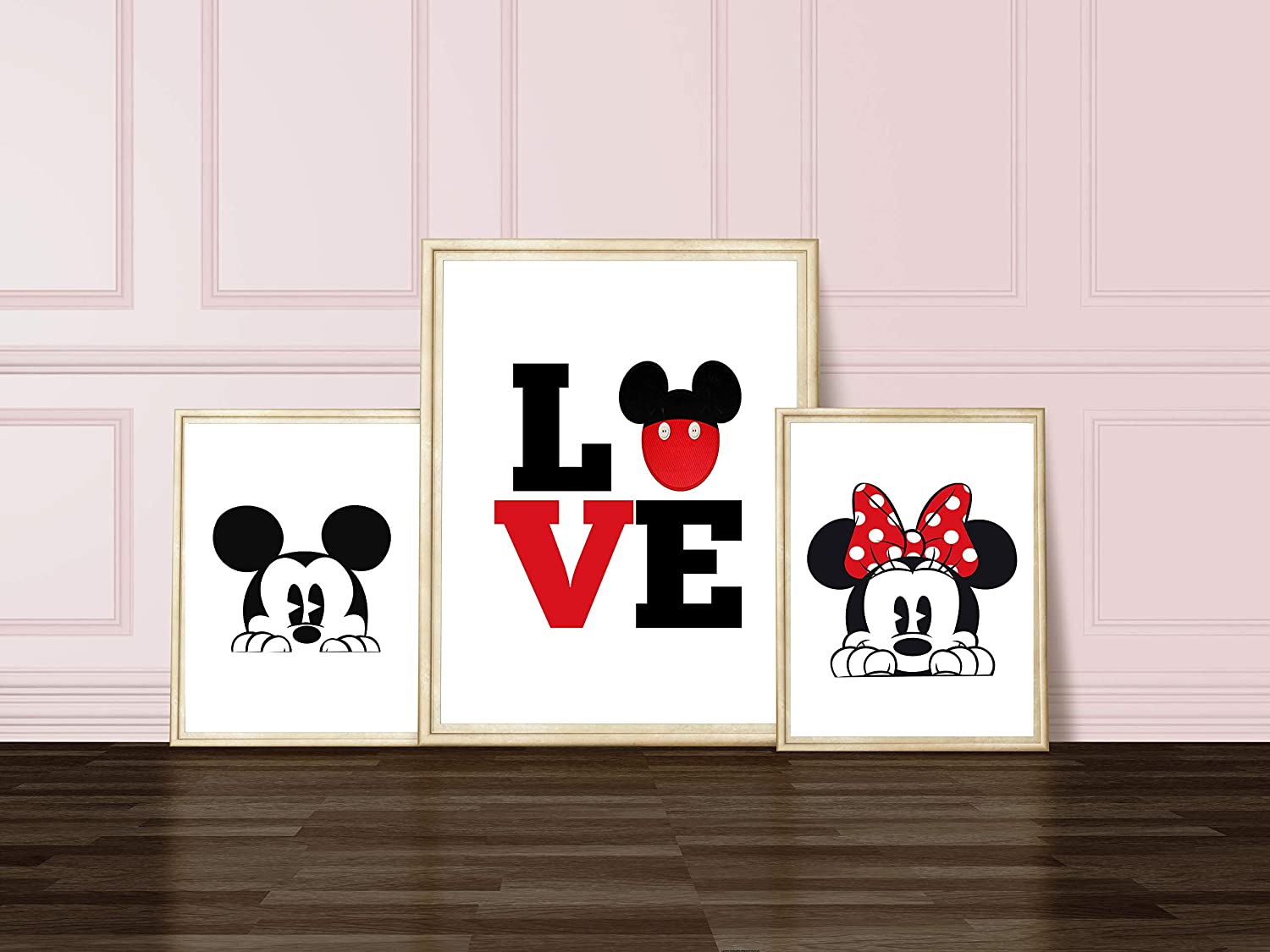 Set of 3 Disney Love Art Prints
Set includes (1) 8″ x 10″ print and (2) 5″ x 7″ prints
Printed on luxurious matte paper
Features an embossed linen texture
---
Pixar's Up Adventure Scrapbook
Use as a scrapbook or photo album
Contains 40 sheets / 80 pages of thick, blank, light brown craft paper
Includes photo corner stickers and a set of (8) Pixar Up movie postcards
$14.99 USD
---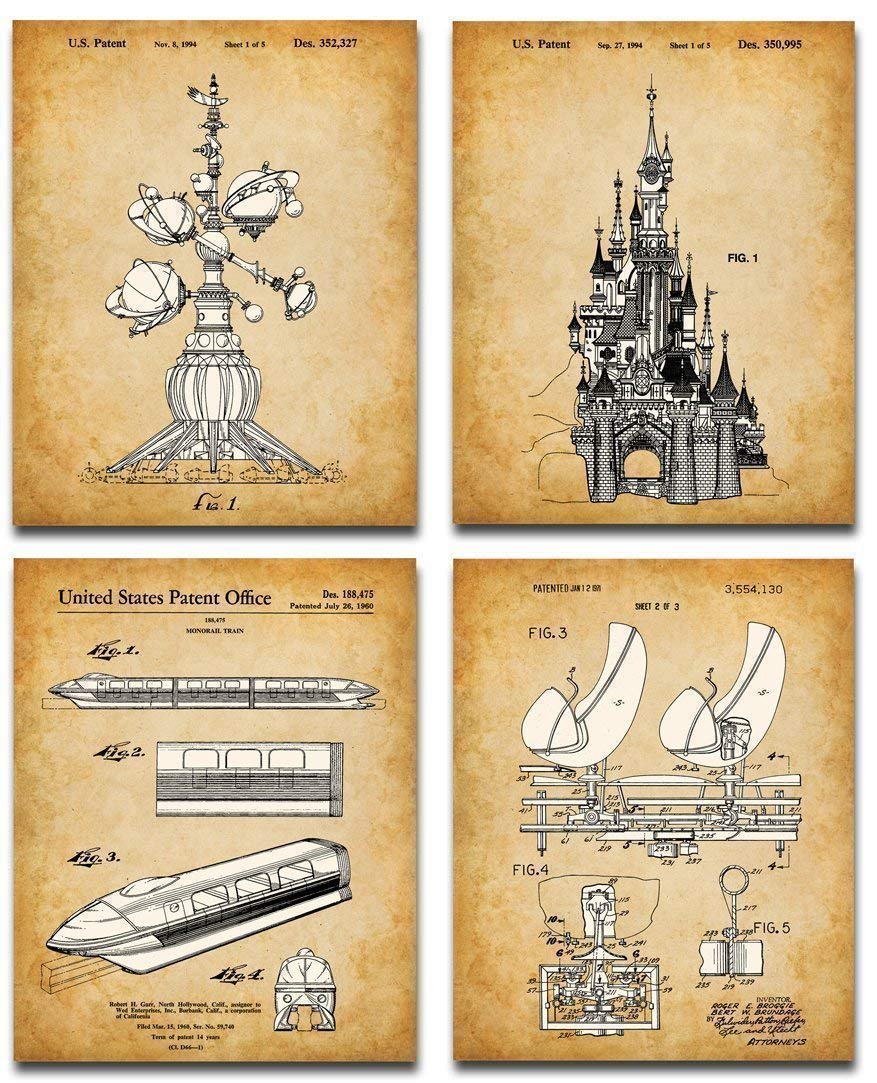 Set of 4 Disney Rides Patent Art Prints
Set of (4) patent prints
Features Cinderella's Castle, Monorail, Haunted Mansion and Rocket Ride in Magic Kingdom
Printed on semi-matte archive paper
Unframed prints measure 8″ x 10″
$11.99 USD
---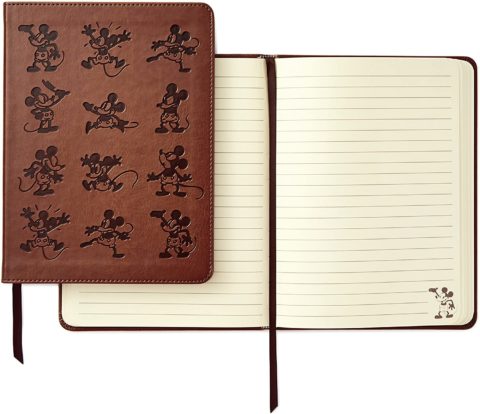 Mickey Mouse Journal
Hardcover journal made from brown faux leather
Features small embossed Mickey Mouse designs
And a satin ribbon bookmark
Includes 160 lined pages and a back cover pocket
M

easures 6″ x 8″
$14.95 USD
---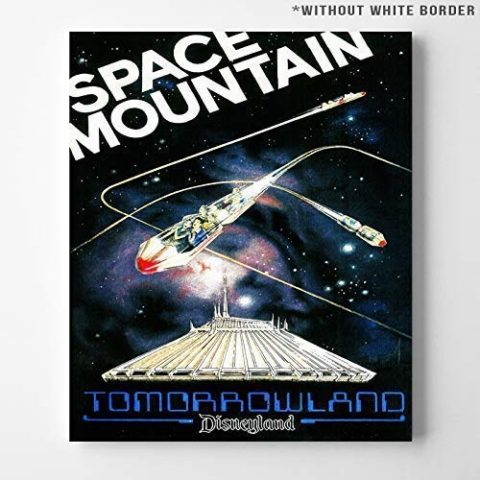 Vintage Space Mountain Poster
Professionally restored vintage Disneyland poster reproduction.
Printed on heavyweight paper using high-quality ink
Five sizes from 5″x7″ to 18″x24″
Available with or without white borders
$7.95 USD
---
Modern 1st Anniversary Disney Gifts
The modern first anniversary gift is clocks which signify your time together as a couple and the promise of many happy times to come. Give a clock gift that will serve as a reminder of your first year of marriage and a relationship that will stand the test of time. Anytime is a good time for a Disney gift!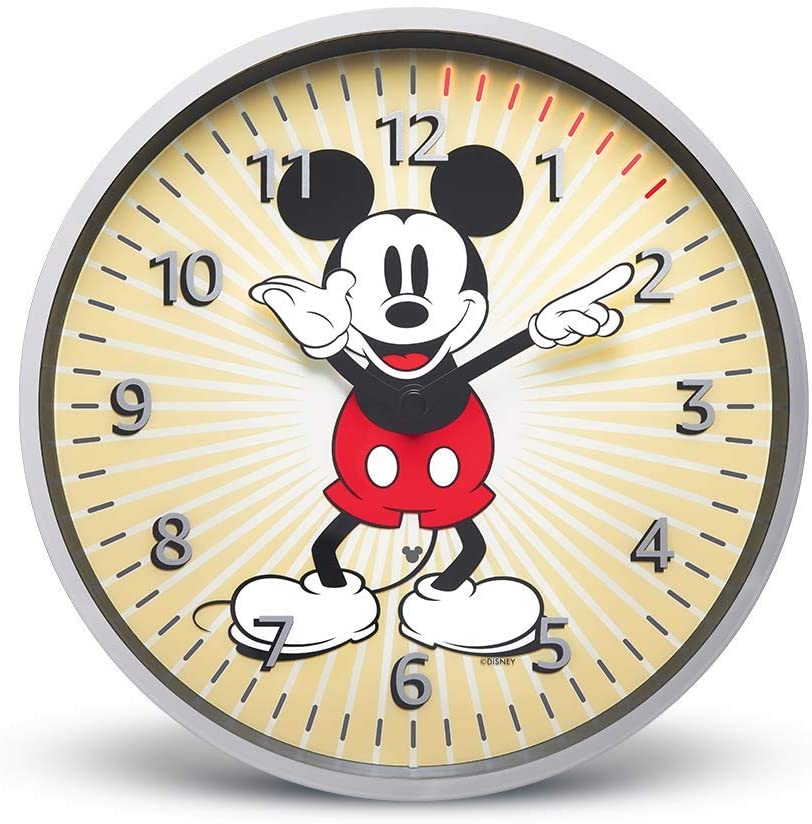 Mickey Mouse Edition Echo Wall Clock
Easy-to-read analog clock with iconic Disney design

Syncs to an Echo device for accurate time, including automatic adjustments for daylight savings

Digital 60 LED display can show multiple timers

Size:

10″ diameter
---
Disney Character Cuckoo Clock
Features all of your favorite Disney characters

Antiqued ivory-finish wood case

Inspired by Cinderella's Castle, topped with sculpted resin turrets and gleaming brass-toned flags

Size: 25″ H
---
Mouse Ears 3D Wall Clock
Classic Mickey Mouse silhouette design
Features large extruded digits
Available in multiple colors
Size: 13.4 x 11.2″
$21.99 USD
---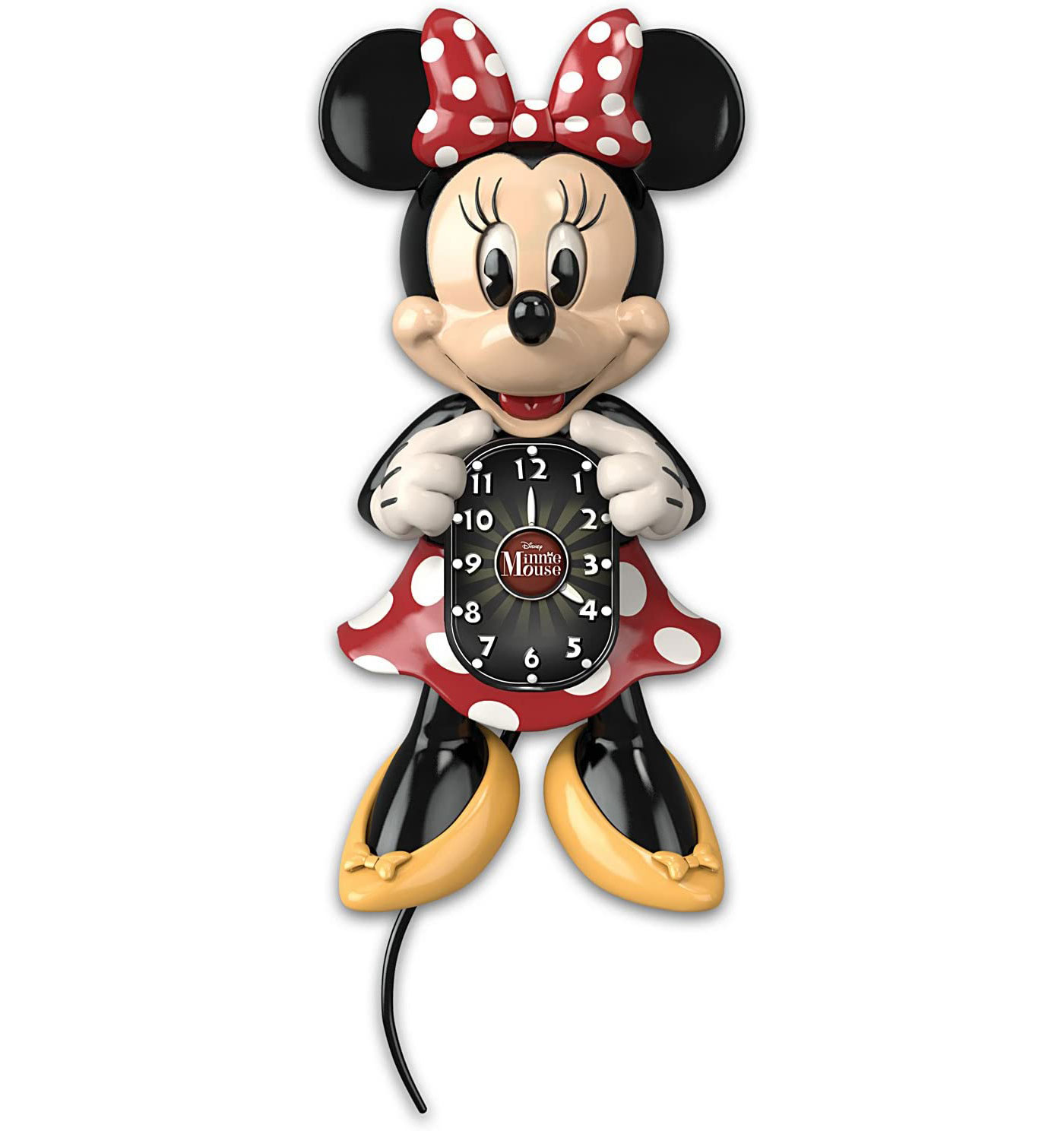 Minnie Mouse Motion Wall Clock
Licensed from Disney

Features moving eyes and tail

Showcases the retro charm of classic clocks from the 1950s

Hand-sculpted in delightful detail
Size: 19″ H
---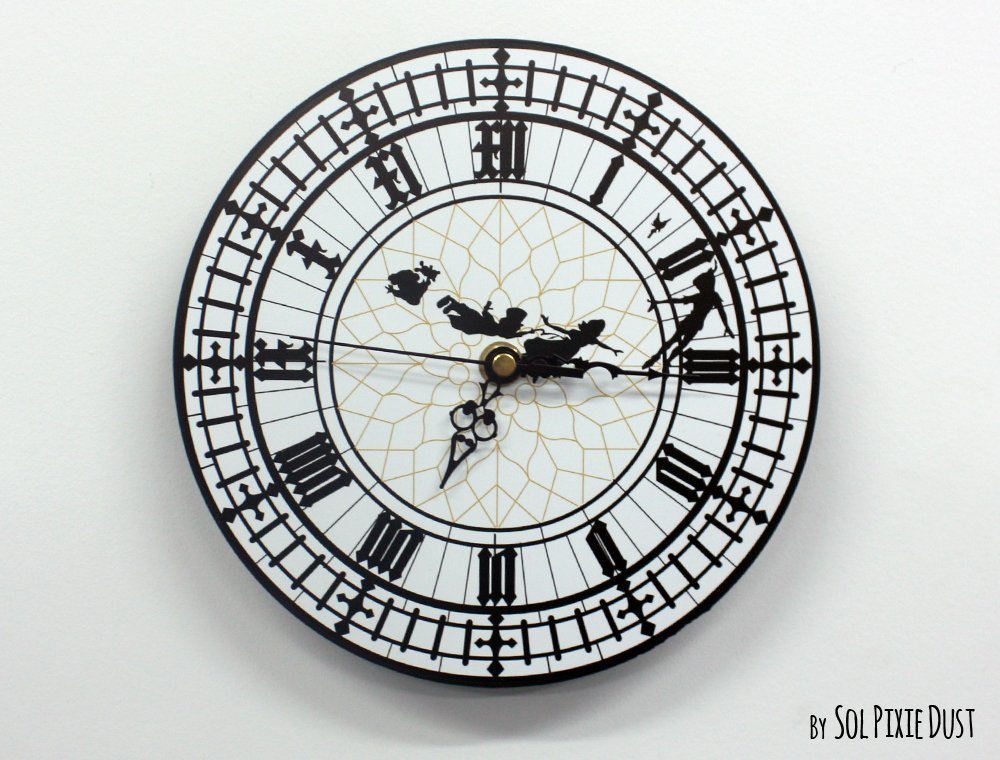 Peter Pan – Big Ben Wall Clock
Features a vinyl print affixed to a laser-cut acrylic base
Non-ticking, silent quartz mechanism
Available in multiple sizes
$15.90 USD
---
Mickey & Minnie Mouse Wall Clock
Quartz movement wall clock
Bold and bright character designs
Features distinctive mouse ears silhouette
Size: 1.77″ x 14″ x 12.65″
$24.99 USD
---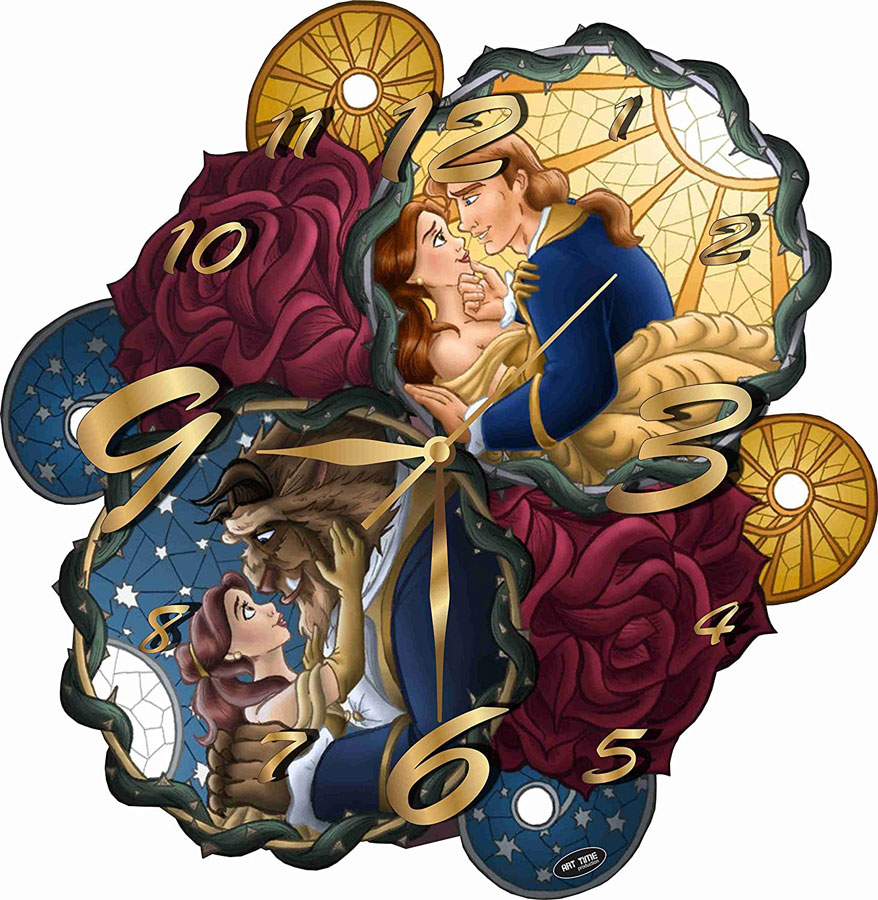 Handmade Beauty and the Beast Wall Clock
Features unique artwork applied to a custom acrylic base

 Silent, non-ticking mechanism

Easy to install
Size: 11.8'' W
---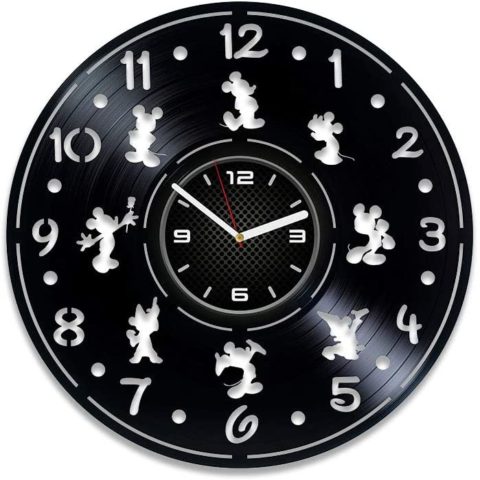 Mickey Mouse Vinyl Wall Clock
Made from an old vinyl record

Features laser cut numbers and character silhouettes
Silent clock mechanism
Size: 12″ diameter
---
Related Gift Guides