This page contains affiliate links. Learn more.
Finding the perfect anniversary gift can be challenging, but choosing a gift related to one of your significant other's hobbies or passions is a great place to start. If you would describe your spouse's love of coffee as strong with balanced enthusiasm and notes of obsession, then you are on track to finding an anniversary gift they'll be sure to love. We'll help you discover unique anniversary gift ideas for:
Whether your spouse is a coffee connoisseur or an espresso enthusiast, you can look to coffee makers, accessories, ingredients, and tools for gift inspiration. Consider upgrading a favorite piece of equipment or splurging on a new appliance for a memorable anniversary gift. Personalized items are a great option for a useful gift that will have special sentiment of being created specifically for your java junkie.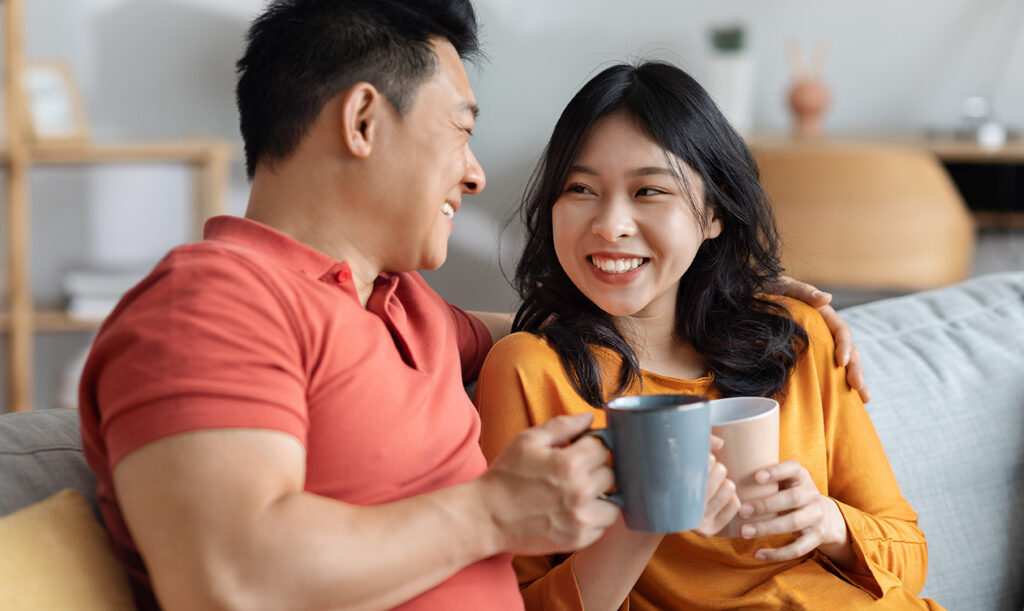 If your partner loves coffee and enjoys discovering new flavors and roasts, read on to discover thoughtful anniversary gift ideas that will suit their tastes. Of course, no one knows your loved one like you and it is important to consider their proficiency and preferences when selecting an anniversary gift.
While these gifts are great for any year, you may be wondering about the specific gift theme for your anniversary. If that's the case, please look to our traditional and modern gift guides to learn more about the gifts for each year of marriage.
Personalized Coffee Anniversary Gifts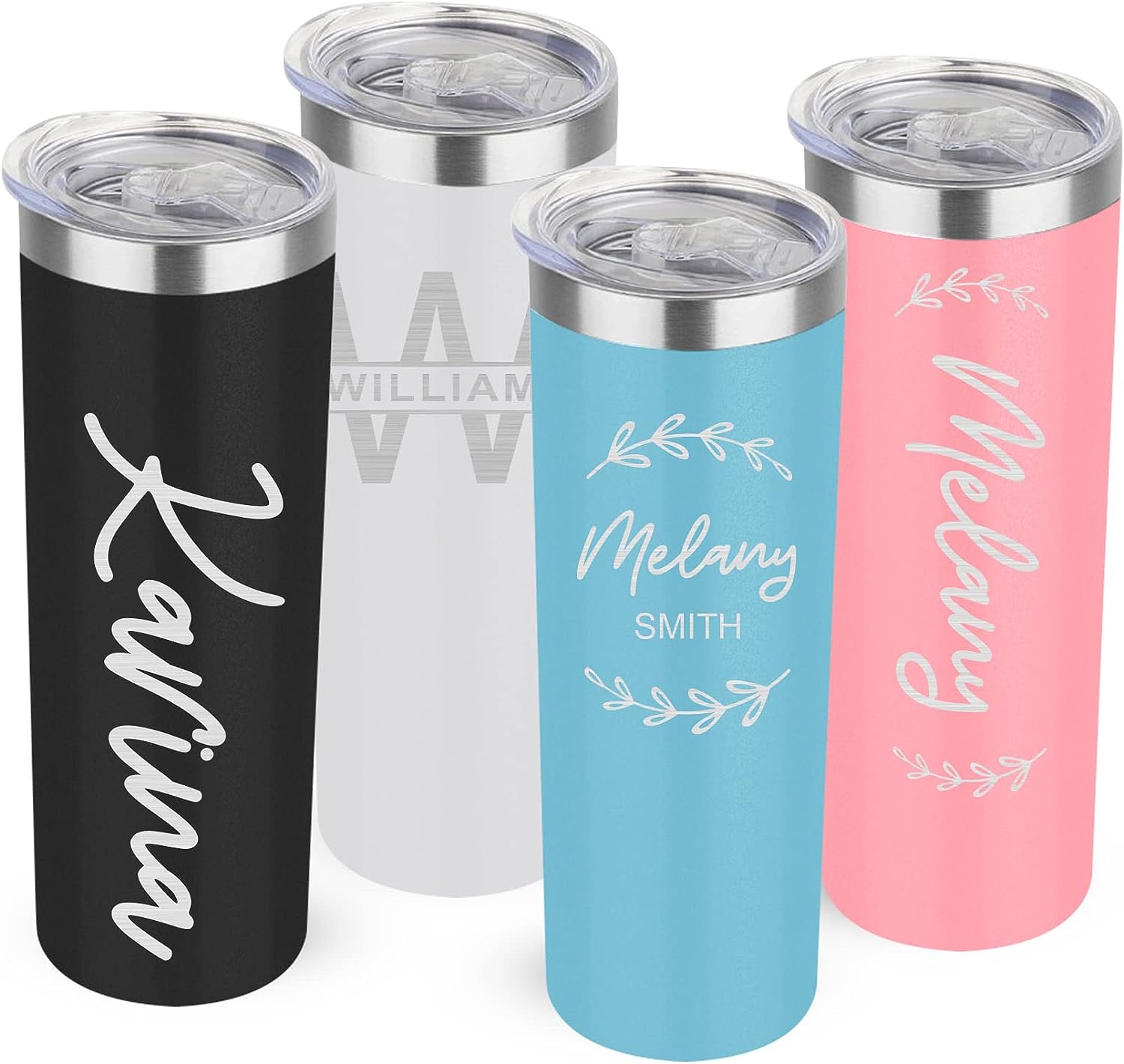 Personalized Insulated Tumbler
Personalized laser engraving
Choose from 5 template options
Made from food-grade stainless steel with a BPA-free lid
20 oz capacity
Perfect for hot or cold beverages
$24.99 USD
This personalized tumbler will keep your spouse's favorite hot or iced coffee the perfect temperature for hours. Plus, the custom laser engraving will never fade from washing or repeated use.
Custom drinkware with names and photos are a popular gift idea but you can also consider a personalized journal for your loved one's tasting or brewing notes.
---
Espresso Machine Anniversary Gifts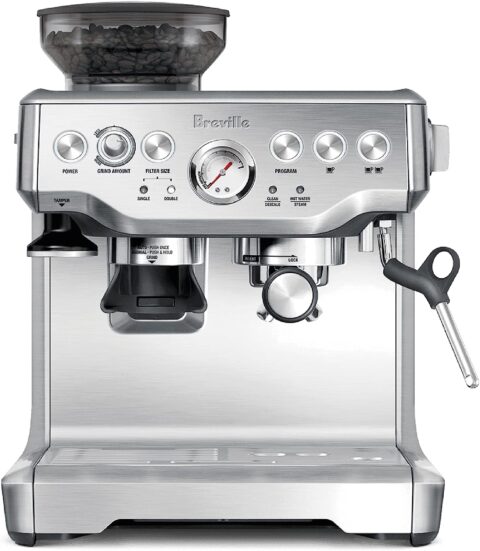 Breville Espresso Machine
All-in-one espresso machine
Integrated conical burr grinder
Features 16 precision grind settings
With optimal water pressure and digital temperature control
Powerful steam wand creates perfect the foam
$712.55 USD
This Breville all-in-one espresso machine delivers everything you need to create great tasting espresso in less than a minute using their 4 Keys Formula of dose control, precise water temperature, optimal water pressure, and sufficient steam pressure.
Other machines on the market include retro-inspired designs, fully automated espresso makers, sleeker machines with smaller footprints and a wide variety of price points. Whatever machine you choose, you'll be giving your spouse the gift of crafting specialty barista-quality espresso drinks at home, just the way they like them.
---
Espresso Accessory Anniversary Gifts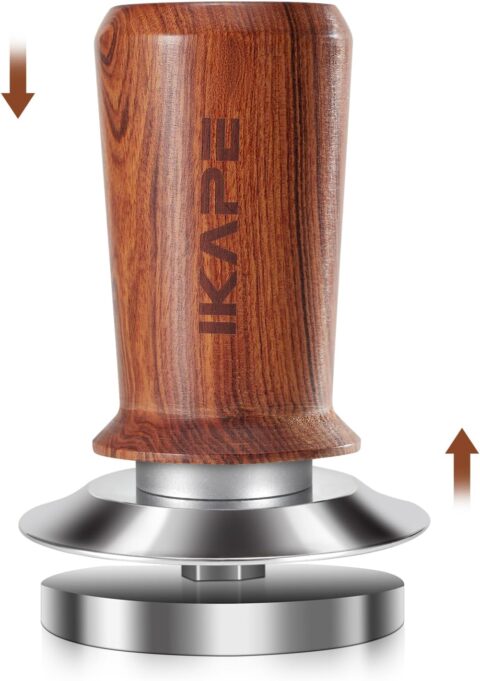 Espresso Coffee Tamper
Calibrated spring-loaded espresso tamper
Achieve the perfect espresso taste and aroma
Delivers over 30 pounds of force
Ergonomic walnut handle
Multiple size options available to ensure portafilter compatibility
$45.99 USD
A calibrated spring-loaded espresso tamper ensures evenly tamped grounds for optimal extraction and a perfect cup of espresso every time, making it an extremely useful and popular espresso accessory.
Discovering which items would round out your spouse's espresso accessory collection is a thoughtful way to find an anniversary gift. Or, you can choose an organizer to help keep their coffee station tidy. And don't forget drinkware they can use to enjoy their custom crafted espresso drinks.
---
Cold Brewed Coffee Anniversary Gifts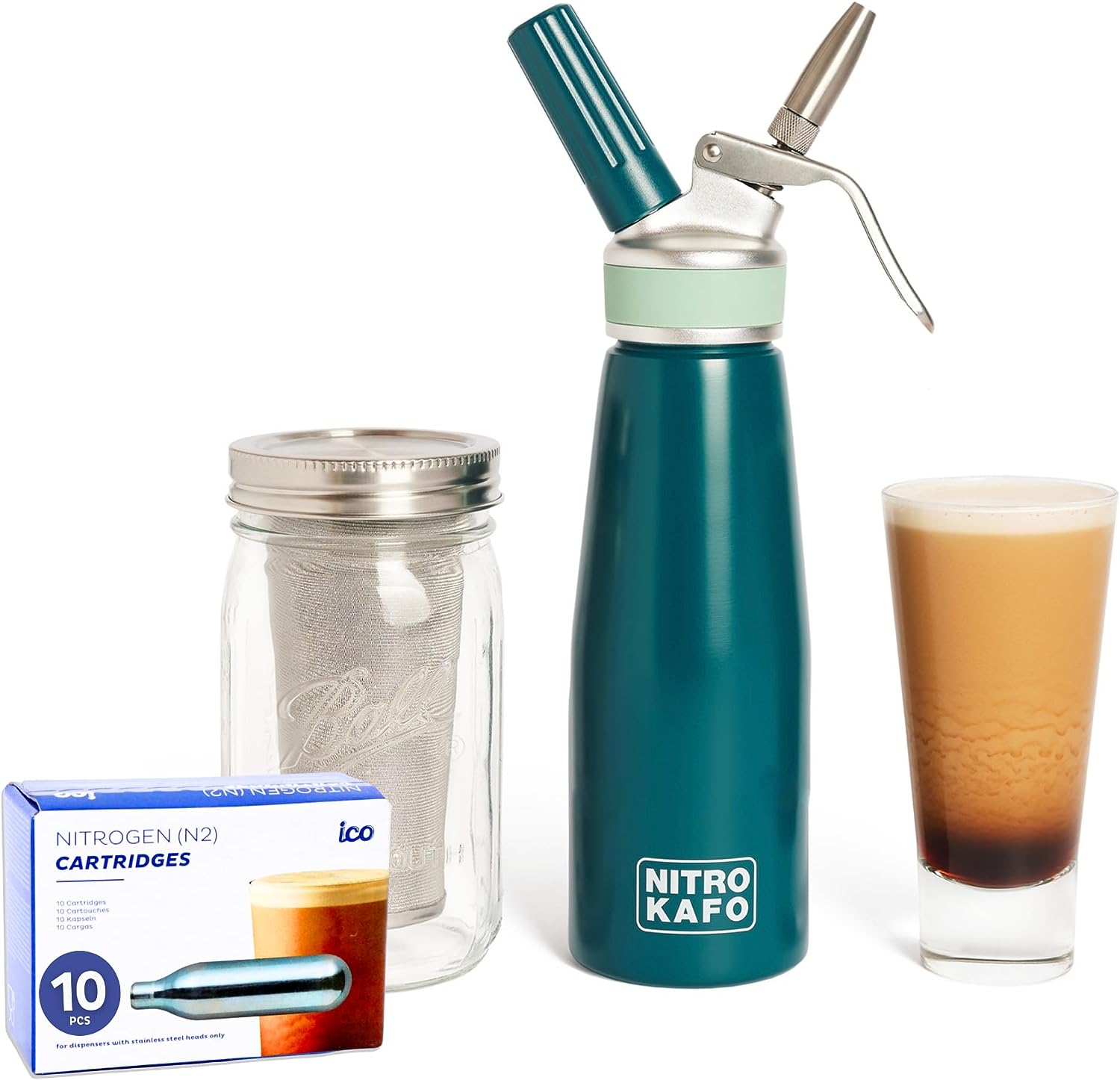 Nitro Coffee Maker
Make and serve up to six creamy, nitro infused coffees
Complete system includes:

Cold brew coffee maker with stainless steel filter
1 quart aluminum nitro infuser and specialty nozzle
Ten (10) N2 cartridges
$87.99 USD
Make creamy, delicious nitro coffee at home! Start with fresh ground coffee brewed overnight in the mason jar, then use the carafe and specially designed infuser to inject your cold brew with nitrogen. Then pour yourself a velvety drink with a slow cascading effect and a deliciously dense, creamy, head.
Additional gift ideas include other types of cold brew coffee makers or a burr grinder with specialty whole beans for fresh-ground coffee ideal for making cold brew.
---
Pour Over Coffee Anniversary Gifts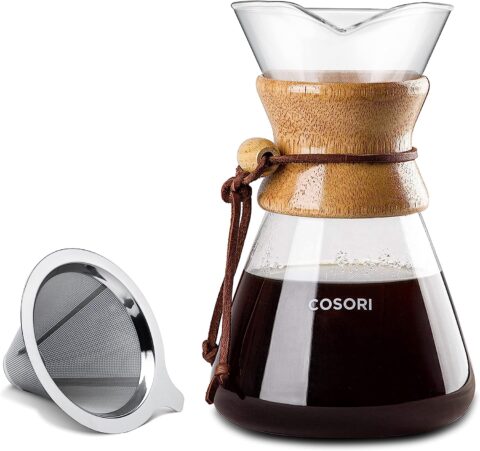 Pour Over Coffee Maker
The borosilicate glass decanter is thermal resistant
Features a double-layer stainless steel filter plus a wooden sleeve and leather tie
The 34-ounce decanter fits eight 4-oz cups of coffee
$29.99 USD
A pour over coffee maker allows for full control of the coffee making process with the ability to adjust the water temperature, water flow, and coffee ground concentration, making a rich and full cup of coffee exactly to your loved one's tastes.
If your spouse already enjoys pour over coffee you can gift them an accessory to aid in the coffee making process or a reusable tumbler to take their favorite brew on the go.
---
Drip Coffee Anniversary Gifts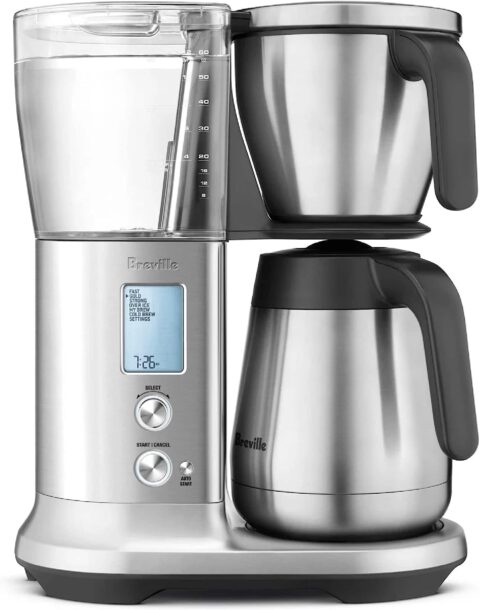 Breville Thermal Coffee Maker
Choose from 6 brewing modes including drip and iced
Customize your own brew settings
Makes 60 oz. of drip coffee
Includes both flat bottom and cone filter baskets
Brushed stainless steel finish
$329.95 USD
Great tasting coffee requires precise control over temperature, flow rate and contact time and with a precision coffee maker your partner will enjoy their favorite coffee at its best.
If your spouse has already upgraded their drip coffee maker then you can look to accessories such as a smart mug that keeps their favorite brew hot, or a coffee grinder to ensure they're using the freshest grounds.
---
Anniversary Gifts for Barista Beverages at Home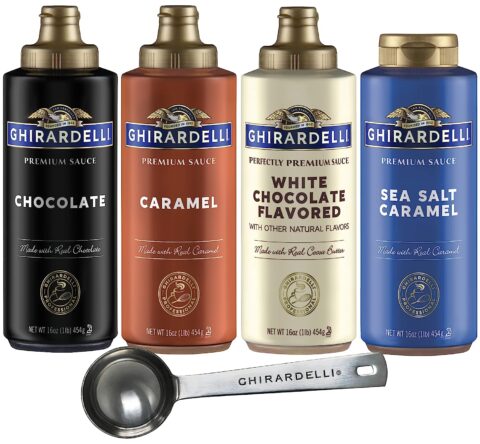 Ghirardelli Sauce Variety Pack
Pack of four (4) premium sauces in 16oz bottles
Flavors include chocolate, caramel, white chocolate and sea salt caramel
Plus a Ghirardelli stamped measuring spoon
$33.99 USD
Perfectly formulated for use in espresso-based drinks, Ghirardelli sauces are are a great way for your spouse to make their favorite barista beverages at home. Stock their coffee bar with their favorite flavors for a sweet anniversary gift.
Other popular gift ideas include accessories for making whipped cream and foam or you can help your loved one discover their new favorite coffee roast or flavor. Imagine all of the delicious coffee drinks you'll enjoy together!
---
Travel Coffee Anniversary Gifts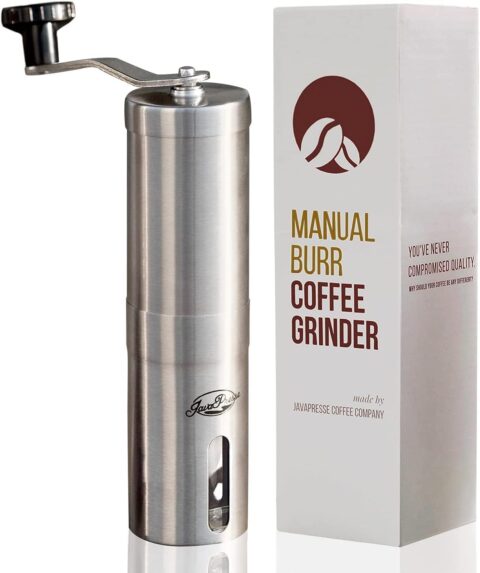 Manual Coffee Grinder
Has a built-in adjustable ceramic burr
With over 18 manual grind settings
Great for all brewing methods
Easy to operate hand crank
$35.27 USD
Whether on a day trip, on a business trip, vacation, or camping, don't let your loved one miss out on delicious coffee when they're away from home. The perfect cup starts with fresh ground coffee which will always be at hande with a manual coffee grinder.
Paired with a portable coffee or espresso maker all they'll need is water to enjoy delicious coffee. A travel mug ensures they can always take their favorite brew on the go.
---
Featured Gift Guides