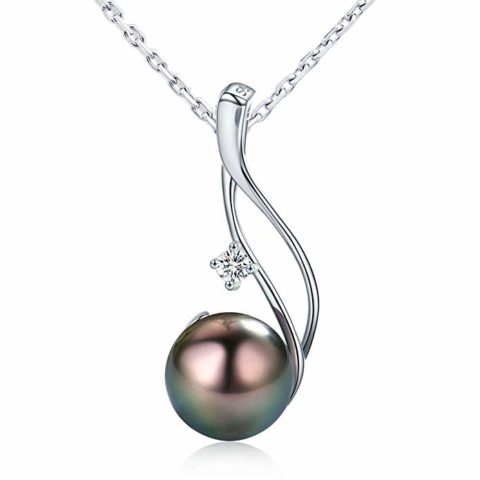 &#10084 DISCOVER THE LEGENDARY TAHITIAN BLACK PEARL&#10084 and impress all your friends with our luxurious and beautiful genuine Tahitian black pearl pendant necklace. Believed to bring abundance, luck and prosperity to everyone who wears it, our 9-10mm round cultured Tahitian pearl is hand-picked by GIA-certified specialists for its excellent luster, color, surface and shape.
&#10084 HAVE YOU EVER HAD A ONE-OF-A-KIND NECKLACE?&#10084 Our elegant black pearl comes from Tahiti but the 18k gold plated 925 sterling silver necklace is hand finished in the US by experts, so you can rest assured that your pearl necklace pendant is unique. No two pieces are exactly the same, which means only you will have that particular necklace in the world.
&#10084 UNLIKE LOW-QUALITY PEARL NECKLACES&#10084 that tend to lose their radiance over the years, our premium Tahitian black pearl gold plated necklace will remain radiant for years to come and match your every outfit. The timeless classic design combined with the hypnotizing black (with green, silver, purple, pink, or peacock overtones) color will allow you to dazzle everyone!
&#10084 LOOKING FOR THE MOST UNIQUE GIFT IDEA FOR YOUR LOVED ONES?&#10084 Surprise your girlfriend, wife, mother, sister, daughter, niece, aunt or grandmother with our delicate and beautiful round cultured Tahitian black pearl 925 sterling silver pendant. The classic design and beautiful gift box will make our women's pearl necklace the perfect birthday, Valentine's Day, Mother's Day, anniversary, graduation or holiday gift!
&#10084 YOUR SATISFACTION IS OUR TOP PRIORITY! &#10084 That's exactly why we back our genuine Tahitian black pearl necklace with our 30-day full refund guarantee and exclusive 90-DAY warranty. If, at any given time, you are not 100% thrilled with the gorgeous design and mesmerizing black pearl, we promise to go above and beyond in order to ensure your satisfaction. What are you waiting for?
$179.88 USD
This page contains affiliate links. Learn More.