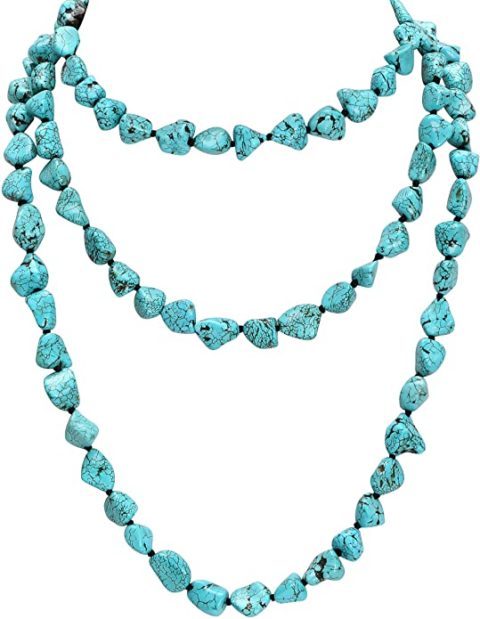 【Turquoise Necklace for Women】 Turquoise is a perennial favorite and these stunning beads will not disappoint! Irregular turquoise beads long strand statement necklace for women handmade jewelry.
【 Long Strand Necklace】 Turquoise howlite stones measure approx 3/4" in length and approx 1/2" in width. This simple green turquoise multi-strand necklace looks great as one strand, two or three. Wear it with your favorite tee shirt or dress it up with your bridesmaid's dresses, wear it over and over. The beads necklace measures of 59" in length.
【 Long Beads Necklace for Women】 Each turquoise beads are knotted in between on a Cotton thread wire for durability and flexibility, this gives our long strand turquoise necklace great movement.
【 Layered Necklace】 Wrap it around your neck for the look of a knotted necklace, yet entirely different vibe, the subtle crazing, and design of the stones is quite pretty Any way you choose to wear it, your new turquoise beads necklace is a sensational and chic choice. Order yours today!
【 Gemstone Necklace】 This stone necklace will be packed in a cute canvas bag, it's more convenient for taking, a lovely gift for yourself or the one you love.
$27.99 USD
This page contains affiliate links. Learn more.